IMAGING SYSTEM UPGRADE
Canfield Imaging Systems, Fairfield, NJ, announces new features for its VECTRA 3D systems that, according to the company, are designed to improve consultations and practice marketing for providers of aesthetic and reconstructive procedures. These features, available for both new and existing VECTRA X3, M3, and M1 installations, include: VectraVision™, which employs a stereoscopic viewing technology similar to that used in movie theaters and home entertainment systems; Face and Breast Assessment Utilities to improve surgical planning; a Patient Consult Checklist that helps assure patient understanding of existing conditions and expected outcomes; and an animation wizard to create video clips of simulated procedures for Web sites and presentations.
Canfield Imaging Systems Inc
(800) 815-4330
www.canfieldsci.com
---

FACIAL SKINCARE SYSTEM
Obagi Medical Products Inc, Long Beach, Calif, offers the Condition & Enhance System™, which, according to the company, helps lighten, tighten, firm, and turn one's skin cells over on a daily basis. It complements all facial procedures to help improve one's overall aesthetic appearance. The system includes Gentle Cleanser or Foaming Gel (to prepare), Clear or Exfoderm® or Exfoderm® Forte (to repair), Blender or Tretinoin (to stimulate and maintain), and Healthy Skin Protection SPF 35 or Physical UV Block SPF 32 (to protect).
Obagi Medical Products Inc
www.obagi.com
---
DIETARY SUPPLEMENT

GliSODin Skin Nutrients, Toronto, introduces Advanced Slimming Formula, which, according to the company, can help reduce body fat, increase lean to fat mass ratio, promote healthy metabolism, support healthy digestion while controlling excess absorption of sugars and fats, and help reduce oxidative stress associated with weight loss. Its key ingredients include rice, seaweed, green coffee, melon, safflower, and pineapple; as well as nutraflora prebiotics, a natural source of soluble fiber. Each 690-gram supplement has a natural blueberry-blackberry flavor.
GliSODin Skin Nutrients
(866) 534-5868
www.glisodinskin.com
---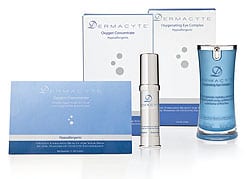 OXYGEN-BASED SKIN CARE
Oxygen Biotherapeutics Inc, Durham, NC, introduces DERMACYTE® skin care products, which feature a technology to help carry oxygen to the skin and therefore help reduce the appearance of fine lines and wrinkles. According to the company, Dermacyte Oxygen Concentrate helps restore a youthful glow to your skin and helps brighten your complexion. And Dermacyte Oxygenating Eye Complex helps refresh, hydrate, and restore the appearance of youth to your eye contour area while protecting it against environmental stress.
Oxygen Biotherapeutics Inc
(877) 699-6248
www.buydermacyte.com
---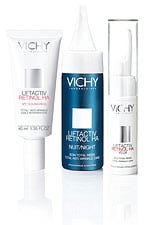 WRINKLE CARE
Vichy Laboratoires introduces LiftActiv Retinol HA, a total wrinkle care cream for women ages 30 to 40 that delivers an immediate resurfacing and smoothing effect. It combines Retinol, for its long-term anti-wrinkle action and resurfacing effect; Adenosine, to accelerate Retinol's anti-wrinkle effects; Hyaluronic acid, for its cell volumizing and filling effect; Vichy Thermal Spa Water, for its soothing and healing benefits; and Retinol Palmitate, for optimum skin tolerance in the sensitive eye area and an enhanced illuminating effect. The product line includes LiftActiv Retinol HA Eyes, LiftActiv Retinol HA Night, and LiftActiv Retinol HA SPF 18.
Vichy Laboratoires
(877) 37-VICHY
www.vichyusa.com