Assuming economists are correct, aesthetic practitioners are staring into the maw of a recession unlike any seen for some time. A primary effect of this expected deep recession will be fewer new and returning cosmetic surgery patients.
One way that practices can attract those harder-to-come-by consumers is with discount specials—reduced fees, product price cutting, and so forth. Robert Kotler, MD, FACS, a veteran facial cosmetic surgeon in Beverly Hills, Calif, believes a better approach will be to provide significantly higher levels of quality service.
"The practices that will still thrive are those that properly value and understand the patient and are truly attentive to those patients' needs," Kotler says. "The goal is to make patients feel so good about your office that, even if it turns out they are an inappropriate candidate for surgery and no surgery is performed, they feel wowed by their experience with you. Having them feel that way is what leads to an abundance of referrals."
GOLD STANDARD OF SERVICE
The starting point for improving service quality, according to Kotler, is with employee training and development.
PRACTICE AT A GLANCE
Practice Name: Cosmetic Facial Surgery
Name: Robert Kotler, MD, FACS
Location: Beverly Hills, Calif
Specialty: Cosmetic surgery of the face and neck
Years in practice: 31
Patients seen per day: 15
New patients per year: 350
Days worked per week: 4
Days surgery performed per week: 2
Number of employees in practice: 5
Office square footage: 2,500
"Within the first 30 seconds of the patient's first phone call to your office, he or she will be able to determine whether your staff is decent and whether to go forward with making—and keeping—the appointment for an initial consult," Kotler claims. "It's tragic to lose a prospective patient because that individual was turned off by the office staff. For that reason, office staff needs to be properly selected and properly educated."
Kotler, who is board certified and has been in private practice for 31 years, is a clinical instructor at the University of California, Los Angeles (UCLA) medical school's Division of Head and Neck Surgery, Department of Surgery.
At UCLA, he delivers an annual speech to residents on the topic of staffing. "I discuss the ins and outs of hiring and firing employees," he details. "I'm a big proponent of rewarding excellence and purging incompetence. As I tell my audiences, take your time hiring, but fire quickly. And once you've found a good staffer, you have to take good care of him or her."
Happy patients, he explains, are created not just as a consequence of delivering a superior surgical result, but also as a consequence of their total experience with the practice. "I have had patients come for consultation who had excellent work by other surgeons, and I would have expected them to return to that doctor for additional procedures," he says. "By listening to the patient recount their history at the other office, nearly always volunteered without prompting, we learned that often the patient disliked the office staff or felt they were treated 'like in a cattle drive.'
"Think of how the Nordstrom department store chain built its reputation and loyal customer base. It wasn't with low pricing, but with a superior approach to customer service," Kotler continues. "Nordstrom was, for a long time, the gold standard when it came to treating customers well. Cosmetic surgeons need to be able to do the same thing when it comes to how they handle their patients."
SOOTHING AMBIENCE
Accordingly, Kotler's practice is highly service-oriented, albeit his offerings are confined to cosmetic surgery of the face and neck.
Totally Tubular
Part of staying on the cutting edge of aesthetic surgery means one must continually identify new instruments, supplies, and apparatuses with the potential to improve results, efficiency in the operating room, patient comfort, and patient satisfaction.
So says Beverly Hills, Calif, cosmetic surgeon Robert Kotler, MD, FACS, who performs work of the face and neck exclusively. "[I] like to test new products," he says. "For example, there are some terrific new absorbable nasal packing materials available. Patients still recall tales from their friends about the horrors of 'yards and yards' of gauze packing removal."
Nasal packing is, of course, part and parcel to Kotler's surgical milieu—so much so that he decided not long ago to develop an instrument kit promising easy, clear nasal breathing after surgery and an end to conventional claustrophobia-inducing packing methods. Called the Nasal Post-Op Breathing System, Kotler's invention revolves around insertion and stabilization of a unique, bilateral nasal airway.
"It's a one-piece, two-tube nasal airway appliance—12 cm long with an external diameter of 7.5 mm—inserted by the surgeon at the end of the operation, at the same time that the packing is placed," he explains. "The device provides a corridor for adequate air passage through both nasal passages without compromising the packing's important missions."
The tubes are made of 40-durometer, latex-free, medical-grade silicone and connected by a bridge. Each tube can be shortened to match the length of the nasal passage.
"There's an air-ingress front opening that sits visibly at the external nostril, which facilitates cleansing and irrigation to maintain patency," Kotler continues. "The 'back opening' of the tube sits just forward to the back end of each nasal passage, beyond the area of packing, yet not abutting the back wall of the nasopharynx. Thus, when properly sized, the back ends cannot not be blocked by the packing, nor by being erroneously positioned against the throat wall."
Kotler describes the tube apparatus as being easily secured to the columella by a single 4-0 black nylon suture. After seating the tubes, testing patency, and confirming proper position, the stitch is placed to prevent accidental forward extrusion. A custom-designed, thin and long-tipped nasal speculum, outfitted with a cradle on one of the blades, stabilizes and retracts the tube while the surgeon packs the nasal cavity.
"At the conclusion of the operation, after tube seating and packing placement, you then suction fluid and blood from the back of the nose," he says. "This maneuver once again confirms that tube placement is satisfactory, that there is no obstruction, no contact between the tube's back-end opening and any nasal or throat structure."
Kotler notes that anesthesia specialists can use the same suction tube to evacuate blood, mucus, and other fluids from the throat prior to removing the oral endotracheal tube from the lungs.
A prototype of the device has been put through the paces in Kotler-conducted clinical trials, of which he reports favorable results.
"The Nasal Post-Op Breathing System is very well-tolerated and appreciated by the patient," he says.
Kotler is awaiting final FDA approval to market the device.
—RS
The procedure roster includes rhinoplasty, revision rhinoplasty, procedures of the upper and lower eyelids, correction of protruding ears, face and neck lifts, neck sculpturing, chemical wrinkle removal, and chin augmentation.
"I'm a strong believer in superspecialization, the idea of being so tightly focused in your work that you become better at that particular narrow scope than everyone else," he explains.
Beverly Hills is known, of course, for its glitz and glamour. Kotler's office, on the other hand, greatly downplays both. "I've designed my space to have a low-key, home-like feeling," he says. "I believe a physician's office should accurately portray what he is, as well as his style and tastes. My office reflects my Midwestern sensibilities, which includes my belief that it's not necessary to impress the patients by being surrounded with expensive trappings."
Moreover, Kotler's chosen look for his office is meant to be psychologically soothing, to help allay patient anxiety.
"Patients feel anxious not just about the possibility of surgery, but about the costs," he says. "When people walk into an office that is extremely high-end, it makes them think the doctor charges exorbitant fees. Some wonder whether the fees are more reflective of the doctor's overhead than of his or her excellent surgical skills."
Kotler's office is further distinguished by the absence of surgery facilities. "In-office surgery is not something I want to offer," he says. "There are too many administrative, personnel, insurance, and regulatory complexities involved in running both a practice and a surgical facility under the same roof. Those complexities are such that they dilute one's energy. The office should be focused on consultative activities and postoperative care. Surgery should be conducted at another, separate location."
Kotler performs his surgeries at a neighboring, fully licensed and accredited outpatient surgery center.
As for scheduling, Kotler is meticulous about not intertwining his surgery and consultation days.
"If your practice is focused on superior patient service, then you're going to want to run your schedule on time—that's only considerate of the patient, after all. Invariably, if you schedule consultations to follow your surgeries on the same day, you'll arrive late for those consultations and won't catch up. On top of that, you and the patient will both be watching the clock and getting increasingly uptight in the process, which will only detract from providing the patient with the focused attention and care he or she is expecting," Kotler contends.
FORWARD, MARCH
Kotler has been scheduling in this manner since his days as a US Army major assigned to the teaching hospital at Fort Belvoir, just outside Washington, DC.
He started active duty in 1973 after 6 years in the Army Reserves. The Chicago native signed up for the military while in medical school at Northwestern University. (He also received residency training in head and neck surgery at Northwestern and at the University of Illinois.)
Following his 1975 discharge from the service, Kotler began an American Academy of Facial Plastic and Reconstructive Surgery-sponsored fellowship in facial cosmetic surgery. It took place in Beverly Hills under the tutelage of Morey Parkes, MD, and Frank Kamer, MD.
Soon afterward, Kotler pulled a stretch at a Los Angeles-area HMO, gaining further experience in all elements of head and neck surgery, including facial cosmetic surgery.
After 8 months, Kotler stepped up to a part-time practice arrangement with Jack Startz, MD, a facial cosmetic surgeon in Beverly Hills. "Dr Startz had a huge practice, and I benefitted from some of his overflow," Kotler says. "The real prize, however, was being able to observe his surgical techniques—they were efficient and highly successful."
In 1977, Kotler parted company with Startz in order to share office space with another well-trained head and neck surgeon. "By 1980, I was well-established in the West Los Angeles area," Kotler says. "But 3 years later, significant—and unhealthy —changes had begun transforming the market. HMOs were taking a bigger piece of the patient pie, insurance companies had begun to perfect their business strategy of paying less and paying slowly, and hospitals were morphing as a result of takeovers by for-profit mega-corporations."
These developments prodded Kotler in 1984 to retire from general head and neck practice and to instead concentrate on facial cosmetic surgery.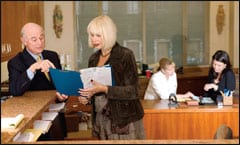 Kotler has designed his Beverly Hills, Calif, office space to have a low-key, home-like feeling that reflects his Midwestern sensibilities.
PROLIFIC AUTHOR
Many cosmetic surgeons today are familiar with Kotler by dint of the medical textbook he wrote, Chemical Rejuvenation of the Face (Mosby, 1992), as well as several other medical references to which he has contributed chapters.
He also has penned numerous peer-reviewed journal articles during the span of his career. "My most important contribution to the literature was a well-received study published in the Journal of Dermatologic Surgery that I co-authored with dermatologist Larry Moy, MD, of Manhattan Beach, California," he says.
"The study involved microscopic comparison of the rejuvenating properties of CO2 laser versus deep phenol peel of the preauricular skin. Biopsies of the treated areas were submitted sequentially to a pathologist who was blinded as to the technology used in each specimen.
"His reading of the biopsies demonstrated that the phenol peel created a more profound and deeper level of tissue destruction. Attendant to that was a more proliferative collagen and elastic fiber formation, which we concluded may explain the clinical observation that the longevity of phenol peels exceeds those of the CO2 laser."
Kotler's writings have not been confined to purely clinical audiences. He also has hammered out a pair of popular books targeted directly at consumers. The first was Secrets of a Beverly Hills Cosmetic Surgeon: The Expert's Guide to Safe, Successful Surgery (Ernest Mitchell Publishers, 2003).
It was followed by The Essential Cosmetic Surgery Companion: Don't Consult a Cosmetic Surgeon Without This Book! (Ernest Mitchell Publishers, 2005), a consultation workbook.
One of his daughters assisted him in drafting both tomes, and the two books today are required reading for Kotler's new-hires.
"I want my employees to understand what it is that I will be telling the patient. If they absorb the content of my books, their conversations with patients will be aligned with my own and we'll have a harmonized message," Kotler explains.
Meanwhile, the nation's news and entertainment media have found Kotler engaging and informative—one of the reasons he was featured on The Oprah Winfrey Show, E! Entertainment's Dr. 90210 show, and others.
"My favorite experience was an appearance not too long ago on [Comedy Central's] The Daily Show. A crew came out to my office and interviewed me and a patient for a spoof about economic hardship coming to Beverly Hills, and how cosmetic surgery consumers in this wealthy community were coping."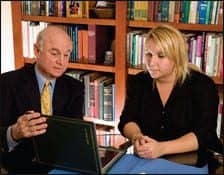 Kotler believes that it is important for patients to feel "at home" in his office in order to overcome anxiety about surgery.
FAMILY VALUES
In his spare time, Kotler leads an active outdoor life. Hiking in the chaparral-covered hills ringing Los Angeles is a favorite pastime. So is golf. "I'm delirious if I score below 100," he laughs. "I've only managed that feat twice so far."
Another cherished recreational pursuit of Kotler's is swimming—in high school, he was a member of the swim team.
Kotler, his wife, and their adult children are passionate about supporting leukemia research. Unfortunately, leukemia has cast its pall over several of Kotler's relatives.
"We have our own Kotler family fund-raising organization located in Chicago. We like to mix fund-raising with fun," he says. "Last year, we organized a fund-raising 'Day at the Races,' which was a great success. Contributions came from all over the country. In addition, we support five other charities, including Iraq Star, which is a nonprofit foundation that provides reconstructive surgeries as needed to help war veterans recover from physical and mental injuries, increase their self-esteem, and ease their return to their pre-war lives."
In addition, his family likes to roam the country in search of examples of Frank Lloyd Wright architecture.
To make more time available for these and other endeavors, Kotler has trimmed back his clinical workweek by about 25%.
"Ideally, the ratio of time on the job to time off will increase in the future, but for me that will amount to a voyage through uncharted waters—many unforeseen external factors can cause a change in game plan," he says. "Still, I'm always trying to fine-tune the practice to make it more efficient and productive."
NARROW THE SCOPE
The most serious issue confronting the cosmetic surgery profession is probably patient dissatisfaction, according to Kotler.
"We are seeing too high a percentage of poor results," he says, claiming that the remedy is to encourage and breed more "superspecialist" practices.
With patients becoming increasingly sophisticated, "the opportunity and need exists to have two surgeons, each a superspecialist and each a master of a given procedure, working together at the same surgical session," he suggests.
"For example, the tummy-tuck master working sequentially with the eyelid specialist," he explains. "I see this as being the cutting edge of cosmetic surgery. I'm convinced that the future will belong to the superspecialists. It will be far healthier for our patients if we have the wisdom, as a growing specialty, to realize that superior results will come from a team effort."
Whereas superspecialist practices should thrive in Kotler's estimation, others that may not thrive may rely heavily on patient financing programs. "Credit is tight right now," he says. "Consumers need an extremely high credit score to qualify for any kind of loan, even if they're affluent."
More than ever in the current economy, prospective patients will be more careful where they spend their dollars. "That's going to have an impact on our profession," Kotler says, "whether you're in Beverly Hills or somewhere else around the nation."
---
Rich Smith is a contributing writer to PSP. He can be reached at plasticsurgery@allied360.com.