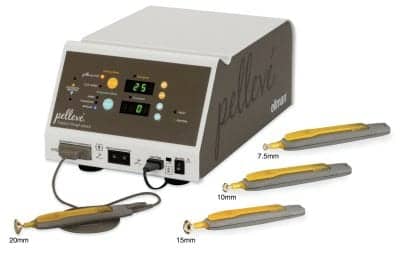 Pellevé Wrinkle Reduction System with upgraded handpiece
Ellman International Inc's Pellevé™ radiofrequency (RF)-based noninvasive skin-tightening system got a new lease on life with the release this year of an upgraded GlideSafe™ handpiece.
The new handpiece offers precise, continuous, and controlled energy that is never pulsed, according to the company. "It features an innovative sensor designed to stop energy flow when the device senses loss of contact with skin," according to Kirsten Doerfert, Senior Vice President global marketing for Ellman, which is based in Oceanside, NY. The handpiece's new features result in a more comfortable treatment for the patient, according to the company.
Miles A. Gravier, MD, FACS, a plastic surgeon in private practice in Roswell, Ga, has been using the Pellevé device since 2009 for the correction of fine lines and for some skin tightening, mainly along the jawline of the face, the periorbital area, and also the brow, forehead, and cheek area. The treatment is good for people in their 30s or early 40s who are starting to see signs of skin laxity, he says, adding that he has also used Pellevé treatments following facial surgery procedures, "in order to improve any recurrent skin laxity."
He appreciates the new handpiece. Treatments usually last between 30 and 40 minutes with continuous motion, while the system provides continuous temperature feedback, "which is nice and has been a change from how initial radiofrequency treatments had been done," he says.
After using the system for some time, Gravier looked at the patient feedback and "found that we needed to raise the temperature from 41 to 44 degrees," he notes. "The increased resistance at that level will actually hold the heat a little bit closer in the deep portion of the dermis and subdermis, and raise the temperature in order to stimulate collagen synthesis."
The patients seem to tolerate the temperature between 41 and 44 degrees, he says, depending on the area being treated. "In our initial protocol, usually most people would get two treatments—one every 6 weeks—but now I'm finding that we're increasing the number of treatments and getting a faster response in terms of collagen synthesis and improvement."
In addition, the new handpiece delivers multiple hours of treatment (or activation) time, Doerfert says, and advanced features that allow practitioners to treat multiple patients and perform many procedures using the same charged handpiece.
COMPLICATIONS?
Gravier is pleased with a notable lack of complications using the Pellevé system. "Because you're getting patient feedback, it's very rare that you have any area of quote 'burn,' if you will," he says. "And because of the GlideSafe
, the circuit will get interrupted if the handpiece is not in contact with the skin, breaking the risk of a little bit of current jump from the radiofrequency head of the handpiece and the patient's skin."
Some people get a little bit of redness or a little bit of edema for a few hours, he notes. "But they can pretty much go about their business almost immediately. They see some results right away, then it decreases some but then it builds again. Over time, you continue to maintain an increase in the collagen synthesis, and see an increase in skin quality and effacement of the wrinkles."
Doerfert points to patient expectation as the key to success in any noninvasive treatments. "People tend to oversell the treatments," she says. "Be realistic in the expectations you do set for your patients. With RF, we're not talking about a facelift. It is not intended to be a facelift. The patient needs to be patient, but the results do appear over time."
---
Shae Waddell is a contributing writer to PSP. She can be reached at [email protected] Jeffrey Frentzen is the editor of PSP and can be reached at [email protected]