She was 30 years old and no longer flabby, having shed 180 pounds thanks to a dramatic change in diet and lifestyle. Afterward, the New York woman sought to complete her transformation by seeking out a plastic surgeon for a total body lift.
So far, so good.
However, being of modest means, the woman believed she could not afford to go to any of the local practices or, for that matter, any plastic surgeon north of the 24th Parallel. So she cast her gaze farther to the south and via the Internet found a surgeon in Costa Rica who promised body lifts at affordable prices.
Things spun out of control quickly from there.
Though she tested anemic, her surgeon proceeded with the operation. She went into shock, requiring six units of blood. After a week of multiple operations to control bleeding, she was sent back to New York.
The operation not only turned out poorly, but upon her return home she began to experience terrible abdominal pain.
One day, she was rushed to the hospital, where physicians discovered extensive damage to the wall of her abdomen and a severe infection.
Members of Long Island Plastic Surgical Group (LIPSG) were among those who treated her. "We were involved in her case as soon as they brought her in," says Kaveh Alizadeh, MD, MS, FACS, president of LIPSG, which is located in Garden City, NY.
"Closing the wound required initial treatment with debridement of necrotic tissue, whirlpool baths, hyperbaric oxygenation therapy, and vacuum-assisted closure devices in the wound care center we run," he says. "Abdominal closures require multiple tissue expansion, component separation, skin grafts, and flap advancements."
After a total of eight operations had been performed over several months, the physicians were able to debride the infected and necrotic tissue in her abdomen and rehabilitate the abdominal wall.
A LONG LINE
LIPSG is well known when it comes to expertise in reconstructive and aesthetic plastic surgeries. The above-mentioned patient later asked LIPSG to perform aesthetic revisions to correct the disastrous work by the Costa Rican bargain clinic and to complete the surgeries needed to remove her saggy skin. "All ended well for this patient," Alizadeh adds.
Of course, if you formed a straight line of all the LIPSG patients for whom things ended well, that line would stretch quite a distance, as LIPSG has been around for decades—this month, the practice celebrates its 60th year in business. "In 2007 alone, we saw 15,000 patients," Alizadeh says.
LIPSG debuted in April 1948, making it possibly the oldest, continuously
running large practice of its kind in North America. It began under the guidance of two well-known aesthetic surgeons who returned from their tours in World War II to inaugurate a practice in New York.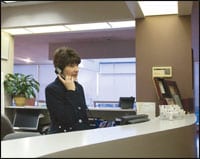 Special attention and care by a physician are paramount for word-of-mouth advertising, and it's especially helpful when the economy turns.
Currently, LIPSG consists of 11 board-certified surgeons, with as many as three more poised to join later this year or in early 2009.
"Our doctors are experts at performing reconstructive cleft lip and palate surgeries," claims Alizadeh, who also notes that some years earlier LIPSG was the driving force behind the creation of North Shore University Hospital's Cleft Palate and Cranio-Facial Center, Manhasset, NY, and the Nassau University Medical Center's Burn Center, East Meadow, NY.
Through those centers and at others spread across the region, LIPSG offers services that cover the gamut of a modern aesthetic surgery practice: facial reanimation, microsurgery and peripheral nerve repair, hand and upper-extremity reconstruction, complex burn and wound management, comprehensive reconstructive and aesthetic breast surgery, comprehensive facial and body aesthetic surgery, and noninvasive skin care and age management.
MAINTAINING BALANCE
An almost immutable law of science states that an aesthetic practice can start by emphasizing reconstructive services, but with time its orientation will swing over to a near-total or 100% focus on aesthetic services.
A rare exception is LIPSG, which has managed to keep a fairly steady balance between reconstructive and aesthetic procedures, even after 60 years.
"The size of our group allows us to maintain our depth, breadth, and diversity of patient care in plastic surgery," Alizadeh says. "It also allows each partner to focus on an area of interest, including those that may not attract cases in large volume or cases that command high fees. As such, those who have a preference for reconstructive work can choose to make it their mainstay without worry that the practice will in some way be adversely impacted."
Besides, by enabling partners to concentrate on reconstructive procedures, LIPSG believes it is helping to ensure that patients in the greater New York metro area will always have access to the finest reconstruction specialists, no matter how many surgeons from other practices across the market are drawn to perform aesthetic work only, Alizadeh adds.
On the other hand, LIPSG is overshadowed by the aesthetic surgery mecca of neighboring Manhattan, even though it maintains a Park Avenue office on the Upper East Side.
"Our Manhattan satellite is intended as a boutique location for the delivery of very hands-on care for specific issues," Alizadeh says. "This office allows us to attract not only people from New York City, but also those Long Islanders who work in Manhattan."
In addition to the Manhattan office and its Garden City headquarters, LIPSG operates a satellite in West Islip, NY.
LIPSG PARTNERS WITH CHINA'S EVERCARE
A proud moment in the history of Long Island Plastic Surgery Group (LIPSG) occurred in 2006, when the practice announced it had forged a partnership with Evercare, China's largest plastic surgery group, to jointly launch a charitable surgery clinic in Beijing.
"The purpose of this venture is to help more Chinese patients in need obtain necessary reconstructive surgeries, and to serve as a center of training in cleft lip and palate surgery," says LIPSG senior partner Vincent DiGregorio, MD, FACS.
Foreign involvements are nothing new for LIPSG. The group has long been a regular participant in mission trips abroad.
For example, LIPSG physicians have provided free volunteer reconstructive surgeries in more than 20 countries as leaders and members of humanitarian aid organizations, including Doctors Without Borders, Helping Hands, Smile Train, and Interplast.
Thomas A. Davenport, MD, a microsurgery specialist at LIPSG, is a frequent participant in Interplast missions. Once per year, he embarks on a trip with that organization, wherein he serves as either a visiting educator or a clinic surgeon. To date, he has made 18 such excursions.
"I do it because I love to teach," he says. "It is enormously satisfying to go outside our country and share advanced information and skills in places that are underserved in terms of plastic surgery knowledge."
Davenport's most rewarding trip took him and 14 others to Myanmar. "In the remote area we visited, there was a high incidence of head-and-neck squamous cell cancers from the local custom of chewing on beetle nut, a carcinogenic kernel," he says.
"But rather than do nothing more than perform reconstructive surgeries while we were there, we also focused on teaching a Myanmar surgeon how to perform those reconstructions himself. The art of teaching is the new paradigm when it comes to making these trips, he adds. "It is far more important to pass expertise along to the local surgeons, so that they can take care of local needs year round, rather than have foreigners like me fly in one time for a week or two of surgeries."
—RS
The group hopes to add more satellites via its newly adopted strategy that seeks to recruit young aesthetic surgeons who are willing to hang their shingle in thinly penetrated local markets where growth opportunities exist.
"We want to help our new LIPSG doctors develop their practices in underserved parts of our region," Alizadeh says.
Around 5 years ago, LIPSG gave its Garden City office a needed facelift, with elegantly updated exterior and interiors. In 2006, construction finished on a pair of state-of-the-art, fully AAAASF-accredited operating rooms at that location.
Currently, the Garden City complex also houses The Aesthetic Center at LIPSG, a medical spa that offers facials; laser vein and hair removal; peels and acne management; holistic therapies such as advanced reflexology, auriculotherapy, and manual lymphatic drainage; and mind-body techniques that assist patients as they prepare for surgery.
All procedures are administered by specially trained aestheticians and RNs under the medical supervision of LIPSG physicians.
GETTING THE WORD OUT
Managing patient expectations is a challenge for any practice, and the more prominent and visible the practice, the higher the expectation is among patients. LIPSG offers a full-fledged Web site that provides patient education features.
"We want people to have the fullest possible understanding of what's possible and what's not, and we want them to have this well in advance of surgery," Alizadeh says. "Our Web site is a key mechanism for imparting all of that and keeping expectations within reason."
The practice's patient resource room allows patients to learn about many facets of plastic surgery, and especially some of the newer, nonsurgical approaches, such as skin care, injectables, and light-based treatments, Alizadeh adds.
Recently, LIPSG expanded its community outreach efforts by creating and staffing an internal marketing department.
LIPSG's marketing message pushes the their brand identity into a regional market that is dominated by Manhattan-centric aesthetic practices, in an effort to draw city-bound customers into the countryside.
LIPSG's branding incorporates expected terms like excellence, integrity, tradition, and patient welfare.
Those brand components are communicated via the Web site and other methods, including routine patient encounters, consumer seminars, and news media interviews, says Thomas A. Davenport, MD, one of the newest members of LIPSG and a specialist in microsurgery.
Informing the public about LIPSG involves several approaches, he adds, but not traditional advertising. "We make very little use of paid media; we've been generating enough attention through word of mouth and free coverage from newspapers, magazines, radio, and television that we don't need to," Alizadeh says.
Much of the group's exposure in the press has come about as a result of LIPSG's participation in cases that the news media find newsworthy, owing to some combination of unique factors or the sheer high-profile nature of the work.
EMR, ANYONE?
Possibly beginning later this year, LIPSG will start tracking all cases using an electronic medical record (EMR) system.
"Our aim is to have a single EMR operational across all three of our offices," Alizadeh says. "We're very interested in being able to use it for the tracking of patient outcomes. Measuring how well our clinical results align with our own expectations is important to us. However, such measurements are almost impossible to acquire in a large practice without an EMR [system]."
The practice has been rethinking long-standing growth strategies and decided to become more proactive, Alizadeh confides.
"We're trying to put in place the metrics and benchmarking tools that will allow us to acquire a clear, correct understanding of what we're doing right and what we're not doing," he says.
"With those insights, we can make sure we continue doing the right things well, improve on them where possible, and take the necessary actions to address whatever it is that's causing us to be less than successful in those less-than-satisfactory areas," he adds.
LIPSG is large enough to be able to invest in buying the newest equipment and incorporating the latest surgical techniques.
New gear includes fractional lasers and equipment capable of achieving aesthetic goals but with reduced patient discomfort and downtime.
In tandem with this effort, the group is (to the extent practicable) incorporating less invasive surgical techniques, such as the MACS facelift, which is championed by senior partner Vincent DiGregorio, MD, FACS.
In cooperation with anesthesiologists at the local community hospitals, LIPSG has jointly developed protocols to minimize the potential for perioperative nausea in patients and to facilitate speedier anesthesia recovery.
"Postoperatively, we generally prefer sending patients home on pain pumps," Alizadeh adds.
MULTIGENERATIONAL LOYALTY
LIPSG gave its Garden City office a needed facelift, with an elegantly updated exterior and interiors. Recently, construction was completed on a pair of state-of-the-art, fully AAAASF-accredited operating rooms at that location.
LIPSG's 60th anniversary celebration in April 2008 was as much forward-looking as was retrospective. For instance, the group used the occasion to build support for its newest endeavor, the LIPSG Foundation.
"A goal of our charitable foundation is to help underwrite the costs of more surgeries outside the country, and develop more domestic programs to teach plastic surgery techniques," Davenport says.
"It will also help us pay to bring more people from other countries here to our facilities for surgeries that would be impossible in their own lands," he notes. "And the foundation will help fund important new research."
Not surprisingly, Alizadeh is confident that LIPSG will continue as a force in aesthetic surgery for at least another 60 years. The trick to longevity in this industry, he claims, is don't lose sight of the present while keeping a weather eye out for changes on the horizon.
"Many of our patients today first came to us as children with cleft palate problems or in need of reconstructive work following an injury. And today, these formerly young patients are now presenting for cosmetic surgery or bringing their own children for [procedures], Alizadeh says.
"When you consider all this, it's fair to say that our practice is a viable model for how to organize and administer a group intent on achieving longevity. And I think we can expect LIPSG, in the years ahead, to be an even more interesting, more intellectually adventurous practice."
RESIDENCY PROGRAM: A KEY TO LONGEVITY
In terms of corporate culture, Long Island Plastic Surgical Group (LIPSG) is by and large still the same practice it was 60 years ago.
Attention to detail, commitment to excellence, and an ongoing pursuit of the best possible patient outcomes were hallmarks then as now.
Sustaining such a corporate culture succeeds at LIPSG because staff maintain transcendent attitudes and skills that have been passed down from generation to generation by way of the group's residency program, according to LIPSG partner Robert Simpson, MD.
The teaching program debuted in 1954, fulfilling the desires of the practice's founding members, "all of whom were serious about education," Simpson says.
Since then, LIPSG has trained more than 100 residents. Most of those working today are in private practice, while others went on to fruitful careers in academia.
Aesthetic-surgeons-in-the-making can complete the LIPSG residency program in 2 years, Simpson explains. "Initially, we accepted one resident in each training year. Now, we accept three each year, for a total of six residents in the program at any one time."
Residency program candidates apply from all across the country, Simpson says, and the number of applicants has risen steadily in recent years. "The ones we accept into the program are chosen because they represent a diversity of backgrounds and experiences, and bring with them high levels of achievement in scholarly activity," he says.
The training occurs at the three LIPSG offices and at the hospitals in which the group is on staff (chiefly, Nassau University Medical Center). LIPSG physicians provide the bulk of the training the residents receive, but staff physicians contribute voluntary, as well.
"We're providing a complete and highly stimulating education, taught by plastic surgeons who have a passion for each of the subspecialties. At LIPSG, we cover all subspecialties," Simpson says.
Residents pass through five rotations in the first year and then are back the second year for another full go-round, with extra responsibilities added.
RUNNING RAGGED
While in the program, they are exposed to everything from how to inject filler along the jawline of a patient needing to refine her appearance to how to create grafted tissues on someone who has suffered burns over a large percentage of his body.
In addition, residents are given a voluminous caseload that keeps them very busy. A significant share of that work is performed in public clinics, wherein residents usually decide how best to treat patients (albeit under the supervision of attending physicians).
"We do this because we want to make our residents keenly expert in all these procedures by the time they complete the program," Simpson says. Simpson is LIPSG's facial reanimation specialist, one of only a handful of such surgical specialty physicians across the country. As such, he is called upon throughout the year to expose residents to facial paralysis cases.
"My preferred technique for facial reanimation is contiguous muscle transfer, which involves moving a combination of the temporalis muscle and the massiter muscle into the paralyzed face, both for partial and complete paralysis when necessary," he says.
"I like this technique because it gives the patient an almost immediate return to function, compared to microsurgical procedures, which can take a year before functional benefits materialize," he adds.
"Learning facial reanimation techniques are extremely valuable to residents because they call into play all the general plastic surgical principles, and to those adds a demand that the resident learn to feel what the patient feels, to see life through the eyes of that patient."
—RS
---
Rich Smith is a contributing writer to PSP. He can be reached at plasticsurgery@allied360.com.
LIPSG History Lesson
---
By Amy Di Leo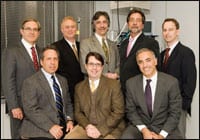 Seated (L-R): Laurence T. Glickman, MD, FRCS(C); Thomas A. Davenport, MD; and Kaveh Alizadeh, MD, MS, FACS. Standing: Roger L. Simpson, MD, MBA, FACS; Louis H. Riina, MD; Barry K. Douglas, MD, FACS; Vincent R. DiGregorio, MD, FACS; and Matthew S. Kilgo, MD, FACS.
In April 1948, shortly after the end of World War II, a couple of Army physicians crossed paths at Kings County Hospital in Brooklyn, NY, and decided to start a plastic surgery practice.
At the time, Leonard Rubin, MD, and Richard Walden, MD, DDS, didn't realize the Long Island Plastic Surgical Group (LIPSG) would span five generations, graduate more than 100 plastic surgeons, and treat more than half a million patients.
Many of the intricate techniques that Rubin originated for the treatment of burns and complex wounds were developed during his stint as a plastic surgeon in the Army on the battlefields of North Africa and Europe.
Walden, who had served in the Army as a plastic surgeon and dentist, treated soldiers stateside as they arrived home with wounds that were too complex to be treated in the field.
Due to the complexities of wartime injuries—such as embedded shrapnel, severe burns, and torn limbs—physicians of that era were greatly challenged with these reconstructive procedures.
Rubin's work in treating complex war wounds became well known. An innovator and creative thinker, his passion for burn management led to the creation of the Nassau County Burn Center in 1954, which LIPSG continues to manage. February 2008 saw the completion of a $6.7 million renovation to the critical care facility and outpatient plastic surgery center.
Rubin's innovations in muscle transfer and facial reanimation led to the creation of The Center for Facial Paralysis to treat patients with this disfiguring facial deformity.
Currently, LIPSG senior partner Roger Simpson, MD, MBA, FACS, continues to perform the specialized, intricate procedures he learned from Rubin.
Rubin was also a founding member of The Society of Aesthetic Surgeons, now called the American Society of Aesthetic Plastic Surgery (ASAPS).
Walden was a pediatric dentist as well as a plastic surgeon. His specialty was cleft lip and palate repair—his work and reputation in the field led to the creation of the Cleft Lip and Palate Center, Nassau County, NY, in the 1960s.
The business mind behind LIPSG, Walden was the organization's board president for decades.
In 1954, hand and reconstructive surgeon Bertram Bromberg joined LIPSG, specializing in flaps and the management of burns and wounds. Later, he practiced more aesthetic surgery techniques.
When he was a partner at LIPSG, he was also the chief of surgery at State University of New York Downstate Medical Center in Brooklyn.
Also in 1954, LIPSG established a 2-year plastic surgery residency program that has grown from educating a single fellow in 1954 to the current six residents who take the program concurrently.
To date, more than 100 plastic surgeons have graduated from the program, including LIPSG physicians Roger Simpson (class of 1980), who has directed the residency program for the past 20 years; Gene Lee, MD, FACS (class of 1972); Vincent DiGregorio, MD, FACS (class of 1976); Laurence Glickman, MD, MSc, FRCS(C), FACS (class of 1989); and Louis Riina, MD (class of 2001).
THE HEAVY HITTERS
Simpson and the other partners believe the residency program deserves some of the credit for the practice's longevity.
"Everyone in the group is tied into the residency training, therefore is held to higher standards," says Simpson, who adds, "We have multiple generations and a diversity in our group, [we] have different interests and personalities, but we respect each other on a professional level. In the end, it's a benefit to the patient."
His partners agree. "We're partners with a common vision," says Glickman, the only LIPSG partner dual board-certified in the United States and Canada.
Longevity of the practice is mirrored in the tenure of its "heavy hitter" physicians—not only DiGregorio and Simpson, who have been ensconced at LIPSG since 1973 and 1980, respectively; but also Lee (since 1973); Bruce Brewer, MD, FACS (since 1983); Leland Deane, MD, FACS (since 1986); Barry Douglas MD, FACS, Glickman, and Riina (all since 1991); Kaveh Alizadeh, MD, FACS (since 2000); Thomas A. Davenport, MD (since 2002); and Matthew Kilgo, MD, FACS (since 2005).
Some partners have been associated with LIPSG for more than 20 or 30 years.
"There were three tenets the founding fathers of Long Island Plastic Surgical Group taught me early on—a philosophy I continue to follow and teach the residents today," says Simpson, who toggles between training chores at the LIPSG Residency Program and working side-by-side with residents in day-to-day practice.
What are those tenets? "Strict attention to detail, the importance of excellent outcomes, and commitment to the patient," he says.
For the past 20 years, LIPSG has been located in the affluent Long Island suburb of Garden City. The firm's four-story steel and glass building is very modern, but the values that echo down the hallways and exam rooms, throughout the new American Association for Accreditation of Ambulatory Surgery Facilities (AAAASF)-certified surgical center and the newly reopened Aesthetic Center, are steeped in tradition.
As with Rubin and Walden before them, the current LIPSG partners draw from their extensive experience and knowledge to educate and lead while reconstructing lives and re-creating smiles.
---
Amy Di Leo is a contributing writer to PSP. For additional information, contact plasticsurgery@allied360.com.