The American Board of Facial Cosmetic Surgery (ABFCS) has named new leaders and trustees for 2023, including president Faisal Quereshy, MD, DDS, FACS.
"I am honored to lead our superb group of facial cosmetic surgeons," says Quereshy. "As president, my goal is to uphold the high standards we set for facial cosmetic surgery board certification, which ultimately help patients to locate safe and skilled surgeons. To that end, I am working with the board of trustees to enhance our process of ongoing board recertification and maintenance, which I am looking forward to sharing with our membership later this year."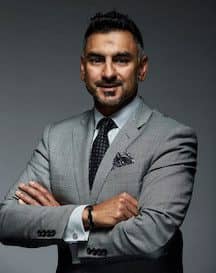 With more than 20 years of experience in facial cosmetic surgery, Quereshy is fellowship-trained and holds board certification from the American Board of Oral and Maxillofacial Surgery (ABOMS) and American Board of Cosmetic Surgery (ABCS) in addition to ABFCS. He is currently medical director of Visage Surgical Center in Medina, Ohio, and serves as professor and residency program director in Case Western Reserve University's Department of Oral and Maxillofacial Surgery.
To become ABFCS certified, surgeons must be experienced beyond medical residency. Surgeons may qualify to sit for the ABFCS certifying exam, held annually, by either completing an intensive American Academy of Cosmetic Surgery (AACS)-certified fellowship in facial cosmetic surgery or demonstrating equivalent fellowship training or experience in both surgical procedures and non-surgical techniques for facial rejuvenation—from facelifts to Botox.
As such, the ABFCS is made up of surgeons who sub-specialized in facial cosmetic surgery after completing a primary residency training in a surgical specialty such as oral and maxillofacial surgery or otolaryngology. ABFCS surgeons have dedicated a significant portion of their practice (if not all) to excellence in the sub-specialty of facial cosmetic surgery, a field that is ever-growing with advancements in surgical technology, injectable products, and non-surgical options.
"The ABFCS' diverse membership actively contributes to the facial cosmetic surgery speciality," says Quereshy. "Through our varied background experiences, plus ongoing collaboration with one another, we help advance facial cosmetic surgery techniques and approaches. I am humbled to take on this leadership role and steward current ABFCS diplomates as well as new applicants through the coming year."
Leading the board into 2023 are a new and re-elected group of officers and trustees, who will make critical decisions about the annual exam and credentialing requirements, as well as continue educating the public about finding qualified facial cosmetic surgeons for their needs.
New and re-elected officers for 2023:
President: Faisal A. Quereshy, MD, DDS, FACS
President Elect: Daron Praetzel, Col, DMD, FAACS
Secretary: Scott McCusker, MD
Treasurer: Kevin Kalwerisky, MD, FAACS, FACS
Immediate Past President: Sheila C. Barbarino, MD
Executive Director: Michael Brady, JD
2023 board of trustees:
Craig N. Czyz, DO
Ryan Diepenbrock, DDS, FAACS
Dan Georgescu, MD
Ash Dutta, MD
David E. Holck, MD
Soheila Rostami, MD, FAAO, FAACS
Robert Schwarcz, MD, FACS