The first nationwide LuMobile exhibition tour reaped a 240% increase in U.S. sales in seven months, according to Lumenis.
By Tonya Johnson
To address the cancellation of traditional on-site trade shows and events in 2020, Lumenis produced the LuMobile traveling exhibition booth, which kicked-off its road tour presentation in September. Despite the COVID-19 pandemic, the company was determined to find creative ways to connect its energy-based medical device experts with doctors who wanted to exchange ideas in a unique outdoor setting.
Designed to educate the medical aesthetic community around the country, informing professionals about new innovations and treatment techniques in a "fun and changing environment," the mobile outdoor trade show exhibition made pop-up appearances in 20 major cities across the United States during a seven month period. Throughout the #LumenisOnTour, participants were able to experience the brand's latest offerings in laser and RF devices.
In 2021, Lumenis also won for 'Best Overall Medical Device Company' in the MedTech Breakthrough Awards. The company's goal is to set a new standard when it comes to its business-to-business practices, connecting with its current and potential clients.
---
According to Lumenis, bringing the LuMobile concept to life proved to be just as effective—if not more, versus traditional trade shows of the past—that Lumenis employees also still miss.
At the time of this publication, the Lumenis U.S. Division had confirmed the following:
The brand experienced a 240% increase in sales by curating its own mobile trade show.
Mobile accessibility enabled the brand to hit multiple stops within several weeks, without relying on its consumer base to travel to a trade show.
In each region, on average Lumenis curated approximately 25 to 50 consistent attendees including key opinion leaders and luminaries in each region.
Equal sales performance occurred for the new Stellar M22, NuEra Tight, Splendor X and Legend Pro devices at each stop.
With the first LuMobile tour ending in April, Plastic Surgery Practice recently spoke with Brad Oliver, vice president and regional president of the Americas for Lumenis, about the LuMobile traveling booth, customer feedback along the road, and the future of trade show exhibits and events.
What type of feedback have you received about LuMobile's nationwide tour?
During the lockdown, doctors thanked us for helping to continue the education and innovation forums, with indoor trade shows all but eliminated. You must always be ready to innovate! Luckily Kevin Mendell, our vice president of marketing, and our marketing team were able to think outside of the box to make this happen!
Do you prefer mobile tours or traditional annual on-site exhibitions and events, with everyone coming together from all over to meet at one destination?
We see both venues as important moving forward. There will always be national events, but smaller regional, state or county learning events are essential. We bring great educational speakers, technology, food and learning to each stop of the LuMobile.
Do you enjoy participating in the virtual conference platforms that have also developed during the COVID-19 pandemic?
I think we will find middle ground again, virtual worked when it had to during a time of shelter-in-place. In the future I see a mix of both virtual and in person events. The key is having new technologies to help physicians improve outcomes and care for patients.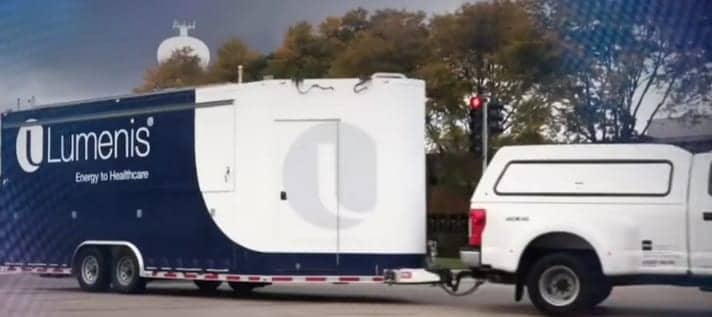 ---
Do you think the mobile pop-up trend will continue to grow?
Possibly. With Lumenis being the largest energy based medical device company in the world, seeing others follow this path is another sign that we continue to lead the industry.
What's next for LuMobile?
We have a thrilling new treatment that everyone is talking about, the FDA just approved our Lumenis IPL technology to treat Dry Eye! There are 40 million plus U.S. patients dealing with the negative cosmetic and functional effects of Dry Eye. We now have the only light-based solution for those patients. Addressing the aging, redness and inflammation associated with dry eye is a huge need for aesthetic patients. Our Optilight with Stellar technology will add another great cash treatment for aesthetic practices. Not only will patients' eyes look younger and healthier, but their eyes will also feel and function better.
Patients develop strong bonds of trust with their surgeons, especially those that help improve their confidence image and quality of life. At Lumenis we are here to develop new technologies like the Optilight that will continue to add value and results for patients.
Tonya Johnson is associate editor of Plastic Surgery Practice