All New Yorkers know that great Italian food can be found in Little Italy. For bohemian culture, look to Greenwich Village. And for an aesthetic surgeon? Look to the Upper East Side. It didn't take long for Jennifer Walden, MD, a Texas transplant, to figure that out, either.
When Walden completed her aesthetic surgery fellowship training at Manhattan Eye Ear and Throat Hospital (MEETH) in 2004, she knew New York City was where she wanted to stay.
"Right place, right time," is how Walden describes how she secured her tony Upper East Side address. The 71st Street office, situated between Park and Madison Avenues, was once the office of her senior associate, Sherell J. Aston, MD, chairman of the cosmetic surgery program at MEETH and one of Walden's many mentors in the field. She opened her doors in July 2004.
TEXAS DYNAMITE
Walden was raised in Austin, Tex, the youngest of five, with three brothers and one sister. She's the only MD in a family where her father is a dentist, her mother is a registered nurse, and her oldest brother is a veterinarian. Walden's two other brothers and sister are not in the medical field (they are an attorney, a wildlife biologist, and a CPA, respectively).
Early in life, her love of science was apparent. In eighth grade, for instance, she explains how she fully dissected a pig in science class by herself after her lab partner left the room in disgust. At a time when Walden was head cheerleader of her junior high school squad, one teacher told Walden she'd be a surgeon one day.
An honors student at Anderson High School in Austin, Walden also was an all-state soccer player and a member of the Future Business Leaders of America. She went on to attend the University of Texas at Austin, where she graduated with a bachelor's of arts degree in biology. She still cheers loudly for Longhorns football, however.
For medical school and her surgical residency, Walden remained in Texas and attended the University of Texas Medical Branch in Galveston. She became president of Alpha Omega Alpha, the Honor Medical Society, and received the Isabella H. Brackenridge award for top female scholar after basic sciences core and clinical core. In addition, she was the salutatorian of her medical school graduating class—a class in which the men outnumbered the women two and a half to one.
What is it like being a woman in a field that's been dominated by men? Walden believes it takes endurance to deal with all aspects of the aesthetic surgery field—including the "old boy's club" mentality that crops up.
"In any field, young women probably have to jump more hurdles to get to the same level as their male counterparts, whether in government, medicine, or any facet of the workforce," Walden says. "At the end of the day, I hope I'm stronger for it because I realize I need to achieve highly to earn the respect of my male colleagues."
The aesthetic medicine arena is very much male dominated, according to Walden. "In medical school today, there's about a 50-50 split of men to women," she explains, "but as the training continues on to surgeon and specialty surgical training, you see fewer and fewer women in the field. Statistically, female plastic surgeons make up about 10% of the group. And in Manhattan, the same holds true."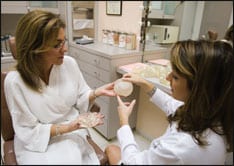 Walden believes that educating patients about procedures is a very important part of what she can offer.
Be it women's intuition or a savvy business sense, Walden truly understands her patient demographic, which is 90% female—mostly 20- to 50-year-olds living in New York, New Jersey, and Connecticut.
In addition, she is very successful at keeping her patients comfortable and happy. Her staff is, by design, all female and includes two people from Walden's native Texas. On the staff page of Walden's Web site, drjenniferwalden.com, the words "Girl Power" in pink letters says it all, and Walden jokes that even her male patients—which make up a mere 10% of her client base—don't mind the all-female staff.
The practice's demographic mirrors the national average, and according to Walden, "A large volume of my surgery is for breast implant placement."
Breast surgery makes up the largest piece of Walden's practice, with augmentations the most common procedure performed. After that, mastopexy breast reduction, rhinoplasty, blepharoplasty, facelifts, and body contouring are most common.
Walden finds many of her patients via word-of-mouth references, but the largest portion of her patient referrals come from her subscription to various breast implant Web site portals, she says, including justimplants.com, implantforum.com, bi411.com, loveyourlook.com, and lookingyourbest.com.
MAKING CONNECTIONS ONLINE
What began out of a sense of curiosity about "life online" a little over a year ago has become a potential marketing tool for Manhattan plastic surgeon Jennifer Walden, MD.
The petite plastic surgeon is now blogging (at celebrityblogspot.com) and networking with patients, friends, colleagues, and the world using social networking sites Facebook and MySpace.
She created her space on MySpace "just for fun," Walden says. "I put a little showcase of me, which is different and more grassroots than what I have on my practice Web site. At first I just wanted to see what it looked like. Then it snowballed."
Then came Facebook, which she joined at the encouragement of her teenaged nieces. "You get word of mouth and a little bit of a buzz from Facebook or MySpace. You get people who are the friends of people you've done surgery on, or someone who just says, 'Hey, saw you on Fox, or I like your work' … and then 'friend' them.
"If a patient is happy with something I did for them and wants to write on my Facebook or MySpace wall, that's her prerogative. I will never ask them to because of the HIPAA rules, but I have [seen] patients do that."
Unless it's a notable announcement, users will not see self-serving status messages on Walden's Facebook page. "My good friends are on there, and I don't want them to razz me on it," she says. Other Facebook "friends" are patients who asked to connect and others who may have seen one of Walden's many media appearances.
In addition to online social networking, Walden and her staff have been blogging since August 2008—in about 3 months, her blog (plasticsurgerycelebrity.blogspot.com) had approximately 4,700 page views.
The blog, however, is filled with celebrity news. "I didn't want the blog to be corporate or professional. I wanted it to be more of a homegrown blog, maintaining the spirit of what I believe a blog to be," she says. "That's why I chose not to embed it into my professional site, which is about me as a surgeon, while the blog [is] purely entertainment.
"The girls in the office and I decided to do it, so I invited all of the staff to be part of the contributing team. They like to find funny stories to include and always know what is going on with celebrities and plastic surgery. The blog is purely for entertainment value. Sometimes people post comments, and as time goes on it becomes more visible, so we get more and more comments."
Walden's online activities are generating a buzz. Some patients tell her they've seen her on the Internet. That doesn't surprise her. However, more recently, some of her colleagues are asking for advice on how to create their own social networking pages.
—AD
"Those sites work" for finding new clients, Walden claims. "They cater to a very focused group of people who are interested in breast augmentation who are visiting the sites. There's a regional component to them as well."
In addition, these Web sites are a good resource because of the comments on her patient intake forms, printouts, and the before-and-after models that her prospective patients create for themselves on some of the more interactive sites. Walden is also active on Facebook.com and MySpace.com (see "Making Connections Online" sidebar at right).
"For breast augmentations, I do ask women to bring in photos so I can get an idea of what they are looking for," she adds. "Their idea of a C cup may really be a busty D cup, so it gives me a little more information about their perceptions of breast size."
Bra manufacturers vary as well, so Walden uses a biodimensional planning system based upon exact breast measurements.
Walden describes her breast implant technique as "nothing that hasn't been described, tested, or scientifically reviewed before," and the number of transaxillary endoscopic breast augmentations she performs has increased due to patient demand.
Her approach to breast augmentation, she says, has evolved with the requests of her patients and scientific technique.
She offers all three incisions (transaxillary, inframammary crease, and periareolar) based on what women want and their own anatomy. Walden explains that she has developed her own techniques to determine implant size, incision size, and end result.
In addition, Walden is very specific about what she will and will not do for a patient and believes that education is a large part of what she can offer. "I will rarely go over a 450-cc implant and require an informed consent if the patient goes over 350 cc," she says.
Current studies being done on fat injections to the breast for augmentation are "exciting," she says. "We are already using it for body contouring, implant-related deformities, and breast reconstruction cases currently, but right now only a few plastic surgeons are using it for primary breast augmentations."
The Aesthetic Society Educational Research Foundation (ASERF) is doing research on the long-term effects of fat grafting to the breast and how the procedure might affect mammography. "I think it's going to be a great option for women looking to go up a cup size or a cup-and-a-half, and who are averse to the idea of implants," Walden says.
Implants are the gold standard for breast augmentation, she says, adding that she prefers responsive gels and partial submuscular placement.
She also looks forward to the hopeful FDA approval of highly cohesive anatomic gels as another option for women seeking breast enhancement.
Walden is well aware that people shop around when they're considering cosmetic surgery. In Manhattan, prospective patients that she interviews often go to three or more consultations before making a decision. However, more times than not they go with Walden, who cites a two-in-three conversion rate.
THE BIG MOVE
How does a girl from Austin end up as a successful physician in the Big Apple?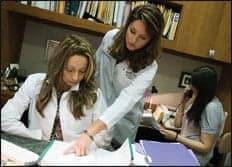 Walden's staff consists entirely of females, which she claims even her male patients appreciate.
"At the completion of my residency, I felt I needed a change in my life, the scenery, and culture," Walden says. "I also wanted to get subspecialty training in aesthetic surgery—specifically, facial surgery—and I was always interested in the MEETH fellowship," she adds.
With several good friends starting careers in different fields in Manhattan, Walden felt right at home with their familiar faces greeting her as she arrived. Although she calls the initial experience of being in New York City a "culture shock," she quickly adapted to the cosmopolitan lifestyle. Her now-assimilated friends helped with wardrobe, taxi etiquette, and how to handle celebrity sightings.
"I realized pretty early in my training that I wanted to do aesthetic surgery," Walden says. An interesting aesthetic breast case very early in her plastic surgery training piqued her interest and helped mold her plan. "At that point, aesthetic surgery wasn't something a lot of residents were graduating from programs in Texas and going on to specialize in.
"My chief of plastic surgery, Linda Phillips, and many others agreed that aesthetic surgery was a good fit for me—likely because I'm female and I seemed to have a good rapport with the cosmetic patients coming in. At the time, I was also doing a lot of breast surgery in Galveston at the cosmetic clinic run through the medical school. We offered a great deal for women wanting breast augmentations, and I did quite a bit of breast surgery—probably more than the average resident. On a Thursday, I could do three or four cases, which is basically what I do now on a Fridays at MEETH," she chuckles.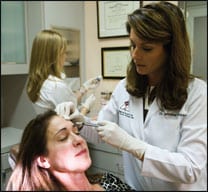 This self-proclaimed workaholic is most happy when she's working with patients.
Phillips was another of Walden's early mentors, leading Walden to remind women who are on track to become surgeons that they really need to have a "really strong female mentor."
Dr Phillips was a very positive role model, Walden adds, in that she has four kids and she was doing it all. Phillips is "a wonderful surgeon, yet still very feminine," Walden says.
(Phillips was last year's president of the Plastic Surgery Education Foundation, and in 2007 she became the first female chair of the American Board of Plastic Surgery.)
SEEKING CHALLENGES
Walden also enjoys holding positions in various medical societies. This year, she became the Committee Chair of the American Society of Aesthetic Plastic Surgeons (ASAPS) Candidate Liaison Committee. Earlier this year, Walden was appointed program director for the aesthetic surgery fellowship program at MEETH. In that role, she staffs the residents' clinic and the cases for the residents and fellows; she also assists with difficult cosmetic surgery cases.
In addition to teaching, Walden enjoys lecturing. Recently, she spoke at the New York Plastic Surgery Foundation's Cutting Edge Symposium on implant selection in breast augmentation. In January, she traveled to India to participate in an international symposium on aesthetic plastic surgery, where she performed live breast augmentation/mastopexy in the Bombay Hospital in Mumbai. In May, she spoke at the senior residents' conference in Washington, DC, on how to start a practice.
Walden also enjoys editing articles for Aesthetic Plastic Surgery, the official journal of the International Society of Aesthetic Plastic Surgery, wherein she writes commentary on different plastic surgery procedures described in the journal.
Walden is hoping that some of her research will turn up next year in a medical journal. Along with the director of research at Lenox Hill Hospital, Georgia Panagopoulis, PhD, and her nurse, Sarah Shrader, RN, BSN, MHA, Walden conducted a 35-item survey assessing contemporary perceptions and decision-making processes of women seeking breast augmentation in a metropolitan setting. Are they influenced by the Internet or certain people, such as physicians? An abstract of the results has been submitted to the ASAPS for approval.
Walden is proud of the work she did in a new plastic surgery textbook titled Aesthetic Plastic Surgery (Elsevier, London), which she coauthored with Aston and plastic surgeon Doug Steinbrech, MD. Due out for the ASAPS meeting next year, the book is a nuts-and-bolts view of plastic surgery that is geared toward surgeons wanting to learn the "how-to's" of procedures.
Walden's other passion is doing pro bono reconstructive surgeries in other countries.
Despite having put down new roots in Manhattan, Walden travels to Austin several times per year to see her family, enjoys the outdoors—skiing and biking, and spends time with her friends.
That may be well and good, but this self-proclaimed workaholic says she is most happy and comfortable when she's performing surgery. "In the operating room, I'm very at peace," she says. "It's one of my favorite places, where I don't worry about phone calls, e-mails, bills, or issues of the day. It's just a little bit of seclusion. Operating is my passion."
---
Amy DiLeo is a contributing writer for PSP. She can be reached at [email protected].
GIVING IT AWAY
Doing pro bono work "makes me appreciate what I have so much more," says Jennifer Walden, MD. The Manhattan-based plastic surgeon regularly travels to Latin American with Austin Smiles, a nonprofit organization that provides surgeons with a framework for doing reconstructive plastic surgery, primarily cleft lip and palate repairs, for children in and around Austin, Tex, and in various Latin America locations.
Walden, who was born and bred in Austin, has traveled to Latin America on three separate medical missions—most recently to El Salvador in February 2008.
"I try to go once a year with Austin Smiles to operate on children with cleft lip and palate deformities in Central and South America," Walden says, adding, "I enjoy it because I get to do something that's purely reconstructive and giving."
Some of the physicians she travels with and operates next to are the fathers of her junior high and high school friends. "One of the plastic surgeons I just went over with was the doctor who taught me at a young age how to suture on pigs' feet," she adds.
On these adventures, Walden performs mostly cleft lip, palate, and nasal reconstructions, but also sometimes performs hand surgery.
In addition to these missions, Walden is on the board of directors at Weston United, a Harlem, NY-based not-for-profit group that provides housing and services for the mentally ill and homeless.
For this volunteer effort, Walden doesn't share her medical skills. Rather, she helps with financial planning, provides feedback on the organization's programs, and assists with several fund-raising events throughout the year.
Of her volunteerism, Walden says, "It helps me to stay grounded."
—AD