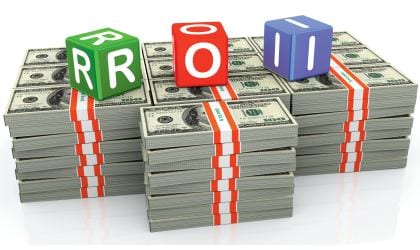 Let 2012 be the year your online marketing dollars finally start working for you. The first two articles in this series explained the various components involved in online marketing, return on investment (ROI), and how to measure them. The third and final installment will bring it all home by providing three New Year's "ROIsolutions"—action steps to improve your ROI and build your practice.
RESOLVE TO BLAZE A TRAIL TO YOUR DOORSTEP
Most visitors come to your Web site via a search engine such as Google, Bing, or Yahoo!. They will type in your name and/or your practice's name, but if you don't come up on the top of the page they may never cross your doorstep. Make sure that you do.
Here's how: Your name and practice name should be in the content of your home page, Meta description, and, if space permits, your page title. Google displays the Meta description and the page title in its listings. This is prime real estate.
Your practice location should be prominent on your home page, not just listed at the bottom of the page. If your address is in a location that is different from your major drawing area, make sure both locales are reflected. For example, if your practice is in Plano, Tex, but your patient pool is all around Dallas, then Dallas needs to be prominent on your home page, too.
These simple steps will boost your online visibility and ROI.
RESOLVE TO PROVIDE UNIQUE CONTENT
Not all consumers will search for you by name. Some will look for information about plastic surgery, plastic surgery practices, or plastic surgeons in your area.
For Google and the other search engines to "view" your site as an important resource, your content must be unique. It is also prudent to have separate pages on all key procedures with easy-to-understand information on their risks, results, recovery, and cost.
If your content is canned, clichéd, or otherwise contrived, your ROI will take a nosedive. Google's recent algorithm change—the so-called Panda update—was designed to strip the rankings from content farms or sites with low-quality, generic content.
RESOLVE TO MAKE IT EASY FOR CUSTOMERS TO CONTACT YOU
Make sure your practice address and phone number are up-to-date and accurate. It sounds simple, but many of the online sources of information automatically extract dated material.
Ensure your Google Places account is completely up to date with the correct practice information, address, and phone number. Also, any other online listings of your practice—such as the American Society of Plastic Surgeons or the American Society for Aesthetic Plastic Surgery surgeon directories—should have the correct name, address, and phone number.
Along the same lines, a contact form should be easily accessible across the site, not just located on a "Contact Us" page.
There is a caveat: Your staff can make or break your ROI. Even if all this information is correct and the prospective patient contacts your practice, your staff holds the key to converting a lead into a surgery.
The phone should be answered within three rings, and e-mail should be answered within a few hours. Call your own practice during business hours or send a secret shopper e-mail to see how your staff stacks up. You may be surprised at the results.
These three action steps will dramatically boost your online ROI. If you find that your site is not ranking well and your content is subpar, consider shopping around for a new firm that will accommodate these ROIsolutions.
---
David Evans, PhD, MBA, is the CEO of Ceatus Media Group, based in San Diego, and a recognized authority on Internet medical marketing strategies. He can be reached at or (858) 454-5505.