Understanding what really motivates a person to seek plastic surgery can be a powerful practice asset, as Vishal Kapoor, MD, has discovered.
Before getting inside his or her skin, a physician plots the best surgical approach to ensure the patient's postoperative satisfaction, Kapoor says—satisfaction that can result in many referrals.
Kapoor, who practices in Beverly Hills, Calif, has made patient psychology an area of attention in his practice and is being rewarded for having done so.
"It's important today to know the deep-seated reasons why a prospective patient wants plastic surgery, especially in view of the way reality TV shows and supermarket tabloid stories about plastic surgery have shaped people's expectations and, by extension, their motivations," he says.
RIGHT FRAME OF MIND
Being attuned to patient psychology helps Kapoor quickly identify individuals who are poor candidates for surgery and to then guide them in a more appropriate alternative direction.
Take the case last year of a 62-year-old white female who had undergone a facelift performed elsewhere, but with disappointing results. "It didn't seem to her that any lifting had occurred, while certain areas of her face and neck appeared unnaturally tight," Kapoor recalls. "Overall, she felt she looked worse than before the surgery."
This woman, who was referred to Kapoor by a satisfied former patient, suffered from improper scar healing and inadequate correction of signs of aging—both likely owing to challenging characteristics of her facial anatomy.
"She had been a heavy smoker for most of her adult life and had spent a lot of time out in the sun. Consequently, her skin quality was poor to begin with," Kapoor explains.
Kapoor decided the woman would eventually benefit from revision surgery, but not yet—only 3 months had passed since the original procedure was performed.
"I recommended she wait at least another 3 to 5 months, to allow the healing process to complete before considering additional surgery," he says. "Moreso, I thought this was the wrong time for her to be looking at a return to the OR, because she was in such a bad place psychologically. Part of the reason for that was her expectations before the surgery had not been properly managed. Specifically, the other doctor didn't really take time to educate her about the limitations of her anatomy and how those limitations would affect the outcome."
Over the months that followed, Kapoor and his office staff kept in contact with the woman.
"Just knowing that someone out there was concerned about her and wanted the best for her helped this individual get back to that healthier psychological place where patients need to be before you operate on them," he says.
Six months after his first encounter with her, Kapoor performed the revision surgery. "We basically redid the entire facelift and performed some laser work to refine her skin's appearance," he adds.
In the end, the patient was very happy with the results. She parted company with Kapoor convinced that the half-year delay was the best option.
EMOTIONALLY SUPPORTIVE
Some plastic surgeons—in particular, those who are hard-pressed for time—unintentionally maneuver patients into a less-than-helpful state of mind by racing through the initial consultation, Kapoor notes.
"That first meeting sets the stage for all that comes afterward, including the level of satisfaction expressed by the patient after surgery, and his or her willingness to refer family and friends," he claims. "I believe it's, therefore, important to lavish time on the new patient during the initial consultation. This is when his or her opinions about my skills, my bedside manner, my quality of care, are going to take shape and pretty much be cemented for the remainder of the relationship."
Kapoor says that patients should be encouraged to ask questions during this introductory encounter.
Life In Balance
Family and athletics are two of the greatest joys in life for Beverly Hills cosmetic and reconstructive plastic surgeon Vishal Kapoor, MD.
He and his attorney wife, Kavita Amar, are the devoted parents of two very young children—son Taj, 18 months, and daughter Bella, 3 months. "The kids keep me pretty busy, they keep me on the run," Kapoor says.
Fortunate, then, that Kapoor likes to run. "Running helps me get my mind off work and get my life back in balance," he says.
The quest for balance is made a bit easier by Kapoor's ability to psychologically shut himself off from work when he leaves the office, usually around 7 pm on most days.
"I've conditioned myself to accept the fact that what I don't finish by quitting time will get done the next day," he says. "That might not be the most expeditious way to complete a task, but it's the one that makes the most sense in light of the reality that there will always be more work to be done than there are hours in a day in which to do it."
—RS
Usually, though, the answers to those questions do not fully penetrate or are forgotten. Kapoor, aware of this propensity, ends the first meeting by inviting the patient to call him on the phone or send him an e-mail with further questions or requests for elaboration.
"I'm only too happy to go over anything the patient wants to talk more about," he says. "I look at this as just part of the overall process."
Inviting and including the patient's family or friends is another Kapoor hallmark of practice. He does this so they can be prepared for what they will see during the early days of postoperative recovery, the time before swelling has yet to fully subside and the good results of the surgery have yet to become evident.
"Among the last things the patient needs—or that you need, for that matter—is for a friend to be startled by the swelling and bruising and say to the patient something along the lines of, 'Oh my! What did your doctor do to you? This is so terrible!' " he says.
"Because patients are so vulnerable to depression during the early postoperative period, they need to have a solid support system in place to help see them through it," he continues. "The less depressed the patient is during recovery, the less likely he or she will be to experience dissatisfaction with the results of surgery."
A NEW LOCATION
Kapoor entered private practice in 2005 as a facial rejuvenation, breast enhancement, and body contouring specialist. Services he offers include rhinoplasty, eyelid-eyebrow surgery, and face-neck rejuvenation. He also provides a gamut of noninvasive services, including skin treatments, chemical peels, and laser hair removal.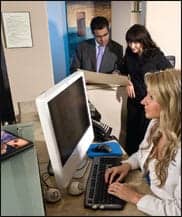 New patients should be encouraged to ask questions during their introductory encounter with the surgeon, Kapoor says.
Embedded within Kapoor's 1,500-square-foot office is a fully accredited operating room where he performs major procedures under general, local, or intravenous anesthesia.
He has been able to perform major surgery in his office since September 2008, having just recently moved into this current space in the 400 block of North Roxbury Drive in Beverly Hills.
His former location lacked a surgery suite, so Kapoor performed most major procedures at an outpatient facility a short distance away, and the remaining surgeries were done at any of three hospitals where he has privileges.
As for equipment, one of Kapoor's favorite devices is the MicroAire Power Assisted Lipoplasty machine. This nonultrasonic, nonthermic system facilitates cannula action with the aid of a 2-mm reciprocating movement at 4,000 cycles per minute, which permits use of lighter force in fibrous tissue areas, Kapoor says.
With regard to staff, Kapoor has two employees, both of whom are cross-trained. They are patient care coordinator Jayme Simeone and practice coordinator Tara Behlmer.
"My team is very customer service-oriented," he says. "They're attentive to patient needs, and they understand the delicate nature of plastic surgery preoperatively and postoperatively."
BEVERLY THRILLS
Born in India but raised in the United States from the time he was 5, Kapoor chose to become an MD because both of the parents are physicians.
To start himself along that path, he enrolled at the University of California, San Diego, where he took pre-med courses and graduated in 1994 with honors. His medical schooling took place at Tufts University in Boston, ending in 1998— again, with honors.
Surgery became an area of interest early on, thanks to the influence of his anesthesiologist father. "I liked learning about what he did in the operating room, so I was always intrigued by surgery, in particular the technical aspects of it," Kapoor remembers.
However, he was not sure about which surgical field to enter until well into his general surgery residency, which occurred at the University of Washington, Seattle.
"I was exposed to everything from cardiac surgery to orthopedic surgery, but the discipline I found most satisfying was plastic surgery," he says. "There was so much variety to it, so many opportunities to perform so many procedures—and all with the aim of restoring or improving both function and form."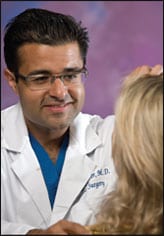 Kapoor is among the few plastic surgeons in Southern California adept at performing the SMAS-platysma bidirectional facelift procedure.
Another appeal of plastic surgery: the patient population. "They were generally healthy people," he notes.
After finishing his general surgery residency in 2001, Kapoor stayed on at the University of Washington for plastic surgery training. He finished that in 2004 and then embarked upon a 1-year fellowship in San Francisco at the Aesthetic Surgery Institute.
Beverly Hills was his choice of practice locale because it was the home of his wife, entertainment industry attorney Kavita Amar. "Our time in Washington state caused disruption to her career; I promised her that when my training was over we would come back to Southern California so that she could get her law career back on track," Kapoor explains, admitting that it was not as though he needed his arm twisted to agree to such a move.
"I love Southern California, always have," he says. "On top of that, in the Southern California market, the demand for plastic surgery services is about as huge as it gets anywhere."
POINTS OF DISTINCTION
Demand may be exceptionally strong in Southern California, but so is the competition among plastic surgeons. Accordingly, no small effort was involved in getting Kapoor's practice up off the ground. A key to his successful launch and subsequent growth has been brand differentiation.
"One way I've sought to stand apart from the competition is on the basis of reputation," Kapoor offers. "I'm very conscientious about taking care of my patients. I do good work for them; I deliver a high-quality product, I'm board-certified. All of this is helping get my name spread around."
Another means by which Kapoor has helped his practice is by not isolating himself. "I've made acquaintances with a number of senior, well-established colleagues and have not been bashful about seeking them out for advice," he confides. "They've shown me how to make better decisions about equipment purchases and marketing. They've shown me how to avoid overextending myself in terms of both money and time."
Moreover, Kapoor is among the few plastic surgeons in Southern California adept at performing the SMAS-platysma bidirectional facelift procedure, something he learned while under the tutelage of John Q. Owsley, MD, the preceptor of the fellowship offered by the Aesthetic Surgery Institute in San Francisco.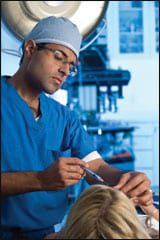 "I want my practice to be understood as a place where the patient's happiness is uppermost on our minds," Kapoor says.
During a SMAS-platysma bidirectional facelift procedure, "A flap from the superficial musculo-aponeurotic system and the platysma myocutaneous muscle of the anterior neck and lower face is used to facilitate correction of submental deformities, without the necessity of direct approach with a submental incision," explains Kapoor.
"Wide superficial undermining of the upper and midcheek skin, which is pulled laterally for correction of the nasolabial fold, achieves the bidirectionality of the facelift," he continues. "This procedure results in a longer-lasting, more natural appearance—nothing exaggerated-looking about it at all.
"Its advantage is it involves tightening some of the deeper layers of tissue, rather than just the skin. It's a more anatomically sound approach because, as cadaver and other studies have demonstrated, it's at the deep-tissue level where aging occurs, not at the skin level."
UPSIDE POTENTIAL
As Kapoor notes, facial rejuvenation patients often harbor the fear that they will not look natural when the work is done and the healing is completed.
"Ninety percent of these patients come right out and tell me that they don't want to appear pulled or seeming like they're passing through a wind tunnel," he says. "So when they learn about the SMAS-Platysma bidirectional facelift procedure, there is a sense of relief. You can almost feel the tension and anxiety dissipate."
The deal closer is the before-and-after photographs Kapoor shows of other patients who have undergone the procedure.
Kapoor laments that many prospective patients—owing to an emotional disconnect of one kind or another—have lost sight of the fact that plastic surgery is surgery, and serious surgery at that.
See also "The Educator" by Rich Smith in the October 2006 issue of PSP.
"Too many come in for the initial consultation thinking this is just fun and games, not much different from a trip to the beauty salon, only with a lot more money involved. Too many fail to appreciate that plastic surgery is serious business that carries real risks."
The business of plastic surgery itself carries real risks too—not for the patient, but for the proprietor. Although Kapoor's practice is beyond the riskiest stage of its growth arc, it remains in a formative stage, meaning that Kapoor finds himself standing before many possible routes to growth.
"The one thing I know with certainty is that I want my practice to be recognized by peers and consumers alike for delivering the highest quality when it comes to surgical and nonsurgical aesthetic services," he says. "I want my practice to be understood as a place where the patient's happiness is uppermost on our minds."
---
Rich Smith is a contributing writer for PSP. He can be reached at [email protected]