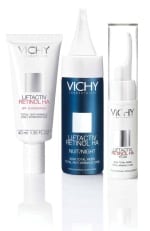 WRINKLE CARE
Vichy Laboratoires introduces LiftActiv Retinol HA, a total wrinkle care cream for women ages 30 to 40 that delivers an immediate resurfacing and smoothing effect. It combines Retinol, for its long-term anti-wrinkle action and resurfacing effect; Adenosine, to accelerate Retinol's anti-wrinkle effects; Hyaluronic Acid, for its cell volumizing and filling effect; Vichy Thermal Spa Water, for its soothing and healing benefits; and Retinol Palmitate, for optimum skin tolerance in the sensitive eye area and an enhanced illuminating effect. The product line includes LiftActiv Retinol HA Eyes, LiftActiv Retinol HA Night, and LiftActiv Retinol HA SPF 18.
Vichy Laboratoires
(877) 37-VICHY
www.vichyusa.com
---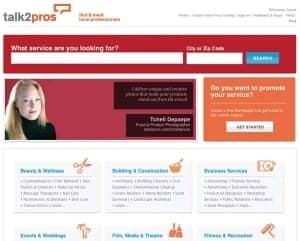 SEARCH ENGINE FOR PROS
Talk2pros, San Francisco, announces the launch of its new search engine talk2pros.com, a site where professionals can share their knowledge and services with the online community and connect with clients and peers who are seeking their services. According to the company, by creating a profile on talk2pros, professionals can upload images, list their services, talk to potential clients, and network with other professionals in and out of their respective industries. The site is designed to index these profiles in search and social media, and ultimately act as the technology partner that helps lower the cost of doing business as an independent contractor.
For more information, and to create your free profile, visit
talk2pros.com/your-name-here
---

FACIAL SKINCARE SYSTEM
Obagi Medical Products Inc, Long Beach, Calif, offers the Condition & Enhance System™, which according to the company helps lighten, tighten, firm, and turn one's skin cells over on a daily basis. It complements all facial procedures to help improve one's overall aesthetic appearance. The system includes Gentle Cleanser or Foaming Gel (to prepare), Clear or Exfoderm® or Exfoderm® Forte (to repair), Blender or Tretinoin (to stimulate and maintain), and Healthy Skin Protection SPF 35 or Physical UV Block SPF 32 (to protect).
Obagi Medical Products Inc
www.obagi.com
---

ANTIAGING FORMULA
PerfectRX, Cedar Glen, Calif, introduces Ultimate Age Proofing Complex, an epidermal growth factor (EGF) product specifically formulated for women age 40 and older. The Complex redefines sagging skin and loss of density; and firms jaw lines, neck, and smile lines. EGF Growth factor, combined with the peptides Matrixyl 3000 and Copper Tripeptide-1, regenerate cell production, dramatically reducing fine lines, crepe skin, crow's feet, wrinkles, and loss of elasticity due to sun damage or hormonal changes. Private labeling is available (24 piece minimum).
PerfectRX, (925) 365-1963
www.perfectrx.net
---

FACIAL SERUM
Clinicians Complex, Braselton, Ga, introduces Anti-Redness Serum, which is formulated to reduce facial redness associated with mild rosacea, erythema, and other dermal inflammation, according to the company. This hydrating formula has soothing properties to calm and correct red, irritated skin. It contains an antimicrobial agent and utilizes a silicone and emu oil-based system to effectively deliver ingredients deep into the skin. It also contains arnica extract to reduce skin inflammation and a blend of lipids to help rebuild a healthy, natural moisture barrier.
Clinicians Complex
(800) 826-4480
www.clinicianscomplex.com