By Wendy Lewis
Real estate greatly affects your bottom line—whether you own, rent, or share. Maximizing your office space, however, can slash what is typically the number one or two in terms of biggest expenses for a practice.
Here are five space- and money-saving tips to reduce your office expenses.
1) THINK OUTSIDE OF THE BOX
If you are in office space with extra room, it's time to re-evaluate. Consider adding a medical spa or retail vertical. Consult an architect who specializes in medical offices to find out what options you may have in terms of flow, storage, additional treatment rooms, and space division.
A good example of wasted space in a medical office is when one or more physicians has spacious offices that are loaded with textbooks, journals, and stacks of paperwork where they rarely, if ever, see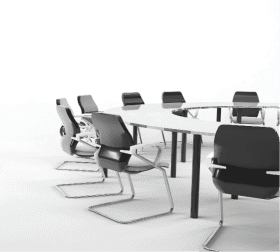 patients. Another example may be a waiting room that comfortably seats a dozen people in a practice, but there have never been more than a few patients in the office at any given time.
But by moving a wall or two or other simple structural changes, you may be able to salvage the space. Moving a practice is time-consuming, expensive, and risky. Whenever possible, it is better and cheaper to stay than to go.
If the doctors in the practice spend a lot of time off-site—at the hospital or university, or traveling to meetings—it may be feasible to bring in a tenant. The rental fee may greatly offset your expenses.
2) GIVE YOUR OFFICE A MINIMALLY INVASIVE LIFT
Another consideration is the state, decor, and appeal of your current space. If the carpet is stained, the upholstery is frayed, and your office is in dire need of a facelift, this may be contributing to the fact that your waiting room is too big for your patient flow. Take a cue from HGTV programs that offer advice on how to spruce up your space on a limited budget. Fresh new furniture, a coat of paint, new window treatments, and modernized lighting can go a long way to letting patients know that they are in the right aesthetic practice.
3) OPEN A SATELLITE FACILITY
If your practice has outgrown its current space and you are seeing patients from another geographic area, consider some space within a 100-mile radius as a satellite office. You may only need this other location 1 day a week or 1 day per month until that office is built up, but the convenience of seeing patients closer to where they live or work is a big advantage. Similarly, you may be fortunate enough to find a colleague or other specialist who would be interested in doing the same thing. You can work out of his or her office occasionally, and vice versa. For practices with a robust skincare vertical, it may be feasible to relocate the medical spa services to a satellite location.
4) SEEK STORAGE SPACE
In any major city, you can expect that storage space will be limited and highly coveted. If your practice has not already converted to an electronic medical record (EMR) system, the time has come, and the sooner the better. Even with an EMR system in place, storage of paperwork, files, charts, and other supplies is a constant battle. Rent a storage locker for old and outdated materials; debride the files that are taking up valuable space now; or convert everything possible from paper to some variation of a Cloud system.
Investing in technology is paramount. Instead of an old clunker of a PC, upgrade your computer system. Purchase smaller, lighter, and portable variations of laser and energy-based devices that can be moved from room to room, or office to office. You can also seek out multiple platform technology or devices that are great multitaskers and sell older models that take up more room.
5) OUTSOURCE ADMINISTRATION
If you are tight on space, consider outsourcing any nonessential tasks to free up more work space and avoid overcrowding. Many practices contract out billing and insurance reimbursement, as well as marketing, social media, and PR activities, to avoid having staff in-house manage the process. Anything that can be automated may end up being more efficient in the long run, rather than having your key staff multitasking to try to get everything done.
There is more than one way to maximize your office space so it works for you and your patients while keeping costs low and efficiency high.
Wendy Lewis is president of Wendy Lewis & Co Ltd, Global Aesthetics Consultancy, founder/editor in chief of beautyinthebag.com, and a contributing editor to Plastic Surgery Practice. She can be reached at

[email protected]