IMAGING SYSTEM UPGRADE
Canfield Imaging Systems, Fairfield, NJ, announces new features for its VECTRA 3D systems that, according to the company, are designed to improve consultations and practice marketing for providers of aesthetic and reconstructive procedures. These features, available for both new and existing VECTRA X3, M3, and M1 installations, include: VectraVision™, which employs a stereoscopic viewing technology similar to that used in movie theaters and home entertainment systems; Face and Breast Assessment Utilities to improve surgical planning; a Patient Consult Checklist that helps assure patient understanding of existing conditions and expected outcomes; and an animation wizard to create video clips of simulated procedures for Web sites and presentations.
Canfield Imaging Systems Inc
(800) 815-4330
www.canfieldsci.com
---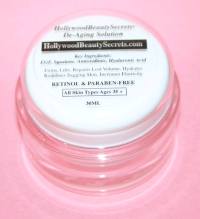 DE-AGING SOLUTION
Hollywood Beauty Secrets, Los Angeles, has released De-Aging Solution, which features Epidermal Growth Factor (EGF), with super hydrators and antioxidants that address these skin issues: sagging and thinning skin; loss of volume in the face; and lines, wrinkles, and dehydration caused by aging and hormonal changes.
De-Aging Solution offers the maximum percentage of EGF in a topical cream. EGF combines 53 blocks of protein that penetrate and bind cells of the dermis and epidermis. This restores the skin's density, helping to regain lost volume in the face and accelerating the formation of thicker, firmer, and younger-looking skin.
Private labeling is available. No limits are required.
Hollywood Beauty Secrets
(877) 568-4727
www.hollywoodbeautysecrets.com
---
LED Light Panel
Lester A. Dine Inc, Palm Beach Gardens, Fla, introduces the new Dine LED Light Panel, designed to completely eliminate shadows in portrait, torso, and body photography. The high-intensity light panel provides a constant light, making it functional with virtually any digital SLR camera flash and eliminating back flash delay and synchronization issues.
The panel is lightweight and extremely thin, allowing it to be placed anywhere in the office, weighing 8 pounds with lighted dimensions of 33 x 21¼ inches and a thickness of 1½ inches. Unlike slave light boxes that need to be built into walls or occupy office space by extending outward, the flat light panel requires no elaborate installation and requires nothing more than wall space. Running on AC power, the product comes with a wireless remote control that allows users to control light intensity for a brighter or a more subtly lit background. The LED Panel can also be used to display x-rays, pans, and sephs.
Lester A. Dine Inc
(800) 624-9103
www.dinecorp.com
---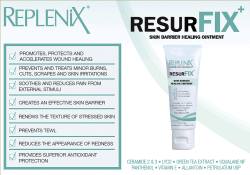 HEALING OINTMENT
Topix Pharmaceuticals Inc, North Amityville, NY, introduces Replenix® ResurFIX Skin Barrier Healing Ointment, a topical treatment designed to help protect, heal, and preserve the skin; as well as relieve discomfort, reduce redness, oozing, crusting, itching, and extreme dryness after treatment that disrupted the epidermal barrier.
Therapeutically effective for treating a wide variety of wounds and protecting the skin from further breakdown, this clear formula assists in the recovery of skin barrier function and provides antioxidant benefits. Additionally, it accelerates re-epithelialization of wounds, soothes radiation burn, and alleviates chronic erythema and pruritus. Use of Replenix ResurFIX Skin Barrier Healing Ointment reduces the chance of post anti-inflammatory hyperpigmentation after re-epithelialization has occurred.
Topix Pharmaceuticals Inc
(800) 445-2595
www.topixpharm.com