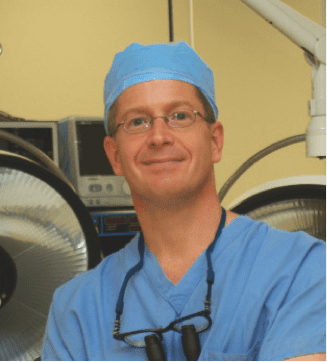 Christopher Saunders, MD
by William E. Payton
Christopher Saunders, MD, is an award-winning, board-certified plastic surgeon who focuses exclusively on cosmetic surgery. With offices in Wilmington and Newark, Del, as well as Chadds Ford, Pa, Saunders is able to provide convenient care to patients throughout the area. To date, he has performed more than 25,000 cosmetic procedures.
Patient education is the focal point of Saunders' practice philosophy. He firmly believes that he is better able to serve his patients by focusing solely on cosmetic surgery, because it allows him to take the time necessary to focus on educating his patients. He conducts very thorough consultations so that he can spend extra time with his patients and hit all the important points.
By performing solely aesthetic procedures, Saunders has also been able to provide the highest level of care in all areas of cosmetic surgery. While some plastic surgeons specialize in reconstructive procedures, Saunders' expertise runs the gamut, from breast surgery and body contouring to facial rejuvenation. He makes a point of staying abreast of the latest developments in all of these areas in order to continually provide top-notch care to his patients. This focus also distinguishes him from other surgeons. A very small percentage of board-certified plastic surgeons limit their practices exclusively to cosmetic surgery.
Tools of the Trade
In his ongoing quest to educate his patients, Saunders has used a number of tools. Foremost among them are his own books. With one book in print since 2007 and another on the way, he is gradually having an impact on his patients.
When Saunders originally set out to write his books, his primary goal was to dispel patients' false expectations of cosmetic surgery. As many plastic surgeons can attest, a surprising number of patients arrive at the practice with unrealistic expectations. Saunders is working to change this, one book at a time.
As most plastic surgeons would agree, it's important for patients to have realistic expectations, because if they don't they may be dissatisfied with the results of their procedures. Saunders' desire to lay out the facts in print stems in part from his will to explain to patients what is and isn't possible. A 60-year-old facelift patient, for example, needs to understand that the procedure can turn back the clock but cannot make him or her look 20 or 30 years old. Similarly, while wrinkle treatments can eliminate some lines and wrinkles, patients obviously should not come into the procedure believing that these treatments can get rid of all wrinkles.
"Some people just don't understand," Saunders explains. "They'll say, 'Why don't I look younger? My neck is better, but why are there still wrinkles?'" He cites movie stars as the classic example of unrealistic expectations. Because they can't accept that cosmetic surgery won't make them look 25 years old, they return for multiple facial procedures, which makes them look unnatural.
Saunders believes this problem is exacerbated by misleading advertising. "There are doctors out there claiming that you can have an extremely quick recovery, but this isn't the real reality," he says. All the more reason to set the record straight in print. Released in 2007, Saunders' first book, A Woman's Guide to the Real Reality of Cosmetic Surgery, is an easy-to-read, informative book focused on this "real reality," a term he coined to refer to realistic options, realistic recovery, and realistic results.
Set to be released in early 2013, Saunders' second book, The Tricky Fountain of Youth, seeks to further dispel false perceptions and build on the education he provided in his first book. Like the monarchs of the Age of Discovery, he explains, many cosmetic surgery patients are on a wild goose chase. The mythical Fountain of Youth was never found, leaving explorers and kings disillusioned. Those who view cosmetic surgery as the answer to aging may face similar disappointment. Cosmetic surgery may be seen as a Fountain of Youth, but it isn't perfect—it's tricky.
An Early Education
Of course, Saunders holds himself to the same standard as his patients. His focus on patient education mirrors his own experience and the role his background, education, and training play into the success of his practice. Saunders' exposure to plastic surgery occurred early on. His family is something of a plastic surgery dynasty in Delaware. His father, David Saunders, became the state's first board-certified plastic surgeon back in the early 1960s before going on to practice in 5 separate decades. His stepmother, Marcie Fitzpatrick-Saunders, was also a plastic surgeon in Delaware. And like him, his brother Jonathan decided to carry on the family tradition.
Saunders graduated magna cum laude from Duke University before completing training in general surgery, plastic surgery, and endoscopic surgery at the University of California. He also studied at UC Davis Medical Center. Today, he continues to hone his craft, constantly studying, working hard, and advancing his surgical technique. He performs all surgeries at his Chadds Ford location, a state-licensed surgicenter with deluxe amenities that he feels are extremely beneficial to his patients.
Saunders' dedication to educating his patients and providing them with premium care has paid off, as they have voted him Best Plastic Surgeon four times in The Wilmington News Journal's Readers' Choice awards, including the past 3 years running. He is also consistently named a "Top Doc" in Delaware Today. Over the course of his distinguished career, he has received numerous other awards and honors.
In the end, Saunders' emphasis on patient education comes down to his belief that patients are vulnerable to bad information. "You have to be able to talk to your patients," he says, "because many of them are learning about plastic surgery from the wrong places." Saunders is determined to fix this, one patient at a time.
---
Christopher Saunders, MD
Lombardy Center
410 Foulk Rd, Suite 201
Wilmington, DE 19803
(302) 652-3331
and
Brandywine Cosmetic Surgery
1224 Baltimore Pike, Suite 100
Chadds Ford, PA 19317
(610) 459-1559
and
Medical Arts Pavillion 1, Suite 137
Newark, DE 19713
(302) 652-3331