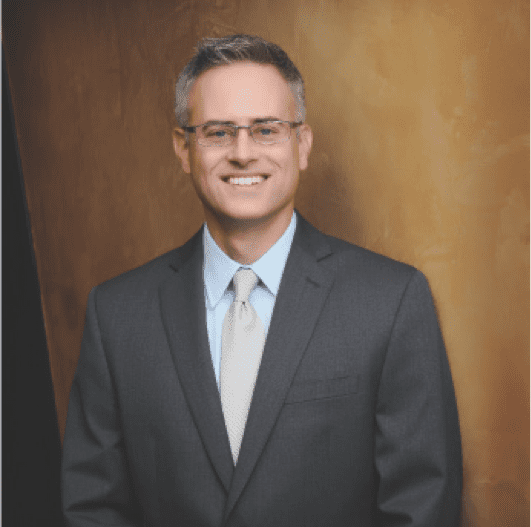 Christopher R Cote, MD
by Amy Di Leo
Christopher R. Cote, MD, is a leader in facial plastic surgery. Recognized among his peers and past patients alike, his reputation as the go-to specialist for complex facial plastic surgery cases spans throughout the West.
Why? Cote's dedication and commitment means he won't think twice about taking on a challenging revision rhinoplasty or a complex facial reconstruction. Due to his background and surgical skill set, when these cases come up, it is Cote who gets the call. As such, he has developed quite a niche for his practice at Faces First (facesfirst.com) in Denver and Lone Tree, Colorado.
Double boarded in facial plastic surgery and otolaryngology, Cote is highly sought-after for aesthetic facial-rejuvenation procedures, including facelifts, blephs, and brow lifts. He was also tapped by none other than the Denver Broncos Cheerleaders as their official facial aesthetic provider.
"I have been fortunate to have had very broad experience in my practice," he says. "I especially enjoy rhinoplasty for the challenges of each case and the satisfaction of achieving great results for my patients."
Regardless of whether a surgery is performed for aesthetic or functional purposes, Cote's basic patient care philosophy remains the same: "Listening to my patients and balancing expectations with the best that the art and science of medicine offers is the core of what I do."
This philosophy has earned him high marks from many satisfied patients, including a highly involved rhinoplasty performed on a young woman with Wegener's granulomatosis. She underwent this highly involved rhinoplasty after the autoimmune disease literally destroyed her nose. The surgery did more then allow her to breathe again, it gave her back her life. She writes: "Dr Cote: Almost a year ago today I underwent a surgical procedure that changed my life. Thanks to you, my health has improved in addition to my good looks. I am so grateful. Thank you."
Much of his experience and can-do attitude stems from the time he spent as a lieutenant colonel in the US Army. He and his team treated many veterans wounded in Iraq and Afghanistan. Thanks to advances in body armor, many soldiers whose injuries would have been fatal in previous wars survive but often sustain injuries from the neck up. Facial plastic surgeons with reconstructive experience are needed now more than ever as these warriors return from the ongoing wars. "It was a humbling experience to treat these brave injured soldiers. Their own perseverance and determination to survive inspired me to give them my best care."
Cote served as a US Army doctor overseas as Chief of Otolaryngology for US Forces in Korea. He then relocated to Washington, DC, and was appointed Chief of Facial Plastic Surgery and also Chief of Otolaryngology Head Neck Surgery at the prestigious Walter Reed Army Medical Center. During that time, he was also Otolaryngology Consultant to the White House Medical Unit, under President Barack Obama.
It was during his time at Walter Reed that Cote pioneered the use of 3D imaging—that is just now becoming a more common tool in many surgeons' offices. Cote was an early adopter of the technology, which has allowed him to customize treatment plans and optimize results. "We've been able to prefabricate models that we bring in the operating room and use these to achieve more targeted results."
Cote received his undergraduate education at the College of the Holy Cross and Oxford University in the UK. He then became a Harvard University Research Fellow at Massachusetts General Hospital in Boston. Cote received his medical degree from Tufts University. He completed his surgical internship and residency at Walter Reed Army Medical Center and National Naval Medical Center in Washington, DC, and did his facial plastic and reconstructive surgical fellowship training at John Hopkins University Hospital in Baltimore. Cote is a member of both the American Academy of Otolaryngology—Head and Neck Surgery and the American Academy of Facial Plastic and Reconstructive Surgery. He lives in the Denver area with his wife and three children.
---
Christopher R. Cote, MD
Faces First
Porter Adventist Campus
850 E Harvard Ave, Suite 575
Denver, CO 80210
(303) 744-2300
Lone Tree Office
9218 Kimmer Dr, Suite 202
Lone Tree, CO 80124
(303) 708-8787
www.facesfirst.com