Tattoos may mask a melanoma, and laser tattoo removal could blur this line even further, warn German researchers in the July 31, 2013 issue of JAMA Dermatology.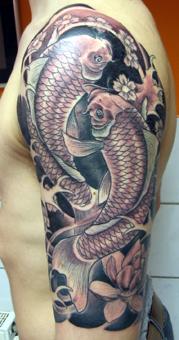 Researchers describe the case of a 29-year-old man who developed malignant melanoma on a pre-existing nevus within a tattoo during and between the phases of laser tattoo removal. The patient "strictly refused" excision before laser tattoo removal treatment.
The case study highlights the diagnostic problems associated with pigmented lesions within tattoos and the danger of laser removal. According to the authors, 16 other cases have been reported in the English literature of malignant melanoma developing in tattoos.
"Pigmented lesions in decorative tattoos cause diagnostic difficulties at a clinical and dermoscopic level. In cases of laser removal of tattoos, hidden suspicious nevi may be revealed gradually," the researchers conclude. "If any question about malignancy arises, we suggest an excision before treatment. In general, tattoos should never be placed on pigmented lesions; if they are, the tattoos should never be treated by laser," they write. In the course of laser treatment, pigmented cells may lose pigmentation – making melanomas more difficult to identify.