More than half of all women who have breast cancer surgery will develop lymphedema within 2 years, but a new study shows that free-flap breast reconstruction immediately following mastectomy reduces lymphedema risk by 54% compared with surgery without reconstruction.
The findings appear in Breast.
In the study, 712 South Korean women underwent modified radical mastectomies from 2001 to 2009. Women were mostly normal weight, and aged 27 to 68. Of these, 117 had immediate free-flap breast reconstruction. The 595 women who declined to have reconstruction did so for cost reasons and fears about the operation.
According to the findings, 9% of patients who had breast reconstruction developed lymphedema, as did 19% of the women who did not. None of the reconstruction involved the use of tissue expanders or implants. Women with advanced cancer and those who had other types of breast cancer surgery such as lumpectomy were also excluded from the study.
Radiation treatment and a greater number of excised lymph nodes increased the risk of lymphedema, the study showed. The researchers speculate that the flap of healthy skin used in breast reconstruction may help to regenerate damaged lymphatic tissue and prevent lymphedema. In addition, patients who undergo breast reconstruction are less prone to depression and may be more motivated to do preventive exercises.
PSP talked to lymphedema expert Cathy Kleinman-Barnett, MOTR/L, CLT-LANA, about the new findings and their implications. She is a therapist in the Lymphedema/Edema Management Program at Northwest Medical Center in Margate, Fla. "The article certainly presents a good case for having reconstruction immediately following surgery," she says. "I definitely agree that radiation increases the risk for lymphedema. I have seen it so many times in my clinic."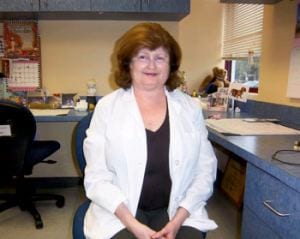 And, "It makes sense that people who do have reconstruction feel a greater sense of self-esteem and less depression, and are more likely to take precautions to prevent lymphedema and/or exacerbation of their condition," she says.