Remote consultations from dermatologists via secure smart phone apps can help prioritize care for hospitalized patients with skin conditions, which is significant given the dearth of inpatient dermatology consultative services.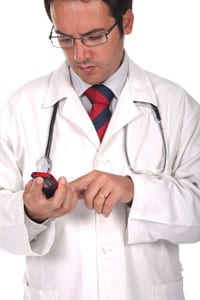 A new study compared assessments of 50 hospitalized patients in a high-acuity academic medical center, the Hospital of the University of Pennsylvania, between a face-to-face consultation with an inpatient dermatologist and a standardized teledermatology consultation with two experienced teledermatologists.
When the inpatient dermatologist recommended a patient be seen the same day, the teledermatologists independently suggested the same course of action 90% of the time. The teledermatologists agreed in 95% of cases where the inpatient dermatologist had recommended a biopsy. The doctors completely agreed on a diagnosis 82% of the time, and partially agreed in 88% of cases, which is in line with the standard variation expected between providers, the study showed.
The team used a secure "store-and-forward" teledermatology smart phone app developed through Penn Medicine's teledermatology program in concert with the American Academy of Dermatology.
The findings appeared in a paper in JAMA Dermatology.