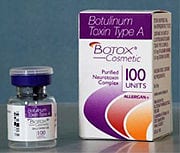 It may be time to add depression to the growing list of conditions that Botox (onabotulinumtoxinA) can help treat.
Two recent studies suggest that the neurotoxin may help alleviate symptoms of depression, and that this benefit may be more than skin deep.
In one study published in the Journal of Psychiatric Research, more than half of participants with moderate to severe depression showed a substantial improvement (greater than or equal to 50% of baseline) in depressive symptoms following one injection of Botox between the brows.
Depressive symptoms (as assessed by the Montgomery-Åsberg Depression Rating Scale scale) in the Botox treatment group decreased 47% after 6 weeks, compared to 21% in the placebo group. Moreover, 27% of individuals treated with Botox achieved remission, compared with 7% in the placebo group.
"This research is groundbreaking because it offers those who suffer from depression and their doctors an entirely new approach to treating the condition — one that doesn't conflict with any other treatments," says Norman E. Rosenthal, MD, clinical professor of psychiatry at Georgetown Medical School, in a news release. The study showed that Botox may help relieve depressive symptoms both as a stand-alone and an adjunctive treatment.
A related study presented at the annual meeting of the American Academy of Dermatology in Denver showed that botulinum treatments injected between the eyebrows had an anti-depressive effect that lasted longer than the wrinkle-relaxing results, suggesting that there may be a biological basis for the effect.