LightWave offers appeal as multiuse aesthetic tool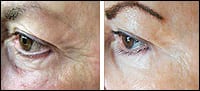 Eight LightWave sessions over 4 weeks.
To buy or not to buy? In the midst of the current recession, health care providers must ponder this question as they carefully determine what technologies they should bring in to their practices—or can afford to bring in.
This sort of contemplation doesn't end there, especially in a market that relies, in large part, on the customer. Patients, too, must consider whether an appearance-enhancing procedure is worth the money. Routine touch-ups have turned into occasional luxuries.
Susan Stevens Tanne, MD, laser expert, aesthetic physician, and medical director of Cosmetic Laser in Livingston, NJ, can testify to this reality.

Twelve LightWave sessions over 5 weeks.
"Especially in this economy right now," she says, "I'm looking for things I can give patients that would provide a visible improvement at a reasonable fee."
Tanne found a product that helped her achieve her goal: the recently enhanced LightWave, manufactured by the Phoenix-based company of the same name.
Available as an add-on after a more intense laser procedure, or as a stand-alone unit, LightWave utilizes blue, red, and infrared light to stimulate rejuvenation in damaged tissues. According to the company, it is the first light therapy system approved by the FDA for aesthetic application to the entire body.
MULTIPLE WAVELENGTHS

Ten LightWave (red/IR combo) sessions over 4 weeks.
The selling point for Tanne was the device's single articulated panel, which incorporates all three LED wavelengths. In the past, a panel would have only one or two wavelengths, and when physicians needed to switch to another protocol, they would have to buy another panel. This requirement would have been extremely expensive for Tanne. "Although LightWave had been around for some time, it has always been too annoying to bother with the panels," she says. "I felt like I couldn't charge a fee that was reasonable enough to the patients to make them want it. I had to keep it inexpensive because it's what I consider to be an add-on. I don't want it to be a big thing for them to pay for."
Tanne was drawn to the updated LightWave, which sports programmability absent from earlier versions. She soon purchased a unit and has since added LightWave to her practice's extensive list of offerings.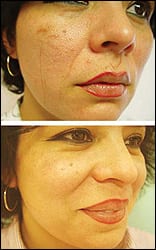 Ten LightWave (red/IR combo) sessions over 5 weeks.
Used on the face to minimize the appearance of fine lines and wrinkles, LightWave increases cellular hydration, blood flow, nutrient intake, and waste removal within the layers of the skin and supporting tissues. Furthermore, it has the ability to reduce the appearance of burns, scars, sun damage, sunspots, and pregnancy mask. Also, it can tighten flaccid skin on the breasts and abdomen, cellulite, stretch marks, and "orange peel" scars, according to the company.
LightWave includes 16 preset protocols, five of which Tanne says she uses regularly. Red light, she says, is ideal after a resurfacing procedure or FotoFacial because it significantly reduces the redness.
Blue light, which kills acne bacteria, can be used in conjunction with red and result in "a far superior resolution of the acne," Tanne says, than using just the blue light. For this procedure, patients come in twice per week for 4 weeks, she adds.
However, for more severe cases of acne, Tanne utilizes LightWave's blue light together with Levulan, an amino levulinic acid product manufactured by DUSA Pharmaceuticals Inc, Wilmington, Mass.
Infrared/red is the antiaging protocol, and Tanne describes it as "fantastic." She also uses the pair of wavelengths to treat cellulite and stretch marks. LightWave has a protocol for chronic pain, though Tanne doesn't use it in her practice.
Patient comfort has become a "non-issue," according to Tanne.
"Once they understand what it is, which is that you don't feel it and there is no risk of any downtime, side effects, damage, or discomfort, my patients love it," she says. "They lie back, and half the time they take a nap."
The biggest demand is coming from patients who seek an antiaging solution, and for them Tanne uses the protocol for a freestanding procedure: 20 minutes, twice per week for 4 weeks.
In addition to a few of Tanne's acne patients, there have been quite a few patients who opt to add the LightWave treatment postprocedure. "It's an excellent postprocedure device, and I encourage my patients strongly to give themselves 20 minutes to sit under the red light," she says. "It's not as radical as someone who goes in and has a resurfacing treatment done, or [a] filler. And we don't try to promote it as an instant anything. It offers effective, gradual improvement."
Tanne is interested in seeing the LightWave's efficacy with post-laser hair removal.