Not long ago, few choices were available for restoring volume to the face. Solid facial implants can augment the facial skeleton and have been around for many years, but until recently, options have been limited.
Short-term products, such as collagens and hyaluronic acids, can provide excellent results but are primarily used in relatively small areas—the lips, the perioral areas (including the nasolabial folds), and the periorbital areas.
With the advent of longer-lasting products—such as calcium hydroxylapatite (CaHA) and poly(l-lactic) acid (PLA)— it is possible to obtain excellent results in augmentation of larger areas of the face.
I do not use these products in lieu of surgery. If there is a significant amount of excess skin or sagging, surgery is often the best choice.
In addition, if a patient requests significant augmentation of the facial skeleton, I believe surgically placed implants are the best option.
Many patients can benefit from augmentation with injectable products of CaHA and PLA.
Polymethylmethacrylate, currently approved by the FDA for the treatment of nasolabial folds, is perhaps another product that could be put to similar uses. However, since I have less experience with this filler, I will limit my remarks to CaHA and PLA.
Injectable liquid silicone may be used to enhance the face, but I have no clinical experience with this product—and it is not approved by the FDA for facial augmentation.
Fat injection is another method of adding volume to the face, but it requires invasive techniques in order to harvest and transplant the fat.
Outside the United States, one can find additional products that could be used in facial augmentation, but those fall outside of the scope of this article.
PLA AND CAHA
My clinical experience with PLA began in 2001; and for CaHA, in 2002. I began using PLA only for patients with HIV facial lipoatrophy.
After obtaining great results, I gradually expanded my use of the product to purely aesthetic indications in HIV and non-HIV patients.
Currently, in the United States, the only FDA-approved indication for PLA is in treating HIV facial lipoatrophy.
My initial use of CaHA was in indications for aesthetic improvement as well as in some cases of HIV facial lipoatrophy. CaHA is approved by the FDA for improving facial wrinkles and folds—as well as in HIV facial lipoatrophy.
On the face, I use CaHA in the temple area, corrugator fold, brow area, and tear trough depression; the nose, cheeks, perioral areas (including the nasolabial folds and marionette folds); and the chin.
I have used CaHA in the lips, but this use is not recommended by the manufacturer.
My indications for PLA are similar, with the exception of not using it in the periorbital area and using it in the lips.
My specific indication in the lips is for improving the flattened, aging lip by augmenting the vermillion border. The use of PLA in the lips is also not recommended by the manufacturer.
The cheek is one of the common areas that I treat with CaHA and PLA. Patients with flattening or depression from loss of volume in this area can be rejuvenated via augmentation using either compound.
As is commonly known among aesthetic surgeons, adding more volume to a face tends to make it appear younger.
The augmentation of the cheek area can also improve the nasolabial fold, even without treating this region directly. In fact, some visible lifting of the facial skin in the jaw area can sometimes be obtained with the augmentation.
With regard to treatment of HIV facial lipoatrophy, PLA and CaHA can be employed.
There are potentially three main areas of the face where most of the lipoatrophy occurs in these patients: the cheek area in the submalar region; the temporal area above the zygomatic arch; and the area of the lateral cheek below the zygomatic arch, which I refer to as the subzygomatic area.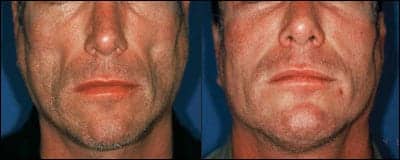 Figure 1. A 40-year-old Caucasian male with moderate HIV facial lipoatrophy (left), and 8 months after the first CaHA treatment (right). He received 3.6 cc in visit 1, 0.7 cc at 1 month, and 1.2 cc at 7 months.
I use a five-point rating scale to grade the severity of the lipoatrophy. The ratings are subjective and referred to as mild, mild-moderate, moderate, moderate-severe, and severe.
The mild grade equates to barely noticeable, and the severe grade is a case of virtually only skin overlying the bone.
Because the amount of pretreatment volume loss is frequently greater in HIV facial lipoatrophy than in lipoatrophy due to aging, the results are usually more dramatic in the HIV patients.
My contraindications to using PLA and CaHA would be in patients with a bleeding disorder or patients on blood-thinning medications who have prolonged bleeding times. I would also not treat any pregnant or nursing mothers, or anyone not in good health.
No skin testing is necessary for either compound. However, any patient with an allergy to any of the components of either product should not be treated.
If a patient has no contraindications to the use of CaHA or PLA, I consider them a candidate for the treatment.
There are several differences between the two preparations, and these contrasts may lead myself—or the patient—to choose one over the other.
CaHA behaves more like a traditional filler in that the result is fairly immediate.
PLA is more of a stimulating agent and does have some transient immediate improvement, but achieving the desired result normally requires more treatment sessions than with CaHA.
In my experience, most aesthetic patients can be treated with CaHA primarily in one session—with an occasional touch-up treatment—to achieve sustained results.
Figure 2. A 45-year-old Caucasian female with mild-to-moderate HIV facial lipoatrophy (left), and then 12 months after the first PLA treatment —four sessions, 1 month apart, for a total of 21¼3 vials used (right).
In patients being treated for more severe volume loss in HIV facial lipoatrophy, more volume is needed and usually a second treatment within a few months will help get longer-lasting results.
The patient may not return to the baseline for 12 to 18 months.
In my experience with PLA, most aesthetic patients require at least two to four treatment sessions to get the desired results.
Areas of the face with greater volume loss may require additional sessions. With HIV facial lipoatrophy, most patients will need three to six treatment sessions. The more severe cases may require more sessions.
I have found the results with PLA to be sustained for 2 to 4 years, with most patients seeing some decrease after this time, but normally not back to baseline.
PREPARATIONS
Once a decision has been made on which product to use for the treatment, I take pretreatment photographs of all my patients.
CaHA comes in a ready-to-use syringe, and no other preparation is necessary, unless the physician wishes to add lidocaine to decrease patient discomfort during injection.
PLA comes as a powder and must be prepared ahead of time. The manufacturer recommends using between 3 cc and 5 cc of sterile water per vial, and performing this reconstitution at least 2 hours prior to treatment.
My technique is to use 2 cc of sterile preserved water and 1 cc of 1% lidocaine per vial. I recommend adding this mixture to the vial the day prior to treatment.
I use a marking pen on all patients to outline the treatment areas while the patient is in the sitting position. The patient is reclined to about 45° for the treatment, adhering to sterile technique.
My anesthetic technique is identical for PLA and CaHA: an injection of 1% lidocaine with 1:100,000 epinephrine to my point of entry for each injection site.
My rationale for doing so is primarily to decrease patient discomfort, but I believe it also reduces bleeding at the injection site.
The type of needles I use may vary, depending on the product and what area of the face I am treating.
The smallest needle that I use for CaHA is a 27-gauge 1/2-inch needle, although a smaller need can be used. The smallest needle that I employ with PLA is a 26-gauge 1/2-inch needle. Unless I am treating a very small area, such as an acne scar or tear trough, I normally prefer to use a 25-gauge 1-inch needle for both products; and a 3cc syringe for the PLA.
The longer needle allows fewer injection points and can decrease edema and bleeding from the procedure.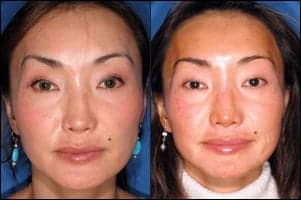 Figure 3. A 35-year-old Asian female with mild cheek asymmetry (left). At right: Nine months after the first PLA treatment to the left cheek—two sessions, 3 months apart, and a total of one vial used.
I also inject both products with a retrograde technique, and if I am not treating a linear area, I use a fanning method to disperse the product evenly throughout the treatment area.
It is important to always aspirate the syringe prior to injection with PLA to avoid injection into a blood vessel.
In general, the plane of injection is similar for both products, being in the subdermal layers. Certain areas, such as the tear trough, are best treated with injection just above the periosteum.
With CaHA, I normally treat to full correction. When using PLA, I treat to full correction or partial correction, but I do not overcorrect.
The volume of product used varies with the indication and size of the treatment area.
Relatively small areas, such as the nasolabial areas, can frequently be treated with one 1.3-cc syringe of CaHA or a 1¼2 vial of PLA.
Treating larger areas, such as the cheeks, usually requires more, where at least two syringes of CaHA and one to two vials of PLA may be needed.
Patients being treated for HIV facial lipoatrophy in the moderate to severe grades may need more as well.
It is not unusual to need three or more syringes of CaHA, and it is typical to need at least two vials of PLA.
Once the injection is completed, I generally massage the treatment areas to disperse the product more evenly. Patients treated with PLA receive a more aggressive massage.
The manufacturer's recommendation is that patients continue to massage the treated areas for several days after injection of PLA.
My time frame between treatments of PLA is at least 4 weeks. It is important for the patient and the physician to realize that the immediate improvement with PLA is transient, and that the improvement will be gradual throughout the series of treatment sessions.
There are instances when I have used both products in the same patient, either at different times to the same area or to different areas during the same session.
This has primarily occurred in patients with HIV lipoatrophy when I have seemed to reach the maximal improvement with PLA, but there still may remain some small degree of volume loss.
If the patient desires, I will then place CaHA normally above the level of the PLA to achieve further improvement.
CAHA AND PLA AFTER TREATMENT
After treatment, I do not restrict patient activity and rarely find the need to suggest ice to relieve swelling or to prescribe pain medication.
It is possible, as with all injections, to get bruising, swelling, or tenderness after treatment.
It is possible to get some mild contour irregularities with CaHA—since it is a firmer product than the liquid suspension of PLA. If this occurs, it is normally short-lasting.
Other possible complications include papules or nodules from either product. The only site in which I have seen a papule or nodule was in the lip of a patient that I treated with CaHA. I was able to resolve this problem by anesthetizing the area and then manually breaking up the mass.
As I mentioned earlier, the manufacturer does not recommend injection of CaHA into the lips, and I no longer use it for this purpose.
As for PLA, the main areas that I have seen visible nodules or papules, in patients I have treated, is in the thin-skinned areas of the periorbital or temporal locations.
I no longer use PLA in the periorbital area for this reason. I still use it in the temporal area.
I have anecdotally found that the incidence of these complications is very small, but if it does occur in the eye area, it can be very noticeable. (I am currently in the midst of compiling data on patients I have treated to calculate an exact incidence of adverse events.)
Patients treated by other physicians have developed nodules or papules in other parts of the face. I have been able to successfully resolve some of these with the injection of triamcinolone (a 1:1 mix of triamcinolone 40 mg/cc with 1% lidocaine with 1:100,000 epinephrine).
I have only had to surgically excise one nodule, which was on the chin of a patient who was treated elsewhere with PLA.
The other rare complication with PLA is what I believe to be a delayed hyper-inflammatory reaction.
Several months following treatment, I have seen patients develop a diffuse firmness and swelling of a treatment area, without pain or tenderness. It is normally bilateral but may not affect all treated areas.
I have seen this develop only in patients who I treated for HIV lipoatrophy, and all have been successfully treated via the injection of triamcinolone.
My incidence of this problem is fairly small—I've seen it occur in approximately five patients out of at least 700 treated.
One other issue is when patients get less-than-expected results after the use of PLA.
I have rarely seen patients not obtain what I would expect to be the usual result; however, I have seen this occur infrequently in two patient groups—those who were older (approximately over 65 years old) with very thin skin, or competitive athletes with very little body fat. In all of these cases, the patients were not HIV positive.
I have never seen a patient being treated for HIV facial lipoatrophy not obtain a significant improvement.
Despite these potential complications, I find that almost all patients have been satisfied with the results of both PLA and CaHA.
The use of both products will expand, since patients desire increasingly long-term results from procedures that are minimally invasive.
Proper use is key to achieving good patient outcomes.
---
Michael Echavez, MD, is a facial plastic surgeon with offices in San Francisco and Seattle. He is board-certified by the American Board of Facial Plastic and Reconstructive Surgery and the American Board of Otolaryngology-Head and Neck Surgery. He can be reached at plasticsurgery@allied360.com.