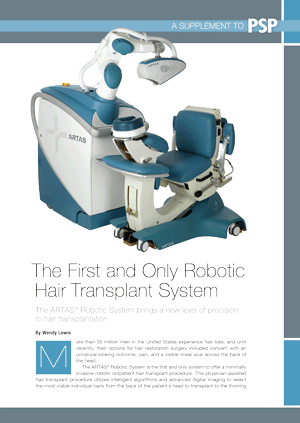 With more than 35 million men in the United States experiencing hair loss, the only option for a full head of hair shouldn't be a painful surgery with an unnatural-looking outcome, pain, and a visible linear scar across the back of the head.
Enter The ARTAS® Robotic System. The first and only robotic hair transplant system offers a minimally invasive, outpatient hair procedure that utilizes intelligent algorithms and advanced digital imaging to select the most viable individual hairs from the back of the patient's head to transplant to the thinning areas. The unique, two-step dissection system produces healthy grafts while avoiding a linear scar and maintaining the natural appearance of the patient's donor area, enabling consistently better, reproducible outcomes.
To learn more about the ARTAS® Robotic System, download the supplement here.