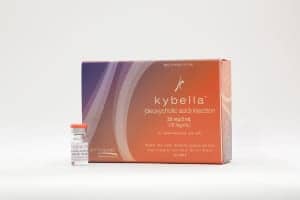 The US Food and Drug Administration gave its nod to Kybella (deoxycholic acid), an injectable to reduce moderate-to-severe submental fat in adults.
Kybella is manufactured by Kythera Biopharmaceuticals Inc based in Westlake Village, California. The injectable was formerly referred to as ATX-101.
It is identical to the deoxycholic acid that is produced in the body to help absorb fats. When properly injected into submental fat, the drug destroys fat cells; however, it can also destroy other types of cells, such as skin cells, if it is inadvertently injected into the skin.
"The development of Kybella will revolutionize the treatment of the double chin." —Jeffrey S. Dover, MD, FRCPC
"Treatment with Kybella should only be provided by a licensed health care professional, and patients should fully understand the risks associated with use of the drug before considering treatment," says Amy G. Egan, MD, MPH, deputy director of the Office of Drug Evaluation III in the FDA's Center for Drug Evaluation and Research, in a news release. "It is important to remember that Kybella is only approved for the treatment of fat occurring below the chin, and it is not known if Kybella is safe or effective for treatment outside of this area."
Patients may receive up to 50 injections in a single treatment, with up to six single treatments administered no less than 1 month apart. Kybella is being provided in single patient use vials and should not be diluted or mixed with any other compounds.
New Injectable Puts the Squeeze on Double Chins
The safety and effectiveness of Kybella for treatment of submental fat was established in two clinical trials of 1,022 adults with moderate or severe submental fat. Participants were randomly assigned to receive Kybella or a placebo for up to six treatments. Reductions in submental fat were observed more frequently in participants who received Kybella versus placebo, the studies found.
"The approval of Kybella is a huge advance," says Jeffrey S. Dover, MD, FRCPC, a director of SkinCare Physicians of Chestnut Hill in Chestnut Hill, Mass. Until its development, there were no non0surgical treatments for submental fat or 'double chins'," he says. "The development of Kybella will revolutionize the treatment of the double chin." SkinCare Physicians' clinical research arm conducted studies on the new injectable.
Kybella can cause serious side effects, including nerve injury in the jaw that can cause an uneven smile or facial muscle weakness, and trouble swallowing. The most common side effects of Kybella include swelling, bruising, pain, numbness, redness, and areas of hardness in the treatment area.
Kybella should not be used outside of the submental area, and it should not be used if there is an infection at the injection site. Caution should also be used in patients who have had prior surgical or aesthetic treatment of the submental area. Kybella is being distributed in a dispensing pack that has a unique hologram on the vial label. If there is no hologram, do not use the product.
Consumers and healthcare professionals are encouraged to report adverse reactions from the use of Kybella to the FDA's MedWatch Adverse Event Reporting program at www.fda.gov/MedWatch or by calling 800-FDA-1088.