TIPPING IT OFF
Needlephobes, rejoice.
Myoscience Inc's Ioverao treatment now offers a 1- x 55-mm Round Smart Tip with a cannula-style applicator that makes this needle-free wrinkle-relaxing treatment even easier to administer.
Iovera, often referred to as "Frotox" or "Coldtox," uses focused cold therapy instead of needles to diminish dynamic forehead wrinkles. Results are visible immediately and can last up to 3 months. The treatment is currently available in Canada and the European Union. Learn more here: myoscience.com
LIGHT BRIGHT
"What can I do for lackluster skin?" Skin care consultants, behind-the-counter beauty advisors, aestheticians, dermatologists, and plastic surgeons are asked this question all the time, and it's not an easy one to answer largely because lackluster skin means different things to different people. It can be a complexion dulled by textural irregularity, sun damage, age spots, or even redness in the Rosacea-prone.
Regardless of the discoloration issue, InMode's Lumecca intense pulsed light (IPL) device has it covered. Lumecca selectively pinpoints and corrects facial pigmentation, superficial vessels, skin texture, and sun damage using selective photothermolysis. Lumecca's high peak power—about three times that of other IPL devices—is said to be the secret to its success. Other pluses include improved patient comfort and safety. Get the full scoop on Lumecca here: inmodemd.com/devices/lumecca/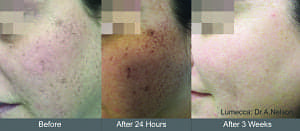 SIT ON IT
TransMotion Medical's Plastic Surgery Stretcher-Chair takes the patient experience to the next level. The new chair seamlessly converts from preop chair, to surgical table, to recovery recliner with the push of one button. This means your patients can stay in place throughout their entire procedure, lowering risk of falls or any other injury during transfer. Call (330) 866-8447 or visit tinyurl.com/qexnzoh ?for more information.
PUMP IT UP
From nausea to risk of dependence, opioid-based postsurgical pain relief does confer its share of risks. Fortunately, there are technologies available today that can effectively manage pain following surgery without relying on narcotics.
The ON-Q Pain Relief System is a single-use, portable pump that delivers a continuous infusion of local, non-narcotic anesthetic to manage pain for up to ?5 days after surgery.
"Before surgery, the anesthesiologist performs a paravertebral block, and under ultrasound guidance places a paravertebral catheter. This is connected to an ON-Q pain pump with a 3-day reservoir and an adjustable flow rate that can be dialed up and down after surgery for patient comfort," explains Kamakshi Zeidler, MD, a plastic surgeon in Los Gatos, San Jose, and the greater South Bay Area of California.
"Across the board, my patients state that the postsurgical pain is nowhere near what they had expected. Because the paravertebral block is in effect during the entire surgical procedure, less general anesthetic is required and there are added benefits of less postoperative nausea and vomiting." Learn more about the On-Q Pain pump here: www.iflo.com
Have a hot product that must be on PSP's radar? Reach out and tell us about it at [email protected].