CO2RE SYSTEM
Syneron Medical Ltd, Irvine, Calif, announces the FDA and Health Canada clearance and commercial launch of its CO2RE CO2 resurfacing system. CO2RE is a fractional CO2 system that offers the unique ability to treat both superficial and deep skin layers simultaneously with precision control over the intensity, pattern, and depth of ablation.
Syneron's patent-pending technology is the first to receive FDA clearance for all of its operating modes, including the four major fractional treatment modes. The system can be used for fractional CO2 resurfacing and traditional ablation, as well as for skin rejuvenation, wrinkle reduction, scar reduction, and other aesthetic procedures.
Syneron Medical Ltd
(866) 259-6661
www.syneron.com
---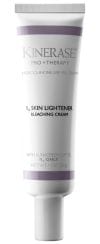 KINERASE RX SKIN LIGHTENER
Pro+Therapy Rx Skin Lightener is the next-generation skin lightener and youth-protecting combination from Valeant Pharmaceuticals International, Alisa Viejo, Calif. Rx Skin Lightener contains an elegant combination of 4% hydroquinone, lactic acid, kinetin, and SPF 15 broad spectrum sun protection exclusively available to physicians. It is formulated to reduce hyperpigmentation (such as melasma, age spots, solar lentigines, and other patches of darkened skin) caused by excessive production of melanin.
Rx Skin Lightener is formulated with kinetin, shown to visibly reduce the appearance of aging due to sun damage. vitamin C and vitamin E extract provide additional antioxidant benefits.
Valeant Pharmaceuticals International
(800) 321-4576
www.kinerase.com
---
REVEAL 2.0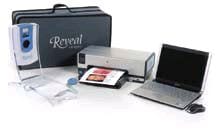 Canfield Imaging Systems, Fairfield, NJ, announced a new release of its Reveal Facial Imager, including updated hardware and enhanced software features, improved image quality, and an expanded feature set for skin care professionals.
Improvements in Reveal 2.0 include expanded print report options and a multilanguage capability that provides automatic translation into 18 different languages, based on the native language of the Windows operating system in use. An Edit Chart and Edit Notes feature that provides built-in templates for treatment recommendations stores detailed client information and enables next appointment scheduling.
Canfield Imaging Systems
(800) 815-4330
www.canfieldsci.com
---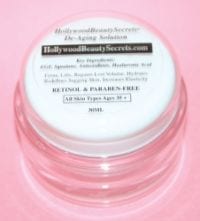 DE-AGING SOLUTION
Hollywood Beauty Secrets, Los Angeles, has released De-Aging Solution, which features Epidermal Growth Factor (EGF), with super hydrators and antioxidants that address these skin issues: sagging and thinning skin; loss of volume in the face; and lines, wrinkles, and dehydration caused by aging and hormonal changes.
De-Aging Solution offers the maximum percentage of EGF in a topical cream. EGF combines 53 blocks of protein that penetrate and bind cells of the dermis and epidermis. This restores the skin's density, helping to regain lost volume in the face and accelerating the formation of thicker, firmer, and younger-looking skin.
Private labeling is available. No limits are required.
Hollywood Beauty Secrets
(877) 568-4727
www.hollywoodbeautysecrets.com
---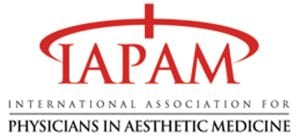 IAPAM SYMPOSIA DATES
To assist physicians in entering the aesthetic medicine field, the Aesthetic Medicine Symposium, which is sponsored by the International Association for Physicians in Aesthetic Medicine (IAPAM), is designed for physicians who are looking to add aesthetic medicine procedures to their existing practices, add hCG for weight loss to a practice, or start a medical spa.
The following dates are scheduled for 2011's Aesthetic Medicine Symposiums and hCG Training in Scottsdale, Ariz:
January 28-30, 2011; March 4-6, 2011; April 15-17, 2011; and June 3-5, 2011.
IAPAM
(800) 219-5108, ext 704
www.aestheticmedicinesymposium.com