Facial Implants
Implantech Associates offers Composite Facial Implants in silicone styles. The Composite line of cheek, chin, and nasal shapes consist of flexible silicone that is fully encased with expanded polytetrafluoroethyl-ene (ePTFE) material. ePTFE has been shown to allow tissue attachment and provide implant stabilization. Implant styles include the Binder Submalar® II, the Terino Malar Shell, the Extended Anatomical Chin, the Flowers Dorsal Nasal, and the Voloshin Dorsal Columella. Implantech now also offers ePTFE sheeting available in various sizes and thicknesses. The sheeting is packaged sterile.
Implantech Associates Inc
6025 Nicolle St, Suite B
Ventura, CA 93003
(800) 733-0833
www.implantech.com
---
Skin-Regeneration System
The Portrait® Plasma Skin Regeneration System by Rhytec uses plasma to produce a thermal profile on top of the skin and below the skin's surface to stimulate collagen. Portrait reduces wrinkles, improves skin laxity and skin texture, treats acne scars and discoloration, and reduces pore size. Portrait delivers millisecond pulses of nitrogen-based plasma to the skin's surface via the system's handpiece. (Nitrogen is a colorless, odorless gas that, when introduced to ultrahigh-frequency energy, is converted into plasma.) When directed from the handpiece, the plasma transfers its energy onto the skin without any direct contact.
Rhytec Inc
130 Turner St, Bldg 2
Waltham, MA 02453
(888) 4-Rhytec
www.rhytec.com
---
Lip Moisturizer
Lip Quench by iQ Derma infuses the lips with moisture to add volume. It enhances the contour of the lips and improves the definition of the lip line. Some ingredients of Lip Quench include Maxi-Lip™, a patented peptide complex that restores collagen and reduces the appearance of chapping and roughness so that lips appear smooth and healthy. According to the company, it enhances lip volume by 40% and increases lip moisture by 60%. Bio-Oil HBSL restores water loss and firms the appearance and feel of the lips. Olive and sweet almond oils hydrate and protect against free-radical damage.
Intelligent Beauty/IQ Derma
2301 Rosecrans Ave, Suite 4100
Manhattan Beach, CA 90245
(866) 276-6631
www.iqderma.com
---
Allograft Dermis
Mentor Corp offers the NeoForm™ dermis, a solvent-dehydrated, gamma-irradiated preserved human allograft dermis that is used in breast-reconstruction procedures. NeoForm adds coverage and allows plastic surgeons to define the shape and contour of the reconstructed breast. It also supports and holds the tissue expander in place and cushions the mastectomy skin envelope from contact with the expander.
Mentor Corp
201 Mentor Dr
Santa Barbara, CA 93111
(800) 525-0245
www.mentorcorp.com
---
Skin Care Book
Advanced Professional Skin Care, Medical Edition, by Peter T. Pugliese, MD, is a comprehensive reference for dermatologists and estheticians who want to acquire the latest knowledge about skin care in order to meet high standards of care and educate their patients about the most recent scientific advances. The topics covered in this guide include an introduction to skin; the anatomy of the skin; aging mechanisms and treatment; information about skin products, exfoliation, and peels; and preoperative and postoperative care.
The Dr Peter T. Pugliese Store
7147 Bernville Rd
Bernville, PA 19506
(877) 478-4263
www.drpugliesestore.com
---
Colostrum Gel
Colostrum Gel by Environ is a nongreasy, nonsticky bovine colostrum formula that contains lavender preservative and lavender fragrance. The lavender oil disguises the smell of the colostrum. It does not contain sunscreen. The gel is indicated for older, chronoaged, and sun-damaged skin, including skin with fine lines. Patients with thin skin who wish to thicken their skin and build up collagen may also use the formula.
Environ
766 Falmouth Rd, Building C
Mashpee, MA 02649
(877) 337-6227
www.environ.co.za
---
Foundation Powder
Medicalia International's Flawless Refinement MineroCare Foundation Powder with SPF 17 ensures full coverage of all skin imperfections. The foundation powder, applied with a brush or sponge, maintains skin moistness and provides a smooth complexion. It is recommended for all skin types and may be used postsurgery. It is available in eight colors to match all skin tones.
Medicalia International
300 Fentress Blvd
Daytona Beach, FL 32114
(866) 314-1975
[removed]www.medicalia.com[/removed]
---
Exfoliating Cream
Institut'DERMed offers its Pumpkin Exfoliating Cream, a triple-action corrective treatment peel formulated with enzymes, l-retinol, and alpha hydroxyl acid that heals and prevents acne breakouts. By removing dead cell debris and abnormal pigment cell clusters, the exfoliating cream accelerates cell renewal and decongests clogged pores to reveal healthy skin cells. It fights hormonal imbalances and erases fine lines and wrinkles. Active ingredients include 5% concentrated pumpkin extract, pumpkin wine, pumpkin enzymes, d-beta-fructan, and oils that leave the skin looking polished and smooth.
Institut'DERMed
3726 Roswell Rd
Atlanta, GA 30342
(866) 433-7633
www.idermed.com
---
Injectable Filler
Juvéderm™ injectable gel, a dermal-filler advance from Allergan, is a family of "next-generation" smooth-consistency gels. The proprietary Hylacross™ technology that produces Juvéderm provides a high concentration of hyaluronic acid (HA) and a high percentage of cross-linked HA, with persistence up to 6 months or longer. Juvéderm is a smooth gel that flows easily into the skin, offering a natual look and feel for the patient.
Allergan Inc
2525 Dupont Dr
Irvine, CA 92612
(714) 246-4500
www.allergan.com
---
Lip Treatment
Suggah™ by Sircuit Cosmeceuticals is an antiaging lip-plumping treatment infused with Maxi Lip, a patented and clinically tested ingredient designed to enlarge the lips. Suggah hydrates the lips, restores collagen, adds volume to improve the contour of the lips, and reduces the appearance of wrinkles.
Sircuit Cosmeceuticals
2027 N Edgemont St
Los Angeles, CA 90027
(323) 661-4544
www.sircuitskin.com
---
Obagi Medical Products
CLENZIderm M.D.™ Acne Therapeutic System for Normal to Dry Skin by Obagi Medical Products is a three-step system that helps treat acne. The Daily Care Cream Cleanser is a nonsoap hydrating cleanser that removes dirt and excess oil, leaving the skin clean and soft. The Therapeutic Lotion is a potent lotion that delivers 5% liquified benzoyl peroxide into the skin's pores where acne originates. The benzoyl peroxide reduces whiteheads, blackheads, and red, sore acne. The Therapeutic Moisturizer is a noncomedogenic moisturizer that protects the skin. It contains 20% glycerin, which helps maintain moisture balance, and 1% dimethicone, which soothes the skin and prevents overdrying.
Obagi Medical Products Inc
310 Golden Shore
Long Beach, CA 90802
(562) 628-1007
www.obagi.com
---
Facial Mask
SkinCeuticals Hydrating B5 Masque infuses dehydrated and stressed skin with hyaluronic acid and vitamin B5 to replenish depleted moisture levels. The weekly treatment reestablishes the water balance that is critical for maintaining skin metabolic functions. The Hydrating B5 masque restores a healthy, youthful appearance.
SkinCeuticals LLC
3402 Miller Rd
Garland, TX 75041
(800) 811-1660
www.skinceuticals.com
---
Volumizing Serum
Intensité Volumizing Serum by RéVive Skin Care restores facial volume so skin appears youthful and vibrant. Intensité Volumizing Serum's Keratinocyte Growth Factor (KGF) augments loss of facial volume and plumps frown lines. KGF slows down the aging process by turning over skin cells and preventing DNA fragmentation. A whitening complex depigments the skin and fades blemishes and dark spots. An antiradical defense system shields against pollution, stress, and damaging UVB rays.
RéVive Skin Care
214 S Clay St
Louisville, KY 40202
(888) 704-3440
www.reviveskincare.com
---
Pulsed-Dye Laser
The Regenlite by Genesis Biosystems is a pulsed-dye laser that provides nonablative skin treatment. The Regenlite features two modes of operation—the rejuvenation mode and the vascular mode. The rejuvenation mode provides treatment for acne vulgaris, including cystic acne; performs dermal remodeling and skin tightening; reduces lines and wrinkles; improves irregular pigmentation; and stimulates collagen. In the vascular mode, the laser provides treatment for port wine stains, rosacea, telangiectasias, angiomas, and psoriasis; and removes warts and veruccas. According to the company, all treatments are performed quickly with no patient discomfort.
Genesis Biosystems Inc
1500 Eagle Court
Lewisville, TX 75057
(888) 577-7335
www.genesisbiosystems.com
---
Priori Skincare
Radical Defense with SPF 30 by Priori Skincare is a two-in-one topical cream that provides protection against premature signs of aging. Radical Defense also provides broad-spectrum UV photoprotection from sun exposure and includes environmental protection factor 95 to protect the skin from oxidative stress and free radicals. The dual chamber of the product's packaging contains SPF on one side and idebenone on the other.
U S CosmeceuTechs LLC
7413 Whitepine Rd
Richmond, VA 23237
(804) 743-9850
www.prioriskincare.com
---
Galderma Laboratories
Galderma Laboratories' Cetaphil cleansers and moisturizers will be available with new packaging in October. The company also introduces its redesigned Web site, which features a "Skin Assessment Tool." The tool allows users to enter information about their skin color and condition and, in turn, receive an easy-to-follow, personalized treatment plan complete with a daily skin care regimen. After users receive their personal profiles, they will receive coupons based on the products they use most and skin care tips based on the season and climate.
Galderma Laboratories LP
14501 N Freeway
Fort Worth, TX 76177
(817) 961-5000
www.galdermausa.com
---
Treatment Tip
Thermage introduces the ThermaTip™ STC (smoothing, tightening, and contouring) treatment tip, which saves treatment time and improves results. The ThermaTip STC features modified temperature parameters that allow a greater volume of tissue to be heated while protecting the epidermis. Increased heat delivery in the dermal layer improves smoothing and tightening at the superficial level of the skin while maintaining Thermage's depth of heating to contour tissue. According to the company, when used with the ThermaCool® NXT™ system, a complete Face by Thermage™ procedure can be performed in less than 45 minutes.
Thermage Inc
25881 Industrial Blvd
Hayward, CA 94545-2991
(510) 782-2286
www.thermage.com
Marketplace Insider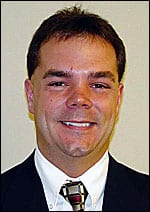 Tom Treon
Tom Treon is the product manager for medical procedure products for Midmark Corp, Versailles, Ohio. He is responsible for developing products and programs to expand Midmark's procedure room product line. Treon has been with Midmark Corp for 7 years, having first served as an electrical engineer in the new product-development department.
What type of products does your company offer to plastic surgery practices?
We offer a full line of exam and procedure tables, lights, sterilizers, seating, and medical-grade casework with complimentary design services. We have been supplying products to the health care industry for more than 50 years.
Do you have a new product that is currently on the market? Tell us about it.
In July, we released the Midmark 641 power procedures chair, which provides maximum access to the patient during a procedure. The design of the chair is based on feedback received from plastic surgeons, dermatologists, and oral surgeons. Other features of the Midmark 641 include flexibility in the positioning of the patient support surface and headrest, a Barrier-Free™ low seat height of 19 inches, a 450-pound weight capacity, and wireless hand and foot controls. The Midmark 641 can be equipped with rotation, allowing the patient to be rotated 350° while keeping auxiliary equipment stationary.
How many different types of sterilizers does your company offer? Which is the most popular?
We offer four types of steam sterilizers— their difference being their chamber size, and manual versus automatic operation.
Our most popular sterilizer is the automatic Ritter M11 with a chamber size of 11 inches by 18 inches. At the end of a sterilization cycle, our patented door technology opens automatically to dissipate steam and quickly dry instruments.
What are some of the features of the Ritter 355 Halogen Minor Surgery Light?
With features like shadow control, no-drift counterbalancing, a color temperature of 4,200K, and a foot-candle illumination of 6,200, this halogen light is our most popular seller. The multifaceted reflective system ensures an uninterrupted light pattern even with obstructions in the path of the light, and a counterbalance system free of mechanical springs and pulleys.
Another feature of the Ritter 355 is its integral infrared filter, which eliminates the portion of the light that generates unnecessary heat, allowing a cooler operating light.
How do your procedural carts and casework prevent cross-contamination?
Our procedural carts and casework are designed to address the infection-control requirements of a harsh medical environment. Unlike wood counterparts, our products use painted steel structures and seamless drawers and door surfaces that are easy to disinfect and are nonabsorbent to liquids. If a spill or leak were to occur in a drawer, the seamless design would contain the spill, preventing cross-contamination to other drawers. Its modular design also allows reconfiguration so you can add, rearrange, and move the casework to another location.