Body contouring encompasses a vast array of procedures that are used to improve the contours of many areas of the body. We take a closer look at some of the latest technologies and treatments that are focused on reversing the effects of the aging process and/or extreme weight loss.
Profiles written by Shannon Triplett Leade
1) Cynosure Inc
2) Eclipsemed Ltd
3) Palomar Medical Technologies Inc
4) Sciton Inc
5) Sound Surgical Technologies LLC
---
Cynosure Inc
5 Carlisle Rd
Westford, MA 01886
(978) 256-4200
(800) 886-2966
www.cynosure.com
Cynosure Inc has released SmartLipo Triplex, the first laser lipolysis technology that uses three wavelengths. This new device adds a 1,440-nm wavelength to the firm's MPX generation of the laser platform. The company's MultiPlex technology combines the three wavelengths in one laser output. Two wavelengths fire sequentially, which liquefies a patient's fat and tightens the skin with collagen stimulation.
According to information released by the firm, the new laser device offers 20 times greater fat absorption than single-wavelength lasers.
The earlier generation of SmartLipo devices offered only one wavelength. In SmartLipo Triplex a laser beam of three wavelengths is produced, consisting of 1,064 nm, 1,320 nm, and 1,440 nm. When combined with the 1,440-nm wavelength, the 1,064-nm wavelength speeds the disruption of the fatty tissue. When the 1,064-nm and 1,320-nm wavelengths are combined, the tissue coagulates, which in turn tightens the tissue.
This laser lipolysis workstation is designed to treat a variety of patient body-contouring concerns, including an overall improved laser lipolysis experience; proven tissue coagulation, resulting in skin tightening, reduced treatment time, and less downtime; and high-definition sculpting capabilities. High-definition liposuction is the 3D sculpting of the abdominal and chest muscles, the lower back, and the gluteus to enhance their appearance. The procedure is designed as an advanced sculpting technique rather than a standard liposuction technique.
Combination Wavelengths
Blending 1,320-nm and 1,064-nm wavelengths can be used for the following:
Areas of skin laxity;

Broad tissue heating for tissue-tightening results via coagulation; and

Smaller treatment areas, like the face and neck.
It results in reduced bleeding and bruising.
Blending 1,440-nm and 1,064-nm wavelengths can be used for the following:
More efficient disruption of fatty tissue for faster treatments;

High-definition treatments;

Targeted heating for faster recovery; and

Reduced bleeding and bruising.
The procedure is indicated for men and women who have good muscle tone, exercise regularly, have good-quality skin, and have been unable to achieve their desired muscle definition. SmartLipo TriPlex claims are supported by more than 8 years of clinical studies and science, according to the company.
Smart Delivery
The SmartLipo Triplex unit is equipped with unique, "intelligent" delivery systems that can help surgeons prevent overtreatment, determine your end points, and minimize complications with integrated temperature and motion sensing.
The ThermaGuide comes with a thermal-sensing cannula for measuring temperatures in the subcutaneous areas of the body. This technology allows the practitioner to set temperature thresholds to achieve targeted and controlled energy delivery for a safe and optimal clinical end point.
The introduction of the ThermaGuide offers much increased precision to the laser lipolysis procedure. The special cannula, through which the laser probe is inserted, reads the temperature of the targeted area, displaying the information in real time on the computer screen. In addition, the ThermaGuide requires the use of a 1-mm probe as opposed to the smaller 600-micron probe. The result is easier tissue passage and the delivery of more heat energy due to its larger cross-sectional surface area. This helps heat each fat area faster.
SmartLipo TriPlex
Three wavelengths offer greater absorption.

The 1,440-nm wavelength has 40 times greater absorption in fatty tissue than diode lasers.

Multiplexed combination wavelength therapy provides optimal fat disruption, high-definition sculpting capability, and tissue tightening through coagulation.

Intelligent delivery systems help the practitioner safely treat the patient using the maximum dose.
This technology represents a true advance in laser liposuction. The new SmartLipo Triplex, with its higher wattage, used in conjunction with the ThermaGuide, makes laser lipolysis a very effective, much improved procedure.
The SmartLipo Triplex rivals traditional or ultrasonic liposuction in terms of ease of use, speed of use, and improved fat reduction. Heating up the subcutaneous fat layer before suctioning provides good fat removal, less pain to the patient, and the possibility of some skin retraction.
The ThermaView thermal camera system measures skin surface temperature and provides a visual "map" of temperatures within the treatment area, providing the homogeneous delivery of thermal energy. This "smart" technology lets laser energy be delivered to a targeted temperature setting, helping the physician to ensure the safe and effective treatment of the skin's superficial layer.
---
Eclipsemed Ltd
16850 Dallas Pkwy
Dallas, TX 75248
(972) 380-2911
(800) 759-6876
www.eclipsemed.com
Eclipsemed Ltd is a leading supplier of aesthetic high-tech medical devices. The firm's 2009 US launch of Body-Jet, a new concept in water-assisted liposuction technology, is an innovative and evolutionary approach to standard liposuction. Some are calling Body-Jet the most transformative liposurgery advancement since the inception of liposurgery.
Body-Jet, while being marketed and distributed in the United States by Eclipse, is manufactured by Human Med, based in Germany. Human Med, upon receiving FDA clearance in late 2008, made its big US launch by utilizing the Eclipse sales team to introduce the new Body-Jet concept.
Whereas traditional liposuction destroys the fat cells, Body-Jet loosens fat without compromising the fat cell. The fat cell is left intact for harvesting. The technology, which can be performed under local anesthesia, uses one-fourth of the infiltration fluid usually needed for standard liposuction, resulting in less swelling, improved patient comfort, and decreased tissue trauma. In addition, the Body-Jet allows for improved contouring accuracy, which reduces the number of future corrective actions.
The Body-Jet's technique and specially designed cannulas simultaneously irrigate and aspirate the patient's fat tissue. Blood vessels and nerves are not damaged. Body-Jet essentially flushes the fat out with a gentle spray of fluid instead of destroying it with heat or brute force. With Body-Jet, fat is removed from the body in a river of saline and comes out in a very pure state, with cells largely intact. Because the cells have been subjected to minimal trauma, they can be used for fat grafting without additional processing. The AquaShape LipoCollector II separates the fat from the fluids, which collects in a chamber.

When immediately filtered with the LipoCollector II, Body-Jet does not require the lengthy centrifuge process usually necessary to remove oils prior to a fat transfer. In addition, fat cells are exposed to less local anesthetic due to reduced infiltration and immediate separation. As such, the reinjectable material is of better quality; and fat is harvested with roughly 25% liquidity. The sterility of harvested fat is easily maintained. The AquaShape LipoCollector II is a fully autoclavable system for reuse.
Beyond the benefits of fat harvesting, postoperative observations with Body-Jet have included reduced bruising, swelling, and minimal discomfort. Physicians have confirmed the final result within 3 or 4 days of the surgery, as opposed to several weeks
with traditional liposuction. Patients are typically able to resume normal activities within
days, and most are pain free by the fourth day after surgery.
New RF-Based Technology
With the interest to meet the needs of nonsurgical candidates as well, Eclipsemed recently partnered with EndyMed Medical Ltd (Caesarea, Israel) to release the third-generation, radio frequency (RF)-based line of products that implement a proprietary technology called 3DEEP for skin tightening. The EndyMed Pro with 3DEEP technology has received FDA clearance for the noninvasive treatment of facial wrinkles and rhytides. Additionally, Endymed has applied to the FDA for clearance for body contouring.
The product's differentiating 3DEEP technology uniquely controls the power and depth of RF current delivered to the skin. 3DEEP technology results in minimal surface energy flow, thus eliminating the need for cooling and providing an effective skin tightening treatment.
The EndyMed Pro targets and controls deep heating for full skin treatment effect. 3DEEP technology allows practitioners to adjust treatments to the patient's unique skin characteristics.
EndyMed PRO with 3DEEP technology provides the safety of bipolar RF technology with the depth and result offered by monopolar RF
technologies. EndyMed PRO truly is the best of both worlds with its unique "reverse polarity" for 3DEEP effect.
Eclipse continues to lead the marketplace as an innovator of cutting-edge aesthetic solutions like the Body-Jet and EndyMed PRO. Eclipse recently announced the formation of Eclipsemed Global, a new manufacturing and international sales organization. Eclipsemed Global has acquired the controlling assets of Enlyten Medical Technologies, an Amsterdam, the Netherlands-based aesthetic laser manufacturing company. In addition, Eclipsemed Global will manufacture and market advanced dermal treatment systems for the aesthetic market, with R&D facilities located in Israel.
---
Palomar Medical Technologies Inc
82 Cambridge St
Burlington, MA 01803
(781) 993-2300
(800) 725-6627
www.palomarmedical.com
The SlimLipo™ body-sculpting laser from Palomar Medical Technologies Inc "melts" unwanted fat efficiently and effectively by selectively targeting adipose tissue. It offers a choice of optimized wavelengths and a unique tip design, which provide excellent results with minimal downtime for the patient, according to the company.
The system provides skin tightening via laser-assisted lipolysis (with smoother skin with less contour deformities), improved healing with small incisions, less bruising, reduced pain, and minimal blood loss and swelling. It also produces results with less downtime for patients who need to return to work or other activities the same day.
SlimLipo also offers benefits to the physician. Palomar's choice of highly selective wavelengths results in decreased fatigue—the SlimLipo treatment tip moves easily through all treatment areas, even fibrous tissue. It enables physicians to treat patients in areas that are not normally treated with traditional liposuction, such as small areas, and it works well for the revision of contour deformities.
Slimlipo Features
The laser system offers the following:
Continuous wave technology, for superior control of thermal effects versus competing high peak power lasers;

Dual laser wavelengths of 924 nm and 975 nm for optimized fat and dermal tissue lasing;

Interchangeable treatment tip designs for specific treatment areas;

An aiming beam for precise visualization of the treatment tip during treatment;

Improved speed of operation when compared with competing laser-assisted lipolysis devices; and,

Reduced overhead costs (often, no anesthesiologist is needed).
The 924-nm wavelength has nearly four times the preference for fat over dermal tissue, which frees the lipids contained in adipose tissue for aspiration. By using selective photothermolysis to specifically target and "melt" fat, SlimLipo preserves more of the connective tissue; it doesn't simply tear through the tissue structure.
The 975-nm wavelength is preferentially absorbed by the water in dermal tissue. The heating of dermal tissue has been shown to have skin-tightening effects for improved body contouring.
"As an active veteran plastic surgeon, I have never been more impressed with technical innovations than with SlimLipo," says Lewis Obi, MD, of the Cosmetic Surgery Center in Jacksonville, Fla. "The results have been so impressive with this new technology that dozens of patients have scheduled SlimLipo procedures. It is remarkable that the majority of patients experience very little bruising, pain, or interference with activities. I have had to expand my surgery schedule for these new and grateful patients."
"After working with all of the currently available wavelengths for laser-assisted lipolysis, Palomar is the company that has best addressed this by developing technology that fits the science," says Robert Weiss, MD, director of the Maryland Laser, Skin, and Vein Institute in Hunt Valley, Md. "Using optimized wavelengths to specifically target both lipids and dermis and combining it with continuous-wave delivery for a smooth and efficient dispersion of energy through a specially engineered tip, this technology stands apart from its predecessors."
Palomar's SlimLipo laser-assisted liposuction system boasts a unique treatment tip design and selective wavelengths for melting fat and providing the desired thermal effects on surrounding tissue, use optimal wavelengths to melt fat, and provide the appropriate amount of heat to the surrounding tissue, according to company CEO Joseph P. Caruso.
Most laser liposuction systems on the market today use a 1064-nm or 1320-nm laser wavelength. According to the company, the best wavelength that is most highly absorbed by fat is 924 nm, a wav length patented for laser-assisted lipolysis by Palomar.
SlimLipo was the first 924-nm-based laser liposuction system on the market. It is three times as selectively absorbed by fat as the 1064-nm lasers and two times more than 1320-nm systems. It is also five times as selectively absorbed by blood.
This means that the SlimLipo laser liposuction unit dissolves fat and prevents bleeding much more effectively than other available systems.
---
Sciton Inc
925 Commercial St
Palo Alto, CA 94303
(650) 493-9155
(888) 646-6999
www.sciton.com
Sciton Inc, a leading manufacturer of high-quality laser and light systems, has released TempASSURE™, a temperature monitoring device that provides increased safety and efficacy for its ProLipo PLUS™ high-power laser-assisted lipolysis device.
TempASSURE is an innovative technology that increases both patient safety and efficacy by precisely measuring tissue temperatures in real time. Using precise monitoring of changes in a patient¹s tissue temperature, TempASSURE creates a decreased patient risk profile, as it is so accurate.
In addition, this accuracy allows for optimal melting of adipose tissue and heating of dermal tissue for the easy identification of targeted end points. Depending on the level of tissue heating desired, the device enables the physician to deliver as much energy as needed to a well-defined treatment area.
TempASSURE comes with an easy-to-read LCD color touch screen, combined with an intuitive user interface that features both a numeric and graphical display of real-time temperatures.
The device allows physicians to select the type of audio feedback and set two levels of signaling: a notification alert, which indicates when the targeted temperature has been reached; and a warning alert, which advises when the temperature level has approached maximum temperatures.
Accurate internal temperature monitoring with TempASSURE increases both patient safety and operational efficacy by providing real-time notification of clinical end points.
TempASSURE works with ProLipo PLUS, Sciton's minimally invasive, ultra high-powered laser system for ablating and melting unwanted fat; and coagulating tissue resulting in a tighter, slimmer body. Rated for a maximum of 40 watts of power in each of two wavelengths, it is the most powerful lipolysis laser in the world. In addition, the extremely short pulse duration (10 to 250 µsec) means greater tissue ablation and less damage to surrounding tissue.
The ProLipo PLUS offers both 1,064-nm and 1,319-nm Nd:YAG wavelengths. Its unique design gives practitioners the choice to use each wavelength individually or to combine the benefits of both for optimal body-sculpting results.
With this combination of wavelengths, plastic and cosmetic surgeons can blend different types of lipolysis.
For example, the 1,064-nm wavelength improves skin tone, concentrates on blood vessels and fat cells, heats the skin more slowly, and acts on collagen fibers. The 1,319-nm wavelength targets water in the dermal collagen and melts the patient's fat by bursting the cells. This makes fat extraction easier and also promotes skin tightening.
ProLipo PLUS may be used to improve the patient¹s body contour as a stand-alone procedure or in conjunction with traditional liposuction. It is less invasive than traditional liposuction surgery, as it only requires tumescent anesthesia and a small incision to insert the laser fiber underneath the skin.
ProLipo PLUS liquefies fat cells before they are removed, causing much less trauma to tissue—resulting in decreased bleeding, swelling, and bruising. This allows for a very short recovery period. In general, patients are back to normal activity within a day or 2.
The ProLipo PLUS procedure causes the body to stimulate production of collagen, resulting in smoother and tighter skin in the targeted area, with continued improvement in tightening for up to 6 months after the treatment.
The system can be used to contour the chin, neck, male chest, arms, back, abdomen, flanks, hips, waist, buttocks, thighs, and knees.
Unlike some laser-based systems, ProLipo PLUS does not force physicians to continually purchase expensive, proprietary consumables. Several physicians have commented in print that Sciton's nonproprietary fiber delivery system sidesteps unacceptably high per-case disposable costs.
When used with TempASSURE, ProLipo PLUS provides the safest laser lipolysis method for to patient temperature monitoring and effective body contouring treatments.
---
Sound Surgical Technologies LLC
357 S McCaslin Blvd, Suite 100
Louisville, CO 80027
(303) 384-9133
(888) 471-4777
www.vaser.com
Sound Surgical Technologies LLC's VASER Lipo System is a minimally invasive body contouring technology that uses mechanical and acoustic forces to emulsify fat within a targeted area, while preserving other important tissue structures.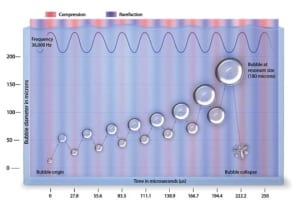 Figure 1. Growth of microbubbles in infusion fluid via compression and rarefaction.
Fat deposits are then removed from the body using an atraumatic aspiration cannula called VentX. VentX maximizes procedure speed and efficiency while reducing trauma to the surrounding tissue.
The use of VASER ultrasound for body contouring is beneficial for tissue specificity, reduced blood loss and patient discomfort, smooth skin retraction, and preservation of fat cell viability.
Since individual fat cells remain intact during the VASER ultrasound liposuction process, fat collected may be harvested for autologous fat transfer.
Recent clinical studies show no difference in the viability of fat cells treated with VASER ultrasonic energy compared to those treated with traditional suction-assisted liposuction methods.
Fat aspirated during traditional liposuction procedures are often harvested in large cell packets which are approximately 50 cells in diameter.
These large cell clusters are associated with high rates of cell disruption from shear forces during reinjection, and necrosis at the core after reimplantation due to inadequate blood supply. The fat aspirated during the VASER Lipo process is refined to small lipocyte packets comprised of two to three fat cells, which supports growth and vascularization upon reinjection.
During body contouring with VASER Lipo, a tumescent fluid is infused throughout the targeted fatty tissue area.
The fluid naturally contains small gas bubbles, and as the fluid infiltrates the area, micro bubbles become dispersed throughout the tissue matrix.
Due to the relatively loose packing of the fatty tissue, the tumescent fluid surrounds the fat cells, allowing the gas bubbles to infiltrate between individual cells.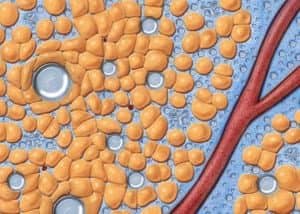 Figure 2. Fat cells being dislodged via stable cavitation.
Tight junctions between cells within blood vessel walls and connective tissues prevent gas bubbles from interspersing among and affecting these tissues.
The VASER Lipo System delivers ultrasound pressure waves, or alternating regions of higher and lower pressure, at 36 kHz via a titanium probe.
These waves produce a push/pull force on the dispersed gas micro bubbles, which expand and increase their surface area, allowing additional gas dissolved in the fluid to enter by diffusion.
The pressure wave next pushes on the bubble, compressing it and causing some of the gas in the bubble to diffuse back out.
Since the bubble is smaller when compressed by the pressure wave, less gas diffuses out during compression than diffuses in when the bubble is under tension.
Thus, with the passage of every ultrasound wave, there is an overall net increase in the volume of the gas bubble until they implode; pulling on and further loosening the fat tissue matrix (this process is called stable cavitation). The progression then starts over.
Since adipose cells contain no gas, VASER ultrasound energy does not cavitate adipose cells. Also, the bubble-mediated cavitation action only acts to dislodge the adipose cells, leaving the other tissues such as nerves and blood vessels unaffected.
This is the source of the natural tissue selectivity of VASER ultrasound technology. As the fat cells are displaced, they are mixed with the tumescent fluid by a process called acoustic streaming.
This streaming results in a complete emulsion of the fat cells, which are then easily removed via the VentX aspiration cannulas.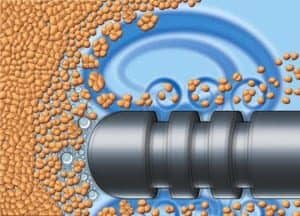 Figure 3. Acoustic streaming.
In a recent scientific comparative study, researchers set out to evaluate postoperative differences between VASER Lipo and traditional liposuction methods.
Results showed that the VASER Lipo treatment demonstrated 53% improvement in skin retraction per cc of aspirate removed and an average reduction in blood loss of 26% compared to traditional liposuction.
Twenty female patients between the ages of 20 and 48 received contralateral treatment with suction-assisted liposuction and lipoplasty using VASER in one or more anatomical regions—for a total of 33 regions.
Patients were randomly allocated to undergo suction-assisted lipo on one side of the body and VASER on the contralateral side. Aspirate was kept separate and analyzed for blood content. Skin retraction was measured using changes in UV tattoos placed prior to surgery.
This is the first study to demonstrate statistically significant and clinically relevant improvements in a new lipoplasty technology relative to traditional liposuction.
This prospective study used a contralateral (side-by-side) study design to evaluate postoperative differences between the two techniques over a 6-month time period.
Other recent studies have shown as much as 7.5 times less blood loss with VASER Lipo compared to traditional liposuction methods.