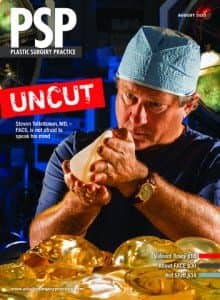 Plastic Surgery Practice magazine has been awarded a Bronze Award by The American Society of Healthcare Publication Editors (ASHPE) for its August 2013 profile titled, "UNCUT: Steven Teitelbaum, MD, FACS, is not afraid to speak his mind."
Each issue of PSP highlights an up-and-coming doctor or highly skilled physician who is on the cutting edge of their field. These profiles not only focus on the doctor's professional experience, but offer a look into their personal lives as well. Chief editor Denise Mann wrote the award-winning feature on Dr Teitelbaum, which highlights his tell-it-like-it-is style and his thoughts on the always-changing plastic surgery technology.
The ASHPE recognizes editorial excellence and achievement in the field of healthcare publishing. The annual awards competition provides an opportunity for editors to measure their efforts against the very best the healthcare sector has to offer.
"It's an honor to have PSP recognized among the best in healthcare publishing. We strive to deliver high-quality editorial along with an interesting read, and with this article I would say we hit the mark," says Carla Lira, publisher of PSP. "Denise Mann, chief editor, with her vast industry expertise, continues to raise the bar for PSP."
About PSP
Plastic Surgery Practice is the brand that 12,000 plastic surgeons rely on for the latest information on the clinical innovations, practice-management trends, emerging products and technologies, and new stories that drive their field. With well-thought-out articles by leading practitioners, PSP gets to the core of the most complex issues in plastic surgery, including controversial new treatments, the use of highly technical equipment, and physician-patient interactions.