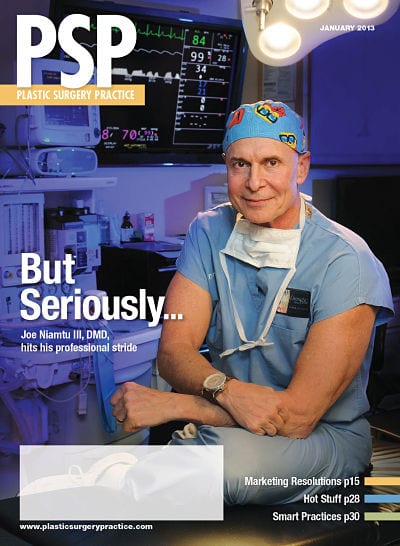 COVER?STORY
Joe Niamtu III, DMD, hits his professional stride
By Denise Mann
FEATURES
THE SKIN & AESTHETICS
Doctors 90210 ZO Ultimate Skin Health Symposium takes Beverly Hills by storm.
By Wendy Lewis
THE SKIN & AESTHETICS
The next generation of growth factors are changing the face of skincare.
By Gail K. Naughton, PhD
THE BODY
Marco A. Pelosi II, MD, discusses the mainstreaming of cosmetic gynecology.
By Denise Mann
10 THINGS
A wrestler's mentality helps Angelo Cuzalina, MD, DDS, shine as a cosmetic surgeon.
By Denise Mann
DEPARTMENTS
FROM THE EDITOR
New Year, New and Improved Plastic Surgery Practice
By Denise Mann
Letter to the editor: He Said, They Said.
More debate about the Life Style Lift
INPRACTICE
Make 2013 the Year You Take Back Control of Your Online Reputation!
Eight online reputation resolutions you can stick to in 2013
By Michael J. Sacopulos, JD
INDEPTH
Four New Year's resolutions guaranteed to boost your Internet presence in 2013
By David Evans, PhD, MBA
SMART PRACTICES
Is cosmetic medicine becoming a commodity?
By Wendy Lewis
Hot Products and Trends: Merz's Belotero Balance, Zytaze, Replenix, and medicinal marijuana.
Or read the entire interactive print edition. Click here.