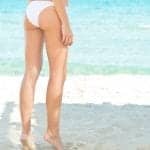 There's no question about it—cellulite and the desire to rid our bodies of it for good is big business. US women spend $1 billion each year on new ways to eradicate dimply, cottage cheese thighs and butts. Invariably, each summer heralds a new must-try miracle cellulite cure.
But "none of them worked until now," says Deanne M. Robinson, MD, a dermatologist at SkinCare Physicians in Boston. Speaking at a New York City media event, Robinson discussed Cellfina's role in treating and beating cellulite once and for all.
It is different from other anti-cellulite modalities in that it goes after the bands, she says. Cellfina is US Food and Drug Administration-cleared for treating cellulite on the buttocks and thighs, but some doctors are using it off label on other areas of the body with cellulite or as an adjunct to fat grafting, liposuction, or other body contouring procedures.
The minimally invasive Cellfina procedure involves pretreatment in which doctors meticulously mark the dimples to be treated. Local anesthesia is followed by the vacuum-assisted tissue release to break up the bands that cause cellulite.
It's a one-and-done procedure, with results visible within 3 days and lasting at least a year, she says. Robinson has seen Cellfina results last for upward of 3 years, and that data will be presented soon. "It's a smoothing that lasts," she says. More telling is the patient satisfaction ratings. "We showed 94% patient satisfaction after 12 months," she says.
Many other fly-by-night cellulite treatments have left patients feeling a lot less satisfied with the results.
It is also precise, adds Simeon Wall, Jr, MD, a plastic surgeon in Shreveport, La. This means less scarring. "It's a game change for cellulite," he says.
Cellfina treatment costs range from $3,000 to $6,000 based on geography as well as the scope of the area/s treated, and lasts about 45 minutes, on average. "You can put on Spanx and go home," Robinson says.
Merz-owned Ulthera purchased Menlo Park, Calif-based Cabochon Aesthetics Inc, which initially marketed the new anti-cellulite procedure.