David Matlock, MD, MBA, FACOG, has cornered the cosmetic surgery market in vaginal rejuvenation. His trademarked cosmetic procedures—Laser Vaginal Rejuvenation (LVR), Designer Laser Vaginoplasty (DLV), and G-Shot Amplification—were developed in order to enhance "it" for his female patients. "It" is sex, and sex, as the old saw goes, always sells.
Although conservative factions within the aesthetic field may frown on his chosen road to success, the point is that Matlock has achieved considerable success. His approach to cosmetic surgery has generated a lot of business for his practice—and a lot of press.
"Why do we get that press?" Matlock asks rhetorically. "What do we do? We do Laser Vaginal Rejuvenation for the enhancement of sexual gratification and Designer Laser Vaginoplasty for the aesthetic enhancement of the vulva structures."
That isn't to say that Matlock is successful only because he developed those procedures. Rather, he credits his success to finding his cosmetic surgery niche, then obtaining an MBA to learn how to publicize and monetize that niche, while continuing to find new opportunities to sell his procedures.
STAYING WITH "IT"
Matlock's "MD, MBA, FACOG" credentials and his title—founder and medical director of The Vaginal Laser Institute of Los Angeles—are fairly precise summaries of his professional life.
PRACTICE AT A GLANCE
Name: David Matlock, MD, MBA, FACOG
Location: Los Angeles
Specialty: Vaginal rejuvenation
Years in practice: 26
Days worked per week: 5
Days surgery performed per week: 3
Number of employees in practice: 30
Office square footage: 8,500
He started his career in obstetrics in 1983 and later received his MBA from the University of California at Irvine, after choosing a career in cosmetic surgery, primarily tumescent liposuction. It wasn't until around 1996 that Matlock truly found the niche that would define his career and make him well-known. He found the "It factor" somewhat accidentally, thanks to one of his clients.
"There was a patient who came into my office and said she had four kids and stress incontinence," he recalls. "What are we going to do? I said, 'Well, I'm going to do my laser anterior posterior colporrhaphy and perineorrhaphy.' In that procedure, I concerned myself with form, function, and appearance. I did the procedure, and the patient came back and said, 'Doctor, guess what?' After 6 weeks she had resumed normal sexual activity, and she said that sex is great now."
At first, Matlock didn't truly comprehend the significance of this patient's feedback until the patient's husband called and said the same thing. The next day, the couple sent flowers to Matlock.
That initial patient led to a referral from a woman who did not have stress incontinence but had had three children and vaginal relaxation. She had heard about her friend's enhanced sexual gratification and asked Matlock if he could do the same procedure to help her.
The referral made Matlock modify his thoughts on the procedure. He performed it again and achieved the same results, but with more customer satisfaction. Soon, there was a growing flow of female patients asking for the same procedure.
Matlock further built up his developing niche with a single ad in a local weekly consumer magazine, which bluntly stated: "Laser Vaginal Rejuvenation for the enhancement of sexual gratification."
"We were so inundated with calls for consults with patients that we had to pull the ad because we couldn't keep up with it," Matlock says. Then the news media started calling.
Matlock understood the huge potential market for these "it" services, and set out to expand his techniques far beyond his own practice.
HOW TO LICENSE A PROCEDURE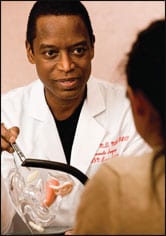 Matlock credits a patient with helping him discover his "cosmetic surgery niche" in 1996.
Matlock began to teach LVR, DLV, and related procedures to a small group of physicians, but soon realized that he needed an executive health care MBA to garner the most potential from his practice.
"I personally felt that I was holding myself back and that I could accomplish much more with that degree," Matlock says.
From 1998 to 2000, Matlock attended the University of California at Irvine program, mostly with corporate health care professionals who helped him to shape his business model for marketing and licensing his techniques.
"From my MBA, I learned about the value of intellectual property. From my new ventures course, I understood how to launch a new venture, how to protect it, and how to capitalize on the opportunity."
Soon after he completed his MBA, a company approached Matlock and offered to take the LVR and DLV to a national level. "I license the intellectual property to them, and they are in charge of the management, sales, marketing, and distribution, and I'm paid royalties, training fees, and laser fees," Matlock explains. In addition, a particular laser that is used and recommended by Matlock is included in the training fee.
Today, there are licensed LVR and DLV centers all over the United States and the world.
As much as Matlock's MBA taught him about business, he says that all of his techniques were developed out of ideas that came from simply listening to his patients and applying creative ways to use his past experience.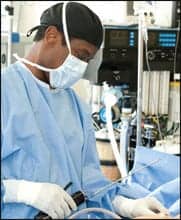 Matlock's vaginal-rejuvenation techniques have become a runaway success throughout the United States.
"You go with what's going on in your professional life, Matlock says. "I was a gynecologist and then a cosmetic surgeon. Then I said, 'Let me apply these cosmetic surgery principles to vaginal surgery.' "
His MBA and experience with marketing his procedures have provided a mold for his latest endeavors. Currently, he is now expanding his practice with new partners to include bariatric surgery and another proprietary procedure, the VASER-Assisted Hi-Definition Miniabdominoplasty, developed by Colombian cosmetic surgeon Alfredo Hoyos.
Even with his trademarked techniques and MBA training, Matlock admits that he would not be as successful without his regular appearance on the E! Entertainment cable-television series, Dr. 90210.
CELEBRITY SURGEON
"It's astronomical for the business," Matlock says of the popular series. "You'd have to be a Fortune 500 company to afford this kind of promotion. Why? 1.4 million people watch every one of these episodes."
Matlock's casting on the show was a matter of being in the right place at the right time. In 2004, Robert M. Rey, MD, who created the show, was utilizing Matlock's surgery center and asked him if he wanted to be involved in the program.
However, being on Dr. 90210 is a double-edged sword for Matlock. On one hand, there is the notoriety and a steady stream of patients; on the other hand, as Matlock puts it, one's personal life—both on and off camera—can be affected.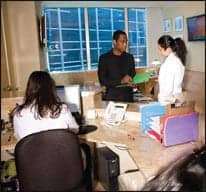 All of Matlock's techniques were developed out of simply listening to his patients and applying creative solutions.
Matlock is cautious about revealing his insider's perspective, but he says that regardless of how much "larger than life" the show conveys a physician's personal life story, the producers present the procedures he performs on the show realistically.
Beyond the exposure from the television show, Matlock also uses a PR firm specializing in physicians to help promote his practice and procedures.
"I understand that media," Matlock says. "We have a symbiotic relationship. I need them. They need me. So, what I've learned is that I'm always going to be media friendly. I want the media to say that this is a good interview."
When the media want to talk to patients about his procedures or practice, Matlock has a ready list of satisfied, if not always enthusiastic, clients.
"Some patients actually say to me, 'I want to talk, I believe in this, and I think women should know it and understand it,' or 'I didn't know that these things were available,' " he says. "I put that lady's name down and ask if they would mind talking to the media. And they say, 'No, I don't; call me.' "
Matlock advises physicians wanting his level of media exposure to first have something interesting to present and then find an agent who specializes in reality show television—a medium that can potentially reach the largest audience interested in aesthetic surgery.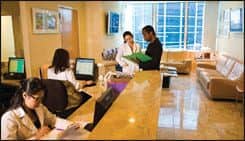 Matlock's practice is busier than ever, even after he has licensed his cosmetic surgical techniques to physicians around the country.
However, he again stresses that the physician's personal life and family will also be judged for their star qualities—and for their potential personal conflicts. If you are offered a reality show, Matlock notes, make sure you hire an experienced entertainment lawyer to work out the deal.
For public relations, Matlock recommends agencies that just deal with medical professionals, but also warns that marketing on this high-profile level is not something that can be turned off any time.
A CONTROVERSIAL NICHE
Along with the notoriety of Matlock's procedures, there is controversy. Women's groups and medical societies question the ethics and safety of cosmetically altering a woman's vagina, believing it is yet another procedure invented by men for their pleasure, not the woman's.
Matlock maintains that he screens all of his patients and does not perform any procedure to repair any sexual dysfunction, such as not having orgasms, for dryness, or having discomfort or pain. In addition, he will not perform any procedure at the behest of or as the result of pressure from significant others.
"We want women to come in under their own volition to request these procedures," he says. "It's for them, period. If someone comes in and says, 'This is the last straw; otherwise, we're getting a divorce,' I say, 'You know what? You're in the wrong place.' We've turned women down."
Matlock says that he empowers women by providing sexual choices that are available to men through Viagra and other male-enhancement medications. "When people say this is for males, I say, 'No, we're here for the women.' I'm happy to see that the women come in under their own volition and request these procedures, and that's it."
As for publishing his technique in peer-reviewed journals, Matlock says his patent attorneys recommended he not publish studies on his technique, initially, in order to protect his intellectual property.
Since then, associates who have trained with Matlock have published a consumer-oriented book on their findings.1 In addition, Matlock says that he is looking forward to associates publishing a year-long multicenter study that was recently submitted to a noted US peer-reviewed journal for evaluation.
"The first major [study] is complete and being submitted. And what [it] will show is that if you look at risks and complications, it's less than 1%. If you look at satisfaction, the satisfaction is very high."
---
Tor Valenza is a staff writer for PSP. He can be reached at [email protected].
REFERENCE
Apesos J, Jackson R, Miklos JR, Moore RD. Vagina rejuvenation: Vaginal/vulvar procedures. Restored Femininity. MWP Media; 2008.
Finding the Sweet Spot
For physicians who manage to book themselves on Dr. 90210 or a similar type of plastic surgery show, David Matlock, MD, MBA, FACOG, suggests you never lose sight of the camera and the microphone.
"That mike is always on. I can be on for 8 hours, so I've got to remember to turn off the mike when I go to the bathroom," he explains. Similarly, conversations—and language—that are not intended for the show may be recorded and overheard by the production.
Off-camera and off the job, Matlock enjoys weight training and international travel with his family. He has an older daughter by his first marriage, and in October 2008 he married his second wife, an intensive care unit nurse who has two daughters, ages 16 and 5, from a previous marriage.
Matlock says he is truly enjoying his life right now. However, when asked if he has any regrets, he pauses for a moment.
"Maybe, with my daughter," he says. "I could have given her more time, but I was driven. Now, she's just graduated from USC in international business, so I hope, and this is in the back of my mind, but I hope that my career didn't hurt things with her and me. She's a great girl, no problems, but that's the thing. You've got to really balance that out."
Matlock says he justified the father-daughter time lost by rationalizing that his success would ultimately benefit his daughter for the rest of her life. However, after separating from her mother, Matlock realized that his daughter wanted something else.
"I remember during the divorce, I would send a limo down to her mother's to pick her up," he says. "That was fun for a little bit, but then she said, 'No, I want you to pick me up. I want to spend time with you.' So, if there's anything I regret, I hope that relationship hasn't been hurt as a result of my profession, my drive. With the new wife, I make sure that I take the time, and spend the time."
—TV