Sound Surgical Technologies LLC
357 S McCaslin Blvd, Suite 100, Louisville, CO 80027 • (888) 471-4777 • www.soundsurgical.com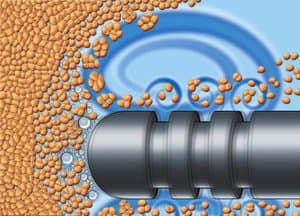 Figure 1. Acoustic streaming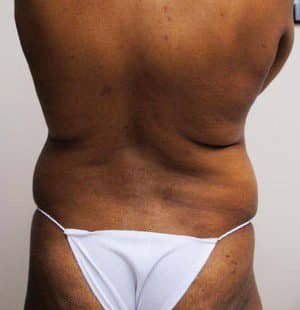 Figure 2. A male patient before (above) and after (below) VASER Shape MC1 treatments
Sound Surgical Technologies' new VASER 2.0 Lipo System is a minimally invasive ultrasonic body-contouring device that provides a new level of versatility for practitioners.
The system, a significant upgrade of the firm's popular ultrasound-based device, lets you perform a wide range of contouring applications—from significant fat reduction to precise sculpting on all areas of the body.
As an all-inclusive platform for infiltration, emulsification, and aspiration, the VASER Lipo System is designed to optimize every step of the body sculpting experience for the physician and patient. The versatile, compact system enables the removal of small volumes of fat for precision contouring or larger volumes for rapid debulking. In addition, the system makes delicate and fibrous areas easier to sculpt. VASER-harvested fat is also optimized for subsequent fat grafting, and many physicians report it is easier to reinject than nontreated fatty tissue.
The VASER 2.0 Lipo System provides the following benefits:
By selectively emulsifying fat cells prior to removal, the system enables optimal control during a procedure and reduces aspiration time and physician fatigue;
Treatments are minimally invasive and offer fast patient recovery;
The ultrasound-based energy is tuned to preserve connective tissue and maintain fat cell viability;
It is clinically proven to enhance skin retraction and reduce blood loss; and,
A wide range of probe options are available to treat all areas of the body.
Using the VASER system, treatments can be performed in your office-based surgery suite or as an outpatient procedure at a surgery center or hospital.
A tumescent fluid is infiltrated throughout the targeted fatty tissue area. This fluid, which naturally contains microscopic gas bubbles, surrounds and infiltrates between the loosely connected fat cells. These air bubbles collapse when exposed to the ultrasound energy emitted from the VASER Lipo probes. The force created by the collapsing air bubbles pulls apart the fat cells, dislodging them from the fatty tissue matrix.
As the fat cells are displaced, they are mixed with the tumescent solution by a process called acoustic streaming, further breaking down the fat clumps into smaller groups of intact fat cells, which are subsequently aspirated. Since the air bubbles cannot intersperse between the cells of more dense tissues like blood vessels, nerves, and collagen fibers, these tissues remain largely unaffected by the ultrasound energy. The majority of the fat cells in the emulsion remain intact, so VASER-treated fat can be utilized for subsequent fat-grafting procedures.
THE SHAPE

The new VASER Shape MC1 System is a new, noninvasive ultrasonic system with specialized handpieces for ultrasound energy delivery and zonal lymphatic massage.
The system received FDA clearance for relief of minor muscle aches, pain, and muscle spasms; temporary improvement in local blood circulation; and temporary reduction in the appearance of cellulite. It can be used alone or in combination with surgical body-contouring procedures to minimize postoperative pain and swelling.
The VASER Shape MC1 uses two handpieces to provide a combination of ultrasonic diathermy and zonal lymphatic massage. Both handpieces are controlled from a central console that allows practitioners to customize the treatment based on body area and patient comfort. The system lets practitioners shape and smooth the body by temporarily reducing the appearance of cellulite and improving lymphatic drainage and local blood circulation.
The MC1 System uses ultrasound energy to affect fatty tissue noninvasively, meaning no incisions are required. The ultrasonic handheld unit uses dual ultrasound transducers to deliver a double beam of 1 MHz ultrasound frequency modulated at 20 kHz to 60 kHz. The ultrasound beams overlap and treat fatty tissue between 1 cm and 5 cm below the skin's surface. This results in both acoustic thermal and acoustic mechanical effects that warm the treatment area and temporarily change the characteristics of the underlying tissue matrix.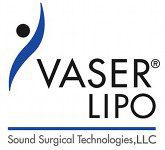 Variable power and frequency modulation settings can be tailored to patient tolerance.
The system's zonal massage vacuum handpiece then stimulates the lymphatic system to drain away excess toxins and lipids for removal from the body, while also increasing local blood circulation. 
The vacuum-assisted massage can also help open lymph nodes pretreatment, alleviating the need for manual lymphatic massage.
---
Syneron Inc
3 Goodyear, Irvine, CA 92618 • (949) 716-6670 • www.syneron.com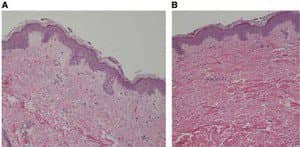 Figure 1. Hematoxylin and eosin staining. Nontreated site on the upper arm (left); histologic results at 1-month follow-up after five treatments in the same subject (right).

Figure 2. A 43-year-old woman before (left) and after two buttocks treatments (right).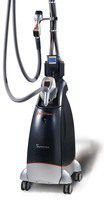 VelaShape II is the first FDA-cleared device for circumferential reduction of the thighs, and the first FDA Class II-cleared platform for cellulite reduction.
Designed with the firm's patented elos™ technology, the system treats the deeper tissue—offering a measurable reduction in circumference—and the upper layers of the skin, resulting in cellulite reduction. The VelaShape II's noninvasive, no-downtime system uses different modalities for effective body-contouring and cellulite-reduction treatments.
Not only is the VelaShape II one of the most effective cosmetic systems for body contouring, it is also one of the fastest and most patient-friendly devices on the market. With the VelaShape II system, physicians can effectively treat a significant number of areas of the body in less than 30 minutes. Patients will appreciate the fact that treatments result in virtually no discomfort or pain. Several clinical studies have already proven the system's effectiveness and are backed up by the claims of its manufacturer, Syneron Inc. In addition, the system weighs around 60 pounds, meaning you will have no problem moving it from one location to the other.
Combining heat in the form of radiofrequency and infrared light, along with a vacuum and specially designed rollers, infrared light targets the patient's tissue more superficially and is increased for cellulite-reduction treatments, heating the tissue down to the dermis, to about 3 mm in depth.
Higher levels of radio frequency are used for circumferential reduction, heating the tissue down to the subcutis layer from 2 mm to around 15 mm in depth. Working in conjunction with the heat, the vacuum and rollers manipulate and smooth the skin, which lets you target energy precisely to the tissue safely and efficiently.
This procedure improves local circulation, increases the metabolism of fat cells, and increases lymphatic drainage from the affected areas of cellulite. This results in diminished sizes of the fat cells and improved texture of overlying skin, as well as circumferential reduction of the area. VelaShape II can also tighten skin in the affected area.
The system can be used in the thighs, buttocks, abdomen, flank, and arms; and can be used to help patients in postpregnancy by tightening and improving the texture of the abdomen. Many plastic surgeons have added VelaShape treatments as an adjunct for their liposuction procedures, to help smooth out postsurgical irregularities and aid the healing process via the relief of aches and pains.
Utilizing the company's patented elos™ technology, VelaShape II reaches deep into the dermis to affect the fatty tissue, as well as smooth the upper layers of the skin where cellulite is more pronounced. The procedure is typically performed in less than 30 minutes per treatment area when used on the abdomen, buttocks, or thighs. Patients can expect to receive four to six treatments for optimal results. Treatments are administered using the system's Vsmooth and Vcontour applicators, which help to deliver heat energy deep into the dermal tissues and improve results.
The safety and effectiveness of the VelaShape treatment has been demonstrated in both multicenter clinical trials and in more than 3.5 million independent treatments performed on patients globally. The results of a recent study show the following:

An average reduction of 2.33 inches on the buttock, 1 inch on the thigh, and 2.9 inches on the abdomen area;
Most patients reported no discomfort during or following treatment; and,
Up to 60% overall improvement in skin texture (including laxity and tone due to the reduction in cellulite appearance) was visible after five sessions.
Syneron offers physicians a partnership program designed to lower your start-up costs and provide financial services, as well as support services (on-demand clinical training, an online learning management system, Webinars, and assistance publicizing the VelaShape system in your practice).
VelaShape II
---
ZELTIQ
4698 Willow Rd, Pleasanton, CA 94588 • (925) 474-2500 • www.coolsculpting.com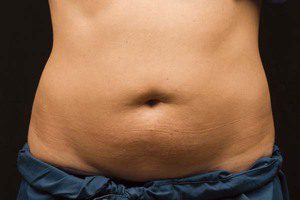 Figure 1. A female patient before CoolSculpting treatment.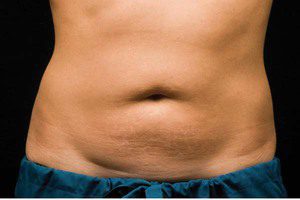 Figure 2. Four months post-treatment.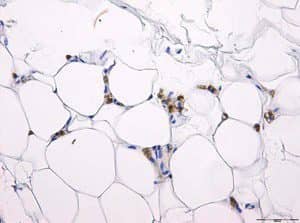 Figure 3. Stain and histology images,…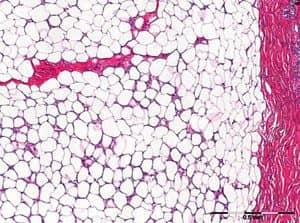 …14 days after treatment,…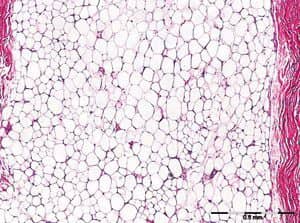 …and after 40 days.
With CoolSculpting™ by ZELTIQ™, plastic surgeons can now offer the full gamut of body-contouring procedures and finally meet high patient demand for noninvasive fat reduction. CoolSculpting is the first patented, noninvasive, clinically proven procedure to selectively reduce fat. In fact, patients can expect an average fat reduction of 22% in the treated area after one procedure.
This revolutionary approach is best suited for patients who are within 10 to 15 pounds of their ideal body weight, have stubborn bulges of fat that do not respond to diet and exercise, and are unwilling or hesitant to undergo surgery for fat removal. It is important to note that CoolSculpting is not intended as a weight loss solution or an alternative to liposuction.
THE SCIENCE BEHIND COOLSCULPTING
Cryolipolysis (cold lipolysis) was developed at the Wellman Center for Photomedicine at Massachusetts General Hospital, a teaching affiliate of Harvard Medical School, by Dieter Manstein, MD, and R. Rox Anderson, MD. Their initial work, first published in Lasers in Surgery and Medicine (November 2008), showed subcutaneous fat cells are naturally more vulnerable to the effects of cold than other surrounding tissue. This discovery, called "selective cryolipolysis," led to the development of the patented technology behind CoolSculpting.
Cryolipolysis has been proven to work in histology, gross pathology, and ultrasound. In a clinical study presented at the 29th Annual Conference of the American Society for Laser Medicine and Surgery, 27 of 28 (96%) of properly selected subjects with discrete fat bulges had discernable efficacy.
"This [was] the first controlled study to demonstrate that cryolipolysis for fat layer reduction of love handles and back fat pads in men and women is well-tolerated and produces a visible contour change in the majority of subjects," says Jeffrey Dover, MD, FRCPC, associate clinical professor of dermatology at Yale University School of Medicine, New Haven, Conn.
During the procedure, a noninvasive applicator draws the targeted fat bulge up between two cooling panels. As these panels start to deliver precise cooling at proprietary temperatures, patients feel a sensation of intense cold, which soon dissipates. Patients are seated comfortably or lying down during the entire 1- to 3-hour procedure. They often spend this time reading, working on laptop computers, or even napping. After the procedure, patients can immediately return to normal activities.
After the CoolSculpting procedure, the crystallized fat cells break down and are naturally eliminated from the body. However, some patients may start to see changes as quickly as 3 weeks after their treatment and then experience the most dramatic results after 2 months.
The body's natural inflammatory process will continue to result in fat-layer reduction over the course of 2 to 4 months. As previously mentioned, patients can expect an average fat reduction of 20% in the treated area. Patients can have additional procedures for more pronounced effects if they so desire.
From the plastic surgeon's perspective, CoolSculpting may attract new patients to your practice who are not candidates for a surgical procedure but want the advantages offered by fat-removal procedures. After the initial consultation, the procedure can be easily delegated to your staff (averaging about 10 minutes per application), resulting in a lower required physician time. Couple that with the high satisfaction of patients who have undergone the procedure, and CoolSculpting may be one of the easiest ways to expand your patient base.

CoolSculpting offers a noticeable and natural-looking result in the treated area without any anesthesia, downtime, or scarring. A recent survey1 indicated 82% of people who had undergone some type of cosmetic procedure (dermal fillers, liposuction, etc) want to know more about the CoolSculpting procedure. In addition, 74% of survey respondents2 indicate they would prefer a nonsurgical procedure. Also, 83% of the 10 million cosmetic procedures performed in 2009 were nonsurgical (per the American Society for Aesthetic Plastic Surgery).
CoolSculpting by ZELTIQ is available in the United States, Canada, the European Union, and other select international markets. Worldwide, more than 7,000 patients have already been treated.
References
Online survey of 1,000 adults (18+ years of age) conducted May 17-18, 2010 by Opinion Research Corp.
Online survey with 1,245 respondents conducted on three websites operated by The Patient's Guide —FatReduction.org, FatRemoval.org, and Body-Contouring.com on September 8, 2010.
---