By Denise Mann
New tissue glue technology may eliminate the need for drains.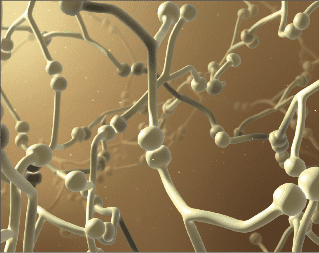 The molecules of TissuGlu Surgical Adhesive bond together in the presence of moisture.
The formation of seromas that require drains is the bane of many abdominoplasty and other large-flapsurgery patients' experiences, and eliminating both has been a priority of surgeons for decades. Fibrin sealants have been tried with limited success, and a progressive suturing technique, while effective, is both time-consuming and technically challenging.
But enthusiasm for Cohera Medical Inc®'s investigational TissuGlu® Surgical Adhesive product is palpable. TissuGlu has CE Marking approval in the European Union and has been sold to hospitals and surgeons in Germany since September 2011. Clinical studies in the US are ongoing.
"Hands down, the No. 1 complaint of tummy tuck patients is the drain. If we could eliminate drains, it would be a godsend," says Joseph P. Hunstad, MD, FACS, a plastic surgeon in Huntersville, NC. "Drains come through intact skin and are painful," he says. "Things go out, things go in, and there is discomfort when drains are removed."
Drains are also difficult to conceal under clothing, and can be in place for up to 2 weeks. During this time, seromas can become infected and pseudo-bursas that require surgical interventions may develop, he says.
No Learning Curve
"There is a huge difference between TissuGlu Surgical Adhesive and other tissue glues, and the difference is the application," says Hunstad, who is a principal investigator in some of the US trials. "Fibrin sealants spray a film on the wound and create a barrier, which could theoretically worsen the seroma problem," he says. By contrast, TissuGlu is applied via small dots. "With TissuGlu, fluid accumulation is a non-issue, so seromas don't have a chance to form," he says.
According to Hunstad, "The application is simple, and it is not time-consuming. It takes less than a minute, is super-easy, and kind of fun." Moreover, "The adhesive is nice and strong. It is not a subtle adhesion, so it will hold those tissues together."
Take-Home Points on TissuGlu
CE Marking Approval in Europe in 2011.
US studies ongoing.
Technology may eliminate need for drains in large-flap surgeries.
The end result for the patient is a faster recovery with fewer complications.
He performed 45 cases as part of a 150-patient blind trial. In this trial, all patients received drains, but half were randomized to also receive TissueGlu, he explains. It was immediately obvious who got the TissuGlu Surgical Adhesive, because the drains came out in 1 day.
The only potential downside could be the cost, although there are no set price points right now.
Tip of the Iceberg
There were 149,410 abdominoplasties performed in 2011, according to the American Society for Aesthetic Plastic Surgery, and tummy tucks are just the tip of the iceberg when it comes to the new product's potential. "Facelifts, latissimus flap breast reconstruction, and anywhere flap elevation is performed, there is an application for TissuGlu because these procedures create a lot of dead space,"
he says.
Denise Mann is the editor of Plastic Surgery Practice. She can be reached at dmann@allied360.com.