By Denise Mann
Nikolaos Metaxotos, MD, PhD, forges ahead despite Greece's bleak economy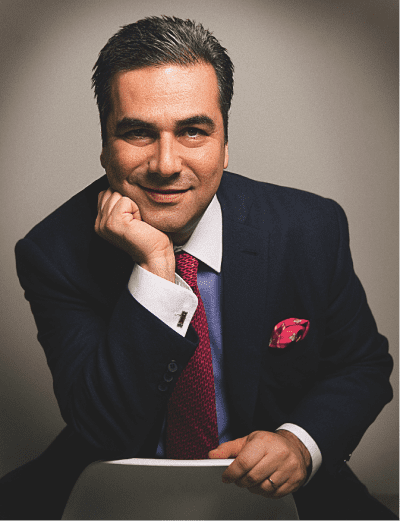 Metaxotos' practice weathered Greece's faltering economic situation.
International headlines paint a grim portrait of life in modern-day Greece, where fires, looting, and riots seem commonplace as fed-up residents resist government-imposed austerity measures.
But even amid the chaos caused by the country's heavy debt burden, Athens' Symmetria medical spa remains pristine and largely unaffected. By some accounts, it may even be flourishing.
The very fact that a high-end plastic surgery practice in Greece could weather its economic storm should buoy the hopes of US cosmetic doctors who are concerned about the burgeoning budget crisis in the US. The great recession of 2008 stunted plastic surgery practices across the US, yet the situation in Greece has spared Symmetria. Why?
"To be honest, most of the time the news exaggerates things a little bit," says plastic and reconstructive surgeon Nikolaos Metaxotos, MD, PhD, president and CEO of Symmetria in Athens. "There are big economic issues and problems in Greece, but the situation is not chaotic as people outside Greece may think. In fact, we can hope things will be a lot
better soon."
That may be one part of it, but there is likely more to it. Business savvy also plays a role. "Cosmetic surgery is an experience. When someone comes into the clinic, we have valet parking, very nice areas where they can relax. It is like a five-star hotel, and we want to make their stay as good as possible," he says.
Patients want to be pampered. "The better the experience, the more likely they will come back."
And by and large, they are doing just that—even as the country faces a potential third bailout.
My Big Fat Greek Plastic Surgery Practice
"Symmetria is a splendid example of a world-class anti-aging institute meticulously designed with patient care and comfort in mind from the range of services offered, the well-trained staff, prestigious credentials of the physicians on board, and an innovative luxury skin care collection," says Wendy Lewis, president of Wendy Lewis & Co Ltd, Global Aesthetics Consultancy in New York City. "No detail has been overlooked, and visitors to Symmetria know at first glance that they are in a center of excellence. Metaxotos has done an outstanding job to make his vision become a reality."
Metaxotos is more modest. "We have very faithful clients. Maybe they spend less money than what they used to, but they still seek treatment and services."
He has not lowered prices, either. What he has done, however, is enhanced the total experience at Symmetria. "We have offered more care for our patients, and we thank them even more than we
did the past."
All in all, the economic crisis in Greece has been a time of opportunity for Metaxotos and some other aesthetic doctors. It has helped shake out many of the snake-oil salesman and other players who were in it to make money and did not care about their patients, their experience, or the quality of their services offered.
It has also helped sire a neophyte patient population. One downstream effect of a recession or depression is high rates of unemployment. The unemployment rate is more than 25% in Greece today. In Greece, like in the US, more men are competing for jobs with much younger and younger-looking counterparts. Metaxotos still caters largely to women, but he is seeing an influx of male patients who need to look young to survive.
"Appearance does affect your life," he says. "If you are in your 50s and looking for a job and you look tired, it is difficult to convey to people that you have the energy of a 25- or 30-year-old," he says. Sadly, appearance may trump experience in these scenarios.
So what do Greek men and women want to change, augment, or accentuate with cosmetic surgery?
When most of us think of the Greeks, we think of the stunning Adonis type: bronzed skin, finely chiseled features, and etched abs. But that is mythology,
not reality.
Olive-skinned Greeks are even becoming sun-smart, finally. "Ten years ago, nobody used sun protection. They were using oil! We like the sun, and we like suntan," he says. "Nowadays, the younger generation are looking after their skin, and there is a high percentage of people who use sunscreen all year round and try not to go to the beach from 10 to 4 when the sun is strongest," he says. "Parents are very good with children, too."
With surgery, Greeks crave natural, soft results that make them look fresher. "They don't want to look like they have had any kind of treatment," he says. "Most of them don't want to change any facial characteristic, either."
The Beauty of Symmetry
They desire symmetry. "The law of symmetry came out of Greece," he says. "We see beauty in symmetry," he says. As such, it is no accident that the clinic is called Symmetria.
The Greeks begin their lifelong anti-aging regimen early. "Patients here start at a young age with small nonsurgical procedures like Botox and fillers, and eventually they have surgery," Metaxotos says of the typical trajectory.
They also want less downtime, but not at the expense of results. To meet these demands, Metaxotos performs a signature "incision-free" facelift. The technique depends upon Silhouette Soft™ Sutures, which are absorbable bidirectional sutures with cones that reposition the cheeks and restore volume in cases of loss in the malar area. He uses local anesthesia and performs a needle puncture where the sutures are slated to be inserted. The needle with the Silhouette Soft™ is inserted through the hole and directed to the area to lift, and then he pulls the stitch that is under the skin toward the direction
that is to be lifted.
After treatment, cheeks will appear slightly elevated and will show more volume. It takes 60 minutes, and there is no downtime. Results last for 12 to 18 months. "It is a very soft lifting of the jowls, and when combined with some fillers, provides a very quick fix and is a nice rejuvenation procedure," he says. "We have foreigners who come for surgery and go home. It is not a big procedure, which appeals to those who do not want surgery and are afraid of anesthesia
or the hospital."
Sounds kind of like the thread lift of yore? The one that got all sorts of hype after being touted as a breakthrough all over the media, but then fell from grace just as quickly. Now, some US doctors use the threading technique to augment their facelifts, but rarely do they use it as a stand-alone treatment.
The two procedures are similar in theory, but not execution, Metaxotos says. The main difference is that the new stitches are totally absorbable, there are no scars and no external stitches, almost no risks, and the cost is lower. "It is an ideal office treatment for people who wish to look rejuvenated and fresh, but do not want to change their facial characteristics."
Symmetria offers more than just plastic surgery procedures. The clinic also boasts its own skin care line, which includes facial cleansers, scrubs, day and night creams, sunscreens, eye creams, and facial masks. It is also home to plastic surgeons, dermatologists, and other professionals who perform a whole spectrum of cosmetic procedures. Symmetria takes a holistic approach to anti-aging medicine. "If somebody comes for liposuction, we say, 'Change the way you live' first, and surgery is the last step," he says. Staff nutritionists help design personalized weight-loss regimens for patients.
Going Greek
When it comes to lifestyle and diet, the Greeks set the pace for the rest of us. Known for their adherence to a Mediterranean-style diet replete with fresh fruit and vegetables, olive oil, red wine, and whole grains and lean protein, Greeks tend to have lower risk of diseases related to aging. In fact, people from the remote Greek island of Ikaria live longer than people from another place on the planet.
"It's the best diet," says Suzanne Steinbaum, DO, a preventive cardiologist at Lenox Hill Hospital in New York City. "It is great for the skin, heart, and
overall well-being."
The diet has caught on in the US and elsewhere as research supporting its benefits build up at a quick-fire pace. Some Americans have clearly taken it too far and missed the whole moderation point.
"It not a Mediterranean diet if you eat six slices of bread with olive oil," Metaxotos says. "We are talking about a teaspoon of olive oil with a slice of whole-grain bread and some fresh tomatoes."
It is more than a diet; it is also a lifestyle and an attitude. The Mediterranean diet may actually be a marker of a healthier lifestyle—one devoid of smoking, stress, and one that includes regular physical activity. "People who are on these kinds
of diets lead less stressful lives."
As for Metaxotos, he practices what he preaches. "I try to lead a balanced life in all its aspects, by taking care of my body and by trying to nurture my soul," he says. "In a world of pressure and constant changes, there is nothing more demanding than maintaining a personal balance
and symmetry." n
Denise Mann is the editor of Plastic Surgery Practice. She can be reached at dmann@allied360.com.