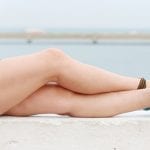 Medial thigh lift carries a substantial risk of complications, including wound dehiscence, but most can be treated without additional surgery, new research suggests.
The study, which appears in the January issue of Plastic and Reconstructive Surgery®, provides the first detailed look at complications after thigh lift surgery, performed as part of body contouring surgery after bariatric surgery.
Watch a video presentation on the risks and benefits of medial thigh lift following massive weight loss now.
The researchers, who were led by Jeffrey Adam Gusenoff, MD, a plastic surgeon at the University of Pittsburgh, analyzed their experience with medial thigh lift in 106 patients with massive weight loss, mainly after bariatric surgery. The patients were 90 women and 16 men, with an average age of 45 years.
Overall, 68% of thigh lift patients experienced some type of complication after surgery. The complication rate varied with the extensiveness of surgery: from 43% for patients undergoing the least-extensive "horizontal thighplasty," to 64% with an intermediate "short-scar thighplasty," to 74% with the most-extensive "full-length, vertical thighplasty."
The complications were frequent, but they usually weren't serious, the study showed. The most common issues were minor wound healing problems, including dehiscence and seromas. Most were managed without any further surgery.
Risk Factors for Complications After Thigh Lift
Six percent of patients had complications requiring additional surgery. Another 1% underwent further surgery to improve their cosmetic results.
Edema developed in 22% of patients—most undergoing the most-extensive type of thigh lift surgery. In all but two cases, the edema cleared up within a year after surgery.  Seromas were more likely to occur in patients with high blood pressure. Infections were more common in older patients, those with low thyroid function, and those undergoing liposuction at the same time as thigh lift.
The results will be useful in counseling patients as to what to expect after thigh lift surgery, the study authors conclude. In addition, they conclude that evaluating and optimizing the micronutrient status of patients, particularly for iron, calcium, and vitamin B12 levels, could minimize wound-healing complications.