The House that Aron Kressel, MD, and Lidia Tivichi Built | May 2014 Plastic Surgery Practice
By Denise Mann, Editor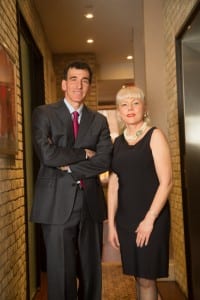 The Park Avenue offices of plastic surgeon Aron Kressel, MD, are cozy—especially on the days that Kressel's sidekick, Leo, is in residence. The irascible terrier, an 18-month-old rescue, is also adored and doted on by Kressel's partner, Lidia Tivichi, an aesthetician who operates the Maris Dusan spa and Skin Care Boutique nestled on the ground floor of the tony duplex.
Tivichi traverses up and down the winding staircase throughout the day to consult with Kressel or to just say hello to Leo. While both have their own families outside of work who they are devoted to, there is a special synergy between them. It's clear that they could easily finish each other's sentences, yet they refrain largely out of mutual respect.
This mutual respect is likely one of the reasons that their partnership is a successful one. Many medical-spa business models fail, especially during a tumultuous economy. Finding a model that works, is sustainable, and can turn a profit is a challenge. A relatively new industry, medspas exploded in popularity between 2007 and 2009, but many failed due to overambitious build-outs, staffing or personality issues, and a failure to fully understand the nuances of how aesthetic surgery and spa services can and should complement each other.
Medical-spa partnerships tend to work best when spa services augment a plastic surgery practice, and that is what happens here. Tivichi and her staff do facials, waxing, and other services, but don't inject, zap, or suction. She leaves that in Kressel's capable hands.
Medspa business is not for the faint-hearted, says Jay A. Shorr, BA, MBM-C, MAACS-AH, CAC I-V, the founder and managing partner of The Best Medical Business Solutions, based in Fort Lauderdale and Orlando, Fla.
"Running a successful medspa is a constant work in progress with thorough guidance, planning, direction, and honesty," he says. "Your direction must be clear, concise, and consistent, [and] success is accumulated by taking many continual small steps versus a few giant leaps."
CONSCIOUS COUPLING
Kressel and Tivichi, partners in the Maris Dusan spa since 2011, are in step. "He's not my boss, and I'm not his," Tivichi says.
Kressel agrees. "We are different people. We need our own space. She doesn't need someone breathing down her back. It just works."
To that she says, "I liked his energy and his presence."
The partnership works so well that there are now plans for expansion. Tivichi will develop and launch her own skincare line in the coming year, and she is negotiating with Kressel for an additional treatment room. (She now has three.) Kressel is playing hardball, but, he admits with a smile, "eventually, she will get it."
Kressel, also the section chief of the division of plastic surgery at Metropolitan Hospital in New York City, is a numbers man, and wants the spa business to grow a bit more before he gives away any other real estate.
Soon after a mutual associate introduced the two, Kressel built out the ground-floor spa to Tivichi's taste and liking. It's homey and elegant, but not stuffy. The space includes a garden outside of the main treatment room. "We just clicked," she says.
One of the reasons they clicked is likely Kressel's genuine compassion. He is the reconstructive surgeon whose phone number all patients want programmed in their smart phone. He is the surgeon you want at the table if you have been diagnosed with breast cancer, and the doctor you want your Mohs surgeon to call in for a complicated closure.
He's that good, and that empathetic.
Aesthetics is half of his practice, but it's clear that Kressel's heart is the reconstructive aspect. He recently got back from a medical mission to Hue, Vietnam, where he performed 10 reconstructive surgeries in 9 days, and is currently planning a complex surgery to correct a rare congenital deformity. "After sending the photos to a cross section of national senior clinicians, only a few had ever seen it before," he says. "The child will soon be returning to the US for the life-changing surgery."
Like Kressel, Tivichi is a great person to know if you live in Manhattan or any of the surrounding boroughs. Before opening the spa which now bears her maiden name, Tivichi worked at an upscale Madison Avenue salon that catered to ladies who lunch and lounge in Lululemon, professionals, mompreneuers, and many A-list celebrities. Everyone who knows her loves her and trusts her. As such, she brought a tremendous book of business to Maris Dusan and the partnership.
The almost 30-year vet knows of everyone and anyone in plastic surgery and dermatology in New York City—and has seen all of their work (in some of the most revealing and unflattering positions imaginable). She can tell you who is good, who is great, and whose scars are the most well-concealed and whose aren't.
She may suggest that a customer see Kressel if they ask for her two cents, but oftentimes her patients have their own go-to plastic surgeons or dermatologists, and she would never push them to make a change.
THE TRUST FACTOR
Same goes for Kressel. "I won't push unless they are not happy with their current aesthetician," he says. "I don't want to apply any pressure just because I have a financial interest."
It's about trust—whether between Kressel and Tivichi or between them and their patients. "People buy products from us because they trust us. We don't push," she says. In the ultimate expression of trust, Kressel performed a reconstructive procedure on Tivichi's husband earlier this year.
Kressel agrees that trust is key. "I want to make patients happy and offer the right procedure the first time," he says. "I want to know what they are concerned about. Fulfilling their needs is my only goal."
Both agree that today's patient or client wants to look natural and not grow old, something that often involves a bit of expectation management. "Today's patients want time to stop, but are not willing to have surgery," he says. "You will age no matter what treatment you have. My goal is make you look good for your age," he says. "An 80-year-old shouldn't look like a 50-year-old," he says, as Tivichi laughs and nods.
Kressel has no problem saying no to a patient if he feels that their goals are unrealistic. Red flags may be a patient who has been to dozens of surgeons or had multiple surgeries in short periods of time. "If patients are giving off odd signs, I just say no."
He's überselective in the cases he takes on. As such, Kressel doesn't spend an inordinate amount of time or resources marketing his practice on the web or elsewhere. He likes to fly somewhat under the radar, and gets most of his referrals from previous patients and other surgeons. "Internet marking is expensive, and you get a low conversion rate from people who find us that way."
Maris Dusan is a newer kid on the block, and while Lidia doesn't advertise given her extensive database of loyal clients, her employees have run specials on group discount services—particularly, upscale ones like Gilt to help build their own clientele. "It works," she says. "The patients are coming back and are very happy with treatments and the atmosphere."
DOG DAY AFTERNOON
Many even bring their lap dogs along with them to lounge in the secluded garden during their massages, facials, or other procedures.
Tivichi and Kressel are also bonded in their mutual love and affection for canine companions. They are both dog people—and that's putting it mildly. Tivichi's beloved shitzu, Mingi, passed away 1 year ago. The dog, which had its birthday bash each year at Tivichi's husband's Romanian restaurant in Queens, was the love of the couple's lives. And as for the birthday party, most guests would tell you they have been to lesser weddings.
When Kressel's dog, Jordan, passed away, Tivichi was able to console him just as Kressel was there for Tivichi when Mingi passed. "There are dog people and non-dog people. I love going home to the dog," Kressel says. Tivichi smiles and nods, as she feels exactly the same way.
Denise Mann is the editor of Plastic Surgery Practice. She can be reached at dmann@allied360.com.
Original citation for this article: Mann, D. Modern (Work) Family: The house that Aron Kressel, MD, and Lidia Tivichi built. Plastic Surgery Practice. 2014; May 12-17