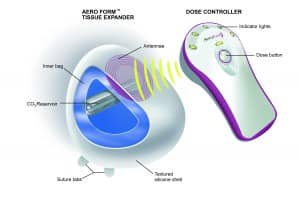 AirXpanders Inc AeroForm, an experimental needle-free breast expansion device, may dramatically reduce expansion time and time to breast reconstruction following a mastectomy, compared to traditional saline expansion, according to a new interim analysis of the XPAND study published in the April 2014 issue of Plastic and Reconstructive Surgery.
The AeroForm device is an injection-free, patient-controlled tissue expansion system that is under investigation in the United States. It is approved for use in Australia.
At the time of publication, 115 patients had been enrolled into the XPAND study. The 87 patients in the study who have completed their expansion did so within an average of 18.7 days.
By contrast, traditional saline expansion requires women to visit their physician for frequent injections until they complete the process, which can take up to 6 months. For women in the control group who were implanted with traditional saline expanders, the expansion process took an average of 56.8 days to complete, the study showed.
Successful second-stage surgery, during which the tissue expander is exchanged for a permanent implant, has been completed in 78 patients with 53 in the investigational arm and 25 in the control arm.
The full reconstruction process was complete in an average of 103.5 days among patients who received AeroForm expanders. Patients in the control arm required an the average of 157.1 days to complete the process.
The EXPAND trial is slated to close during the first half of 2014.