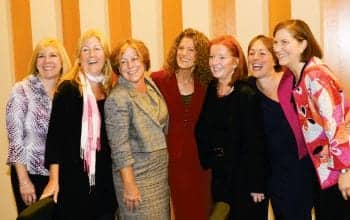 The PEP program helps breast reconstruction patients.
Our plastic surgery practice provides a comprehensive array of breast reconstruction options for women who require mastectomy. Over the years, as the approaches to breast reconstruction have been refined and improved, we have worked hard to expand our surgical expertise to offer our patients the most current procedures available. In addition to providing state-of-the-art techniques in breast reconstruction, we have always been attentive to the emotional needs of our patients as they begin their difficult journey of undergoing mastectomy and reconstruction.
Three years ago, with a vision to develop a unique approach to the care of our breast reconstruction patients, we introduced our Patient Empowerment Program. Created by Mollie Sugarman, its clinical director, this program specifically focuses on providing emotional support as a part of our overall breast reconstruction treatment plan. Mollie brings with her more than 40 years of private-practice experience with individuals, couples, and families facing life challenges.
Given her prior experience in developing and directing programs that promote wellness, Mollie is perfectly suited to her role working with our breast reconstruction patients. She has a special commitment and passion for assisting individuals, both female and male, as they manage their cancer diagnosis and move forward in life. Mollie is also instrumental in working with our patients who carry the breast cancer genetic mutation and choose mastectomy for risk-reducing purposes.
We now fully realize the positive impact that our Patient Empowerment Program has on the healing process of our patients. Since initiating this program, we have noted a decrease in the depression that is frequently associated with mastectomy and its negative effect on body image. In addition, we have noted an increased sense of trust in our relationships with our patients and their family members. As the program has grown and gained recognition within the medical community, referring breast surgeons feel confident in reassuring patients that their emotional needs will also be tended to during their breast reconstruction process. The integration of this model has transformed our practice.
This unique treatment model can best be outlined for others by letting the creative force behind the program, Mollie Sugarman, provide her perspective. Sitting with Mollie, we asked her a few questions about the Patient empowerment Program that she likes to call "PEP."
How would you best describe the Patient Empowerment Program?
Sugarman: The Patient Empowerment Program is a unique and comprehensive program designed to offer support that is critical to patients coping with the diagnosis and treatment of breast cancer. In particular, I like to think that this program can help address some of the physical and emotional adjustments that occur following mastectomy and during the reconstruction process. I strongly believe that a nurturing environment is vital to dealing with the myriad of emotions one experiences when facing a cancer diagnosis and traveling the journey thereafter. In the midst of feeling "stunned" by the cancer diagnosis, it offers patients a very special sense of security.
Can you describe how we make patients aware of this program as part of their treatment plan?
Sugarman: During their initial breast reconstruction consultation, each patient is introduced to me as one of the members of the treatment team. They are made aware that I am someone who can address their emotional needs. The relationship is therefore established at the time of consultation as the beginning of a process. This really promotes a sense of nurturance and emotional relief. A connection with the patient is then made at every visit thereafter, frequently while they are waiting to be seen by their surgeon. This ongoing contact is significant to establishing a relationship of trust with both the patient and the patient's family or significant other.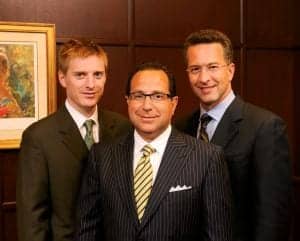 The Aesthetic Plastic Surgery PC team.
What other benefits are derived from meeting with the patients and their significant others at each appointment?
Sugarman: My relationship with them solely focuses on the emotional aspects of their journey. I am not involved in medical decisions or reconstructive issues. As a result, patients will frequently express concerns to me that they may not deem essential to discuss with their respective physician. They may withhold from their doctors concerns that they may view as irrelevant. Even the most assertive of women may experience a sense of emotional fragility. In these situations, patients are encouraged to address the issues directly or, when deemed necessary, use me as their advocate during their follow-up exams.
Would you outline the core program and the services that are provided by the Patient Empowerment Program?
Sugarman: At the time of the initial consultation, I meet with patients and their significant others for an evaluation of their emotional needs. This opportunity allows me to briefly outline the support tools available to them as part of the Patient Empowerment Program. Based on individual patient interests and needs, I can recommend the appropriate services.
Patient-to-Patient Caring Team: The beginning of the cancer journey is overwhelming and is coupled with concern and anxiety of the unknown. Many of our patients offer to share their stories and breast reconstruction with others, a true gift and a "pay-it-forward" experience. The Patient-to-Patient Caring Team members are matched with individuals who are planning to undergo similar breast reconstruction procedures. This also proves to be cathartic for women who have already gone through the process themselves.
Spouse Pay-It-Forward Team: Spouses first beginning the process are connected with men who are further along the reconstruction path with their own partners. This has proven to be extremely helpful to the spouse and, ultimately, the patient. The men share what they have found helpful in assisting their wives through diagnosis, treatment, and beyond.
Preoperative Guided Imagery and Relaxation Techniques Sessions: Relaxation techniques, coupled with guided imagery, have proven to be extremely beneficial during the breast reconstruction process. Having the tools to cope with powerful stages of life can help people move through them with a greater sense of control and might also lower stress levels. Anesthesiologists and breast surgeons involved in the reconstructive surgery with our physicians have reported that patients who have elected to participate in this service are significantly more relaxed going into the operating room. This can have a positive impact on the ease of anesthesia. Patients also use the techniques to manage pain and discomfort following surgery. This has the potential of decreasing the frequency and need for narcotic pain medication.
Sisterhood of Support (SOS): I call my patient support groups, which meet regularly in our office, the Sisterhood of Support. Patients laugh, cry, and feel safe sharing their feelings in this nurturing environment. In this setting, they are able to focus on processing the multitude of emotions that surface while facing the diagnosis and treatment of breast cancer. The road to coping with the overwhelming issues related to a breast cancer diagnosis is a difficult journey. It is not unusual for women to struggle with seeing beyond the present or with recapturing their sense of "self."
While family members, partners, and friends can offer tremendous support, women frequently find themselves wearing a "mask" to protect those around them. The groups offer an opportunity for support from others who are going through a similar process. A separate group for women who carry the BRCA gene and have no cancer history provides an opportunity to address the issues that are unique to that population. Women are interviewed to assure that the group setting is an appropriate modality. From my years of experience, I believe that this greatly impacts the success of these groups. My focus on moving forward, while acknowledging the present feelings, sets the tone. On occasion, patients may also be referred for individual therapy and possibly evaluation for psychotropic medications.
Spouse/Partner Breakfast Meeting: We also provide the opportunity for the spouses and partners of our breast reconstruction patients to come together as a group. This allows them to share their experiences and to openly express their concerns in a safe and confidential environment. This is critical because both individuals in the relationship are impacted by the breast cancer diagnosis as well as the subsequent mastectomy and reconstruction process. Guiding partners to learn to listen to feelings and fears, to understand the various treatments, and to discuss their level of involvement in the issues surrounding the illness is extremely helpful to the couple.
We typically hear of spouses being told to "be strong" by most of the physicians with whom their wives consult. The men privately express feeling overwhelmed by this expectation and "clueless" as to how they might best offer support while coping with their own feelings. In general, when asked how they are dealing with their partner's diagnosis, the response is "I'm fine." The men who regularly attend the monthly meetings share the positive effect their participation has on their relationship. Their wives and partners benefit from this as they feel a greater sense of concern and involvement from their loved ones.
Teen Clique: I established this program to meet the needs of patients' children between the ages of 14 and 18. Teens that have already been through their mother's recovery process are connected to others whose moms are newly diagnosed. All support is offered online, which provides confidentiality. Frequently, teens are hesitant to address their own fears with their parents because they may be worried that this might further upset them. Since many may be resistant to attending support groups, this method can provide a necessary and significant service.
Face Your Future: We are fortunate to have Annette Pennington, an experienced medical aesthetician, working with us. Annette provides workshops and consultations that focus on the special aesthetic and skin needs of our mastectomy and reconstruction patients, including those undergoing chemotherapy or radiation.
We know that you have begun working with support services outside of our office. Can you tell us a little about that?
Sugarman: In addition to what we are able to provide through our practice, many patients are offered referrals to various outside resources specific to their needs. I have developed relationships with a number of individuals and organizations that act as an extension to what we are able to give to our patients. I am able to connect patients with resources such as online lectures, local workshops, free retreats, and organizations that provide services such as transportation, financial assistance, meditation at home, as well as assistance with meals, and house cleaning. These additional services can be extremely valuable to women that are in the midst of cancer treatments and are recovering from mastectomy and breast reconstruction.
One way that I am able to engage outside resources is by scheduling monthly complimentary workshops and lectures that are led by recognized experts. These are meant to assist patients in making informed health choices while also nourishing and renewing their spirit. As an example, past presentations have included, "The Magic of Reclaiming Yourself," "The Practice of Joy," "Laughter Yoga," and "Understanding the BRCA Connection." These are typically standing-room-only events in our office.
What kind of special events does the Patient Empowerment Program support each year?
Sugarman: Throughout the year, a number of special events are scheduled that focus on self-esteem and body image. Our signature event is "The Uplifting Event," which was developed 2 years ago as a celebration by and for our patients. It involves individual consultations with certified postmastectomy fitters, fund-raising to benefit transportation for those individuals undergoing chemotherapy, live musical performances by patients, and a fashion show featuring patients as the models. In addition to the patients, everyone in the office is invited to attend the event. We all derive a great deal of satisfaction in seeing our patients in a more "uplifted" stage of their recovery. In turn, the patients feel the incredible presence and support of their medical team along with the invaluable support of the other patients that are now a part of their "sisterhood."
Last year, we sponsored a special presentation of Jenny Allen's play I Got Sick Then I Got Better at the Adelphi University Performing Arts Center. This moving play, about the emotional experiences of a woman following her cancer diagnosis, offered friends and family a greater insight into the feelings of their loved ones.
We developed BreastReconstruction.org as a comprehensive online resource for women undergoing mastectomy and reconstruction. How does this Web site fit in with what you do?
Sugarman: This Web site is a powerful educational tool for newly diagnosed patients. It assists women in formulating questions for their consultations, understanding reconstruction options, and preparing for specific reconstructive surgeries. My role has been to help introduce patients to the site and to monitor the site discussion boards. I have also helped patients that want to tell their story online by guiding them through the process of putting their information together for presentation on the site. By providing stories and photos of patients who have undergone the process of mastectomy and reconstruction, BreastReconstruction.org also serves to instill a sense of hope.
As physicians, we have observed that the Patient Empowerment Program has helped create a deeper sense of trust in our relationship with our patients. This program is able to arm patients with tools and techniques that they can utilize in their healing process and allows our patients to feel a sense of control in what is experienced for many as the most chaotic and terrifying time of their lives.
We have also witnessed the extraordinary bond that the Patient Empowerment Program has helped create among our patients. They frequently connect outside of the practice to socialize or to provide emotional support to one another. This special bond created through the Sisterhood of Support groups and Mollie's workshops directly impacts our patients' emotional status and ultimately, their physical healing. We have seen participants rally to assist fellow patients with any medical complications or in dealing with the effects of further treatments such as chemotherapy and radiation. The most modest patient will quickly volunteer to show her reconstruction results to a "sister" who expresses anxiety about her next stage of surgery. This sharing extends beyond anything that we, as physicians, can offer.
---
Randall S. Feingold, MD, Ron Israeli, MD, and Peter T. Korn, MD, are colleagues at Aesthetic Plastic Surgery PC in Great Neck, NY. Mollie Sugarman is the clinical director of its Patient Empowerment Program. For more information on the PEP, contact her at (516) 498-8400 or via e-mail at .