When you create a natural look for a patient, their friends know there's something different but they don't even know what it is. They just know [the patient] looks better.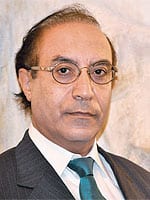 Yoel Shahar, MD
New York City
Yoel Shahar MD, or "Dr Nose" as his patients call him, is well known on Park Avenue in New York City for his rhinoplasty and mini facelifts.
Many cosmetic surgeons choose their field over other medical arenas because of their artistic bent and desire for creativity. Shahar takes this one step further when he focuses in on the face.
"I found out that surgery on the face requires a lot of artistic judgment. It's not like the body, where you have more or less certain rules," he says. "With the face, you really have to tailor the procedure to the patient's needs. With the body, you have to make everything proportionate to the chest, but with the face it takes a lot of artistic judgment to restore the youthful look, and it requires a lot of knowledge in order to know what to do."
For example, he says if the maxillary bone is prominent you don't want to augment the upper lips, "Because it makes them even more protruding. For the same reason, if you have a protrusion of the chin, you don't want to augment the lower lip. Another thing, you want to preserve the, 'M,' the letter, 'M,' shape of the upper lip."
In addition to being a board-certified surgeon, Shahar is an associate fellow of the American Medical Association; a fellow of the American College of Surgeons, American College of Oral and Maxillofacial Surgeons, and the International College of Surgeons; and a member of the New Jersey Society of Cosmetic Surgery. Shahar is licensed in New York, New Jersey, and Pennsylvania, and is certified by the American Board of Surgery and Cosmetic Surgery.
Shahar owns the Natural Look Institute, which is located on Park Avenue. In discussing his approach and methodology, he says that for all of his patients you create a natural look. Your patient's friends know there's something different but they don't even know what it is. They just know she looks better.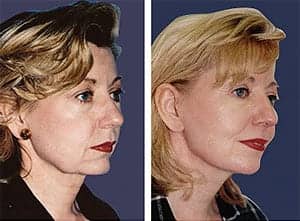 In his more than 20 years in practice, Shahar has done more mini facelifts than full facelifts. He insists on getting the same results with small incisions. "You do the minimum to make the maximum results," he says.
The other advantage that the mini facelift has over the full facelift is the lack of significant scars, according to Shahar. "Many women like to collect their hair, but they don't want to show scars," he says, adding that with the minor incisions the mini facelift uses, women can put their hair up without revealing scars.
The Aging Process and Cosmetic Surgery
When it comes to signs of aging in the face, Shahar pinpoints the following four different areas that typically need work:
Volume;
Gravity changes;
Skin care; and,
Wrinkles.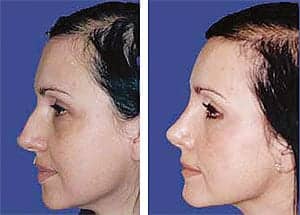 He insists that if you leave out any one of these areas, you will be sacrificing the youthful beauty that could be there and, instead, something will not look right.
"Many doctors will fix the gravity changes but leave out the volume; then, it doesn't look good," he says. "If you do a facelift and you don't fix the eyes, it's not going to look good, because the first thing you look at when you look at a person is their eyes. That's the first impression. If you don't correct that, you don't see a major change. Some women's eyes don't look good. They look tired and they have bags under their eyes. I urge them to do something about their eyes, and if they don't it will not create any significant improvement of their look."
Though he's happy with the moniker "Dr Nose," he jokes that when he is on the streets of Manhattan he does not look at people's noses and aesthetically judge how they can be improved. "I wait for them to come to my office!" he laughs.
When they are in his office, he listens carefully to what they are interested in doing before making an artistic judgment. It can be a challenge to work with them, he adds, because a lot of the clients come in thinking they need something, but they really need something else.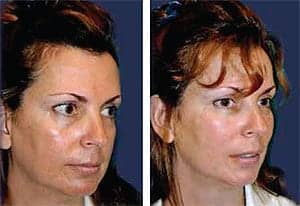 In an important way, Shahar sees himself "a little differently than other surgeons," he says. "Most patients come in and request what they want. For example, 'I want bigger lips,' or, 'I want a little filler here.' I tell the patient what they need to do to make them look better. I tell them what is the maximum and what is the minimum, and let them decide how far they want to go.
"I feel like I'm the one who can judge properly, not them. Sometimes, they don't really know what they need. I'm the one that could tell them what they need to do. I ask them what part of the body they want to work on. Most of the time, when I address the area of their face, they end up telling me, 'That's exactly what I was looking for.' So, they are convinced it was the right thing to do. That's really important."
Shahar trusts his aesthetic taste so much that he stakes his business on it. "I refuse to do something I don't agree with aesthetically," he adds.
Working on the Nose
Rhinoplasty, often known as the most difficult of cosmetic procedures, is Shahar's specialty. Because he is so well known for his success with this procedure, he finds that he gets a lot of clients looking for revisions from previous surgeries—"Mistake surgeries," Shahar says.
In addition, in revision work the already fragile nose is made doubly difficult to work on, so Shahar has invented his own surgical instruments to deal with it.
Did he always want to be a cosmetic surgeon?
"Yes, because it combines art and surgery together," he says. "That's what I like about that. Whatever you do, it shows. Whichever technique you use, it shows. It's not like in general surgery where you take something out and stitch them up. It has an artistic side, as well.
When not at work, Shahar enjoys playing golf. He also likes to watch soccer on television and follow the World Cup. In addition, he enjoys traveling overseas, though his travels "bleed" into his work, as well.
People who live in New York have relatives and friends overseas, Shahar explains, and when they see his results they want to come to see him for their cosmetic surgery needs. When they hear that he is coming to town, they want to get their work done by him.
Shahar does a lot of the international work in Israel, where he visits two to three times a year. He wishes he could bring his staff with him to Europe and the Middle East, "but there are good people over there," he says.
Shahar relies on patient word-of-mouth to generate new business—both domestically and internationally. Almost all of his clients have been introduced to him through referrals from other patients, he says, which he considers to be the ultimate compliment.
---
Sarah Russel is a contributing writer for PSP. She can be reached at plasticsurgery@allied360.com.