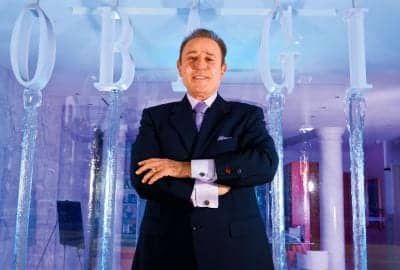 A successful result, a successful treatment is the biggest reward a physician can achieve. Money comes and goes, but satisfaction and gratification is worth much more than money," according to Zein Obagi, MD, a Southern California-based physician whose name has become synonymous with professional-grade skin care products and the Obagi Blue Peel®.
For 25 years, the Syria-born-and-educated physician has written and rewritten the book on healthy skin. Board-certified by the American Academy of Dermatology, Zein is a member of the Academy of Dermatology, American Society of Dermatologic Surgery, Skin Cancer Foundation, and several international dermatological organizations.
He has a national and international following of some 10,000 dermatologists, plastic surgeons, and more who have subscribed to his healthy skin philosophy and sell, use, and tout the skin care products that he created.
Who would have known that when he was starting out in the early 1980s, his philosophy of skin classification and healthy skin ideology would become adopted by so many? "[I was] teaching that the earth is round while everyone still believed the earth was flat," he quips.
"When I started, I was like an explorer," he says. "I got in a ship and was going to find a new land. I might find it; I might not find it. Luckily, I found what I was looking for." What he sought was a different classification to better categorize and ultimately treat skin.
Rewriting the Book on Skin Care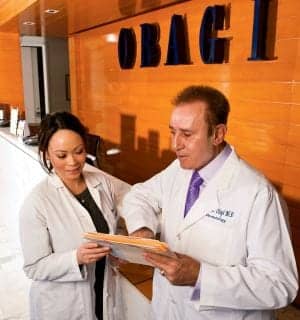 Zein Obagi, MD, in his Beverly Hills, Calif, office.
At that time, the accepted classification system was the Fitzpatrick Classification System, created by Harvard dermatologist Thomas B. Fitzpatrick, MD. The Fitzpatrick System uses the response of different types of skin to UV light as a way to classify skin types, measuring several components such as genetic disposition, reaction to sun exposure, and tanning habits.
"[Fitzpatrick] came up with the classification based on color—from the white-white, to the dark-dark black African skin. That was the only classification we had at that time," he recalls. His own classification system is more of a clinical one. He believes that it is not color that makes each person's skin different, it is five other criteria.
"Skin is supposed to be natural, smooth, firm and tight, even in color, hydrated, not looking dry, and strong. If you look at the five criteria, then it is free from disease," he says.
As he explains, "Doing my pathology training helped me to understand the physiology and behavior of the skin. For example, when I was treating patients for skin cancer or sun damage or pigmentation, three or four would respond in an adequate way to the treatment while another three or four would not respond. This response to the same treatment led me to believe that we really needed to change our thinking of how to approach skin.
"The first thing I started working on was trying to define why this uneven response," he continues. "It led me to come up with a more clinical skin classification based on not only the skin color but also the skin thickness, skin oiliness, skin laxity, skin fragility, and so forth. So, we created that type of classification that helps us with different protocols to treat different skin conditions. It did not give me the satisfaction I was looking for 100%, but it was a step forward and moving in the right direction."
The next step was to identify the needed topical agents that work not only on the skin surface but also at the cellular level. "The focus was to correct cellular function, enhance their penetration, and determine the right amount needed," he says. "The first topical system of its kind was introduced 25 years ago—the Obagi NuDerm® System. When I wrote my book [Skin Health Restoration and Rejuvenation; Springer-Verlag, 1999], the topic of healthy skin became a hot item. It was an eye-opener in the years after I published the book."
He first became interested in the field of dermatology at age 15. His sister, who was 16 at the time, was injured in an accident and suffered second- and third-degree burns on her back.
"I saw the frustration and misery she went through," he says, recalling the difficult period. "That incident left her with severe scars on her back. I saw the frustration among the dermatologists who were treating her at the time. There was not much [they could] offer her as far as quality of life in the treatment and after."
INVESTIGATING NEW SOLUTIONS
SKIN CANCER IMMUNIZATION
---
Imagine a world without sunscreen. Now imagine a world also without skin cancer. Zein Obagi, MD, can. The renowned Beverly Hills dermatologist believes one day a simple immunization will alter our DNA and offer all the protection we will need from ever getting skin cancer.
Currently, skin cancer is the most common form of cancer in the United States, according to the American Cancer Society. It kills nearly 12,000 people each year, and an estimated 142,000 new cases of melanoma and non-basal and squamous cell skin cancers were expected to be diagnosed last year.
He is serious about preventing skin cancer via early immunization. "I think we will have a shot that will make our DNA immune to UV light in the future, to prevent diseases of the skin and can be treated with skin cells," he notes.
A skin cancer immunization would make issues of what are the best sunscreen ingredients, how often to apply it, how high of an SPF is best, and other controversies would become moot.
Until the time that a skin cancer immunization becomes reality, he says, patients should use products containing a clinical sun block, as well as a physical sun block.
—AD
After attending medical school at the University of Damascus in Syria, he journeyed to the United States to complete a medical internship and 3 years of pathology residency training at Beaumont Hospital in Detroit. Shortly after the fall of Saigon in 1975 and the end of the Vietnam War, he joined the US Navy as a general medical officer and was stationed in the Pacific Command in Hawaii.
"In the Navy, I was exposed to many traumatic scars and injuries and keloids," he says. "With all of the advanced technology we had at that time, we were still unable to predict who would respond well with treatment, [and] who would have bad scars or not. It was kind of frustrating."
He became interested in dermatology while in the Navy, and from 1977 to 1980 was in a dermatology residency program at the Naval Hospital in San Diego. "We saw lots of people injured in the war. We took a lot of time correcting scars and dealing with skin cancer as one of the main objectives that helped me think of the science of healthy skin," he says.
"I knew that dermatology would be the field that I'd be interested in going into," he adds, "because I'm very visual. I like to treat diseases where you can see the response to treatment and can evaluate the progress. The first thing that really attracted me to dermatology was the ability to visualize the treatment course and be able to adjust it as needed. Later, I found out that most of the problems we see on the skin's surface stem from deep down in the skin on the cellular level. For example, skin cancer arises from cells' DNA that is damaged by sun exposure. Skin-pigmentation disorders are caused by abnormally functioning melanocytes. Wrinkles and laxity occur when collagen and elastin are depleted, and no new collagen or elastin is produced.
"All that made me think that I should look beyond the skin surface [and] deep at the cells," he says. "This is called the cellular approach to the skin treatment, which is the essence of the philosophy of healthy skin."
Aside from memories of his sister's ordeal, he also remembers classmates in school and wondered about people whose cystic acne had left what he calls "ugly scars." At the time, he said to himself, "How do we help these people? Why do these people have to suffer? How can we treat them? Why don't we have a successful way to prevent this?"
After the Navy, he opened a private practice in 1981 in the San Diego suburb of Chula Vista. He hung a shingle and started practicing general dermatology—in those days, he explains, cosmetic dermatology was still completely unknown.
"There were few little things we could do at that time to improve the look of certain individuals, so we focused on treating diseases," he notes. "One of the things that really attracted me a lot was skin pigmentation and sun damage. [They] were the dominant things among women, and what we had at that time as a treatment for the skin cancer and for the pigmentation was very limited. That led me to do more research in different directions."
Though he was alone in exploring those new directions, he takes a good deal of the credit for creating the concept of cosmetic dermatology—and rightly so—with his clinical approach to healthy skin and to treat the skin in stages. Even in his most recent mission to educate, preach patient safety, and create standardized guidelines in the field, he is forever working to help people look their best.
"God gave us beautiful skin when we are born. I made a promise to myself that when we die we have to meet God with good skin too," he says.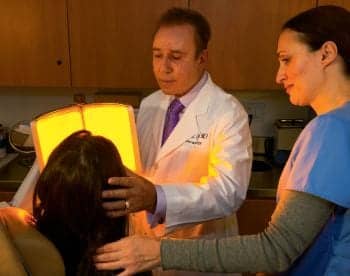 Dr Obagi visualizes the treatment process using comprehensive diagnostics. He evaluates the five criteria to determine a patient's skin health.
THE SKIN'S LIFE STAGES
Dividing the skin's life into stages helps to maintain skin's health forever, he says. "Through an effective prevention program, I can take a woman at age 30, or age 50 or age 60, keep her young and looking her best, delaying or even eliminating the need for major procedures including plastic surgery. I can prevent wrinkles, I can prevent sagging skin, I can prevent sun damage, I can prevent scars. The good thing about skin, it's able to renew itself with the proper tools."
His skin prevention philosophy begins with children. "From the moment a child is born to age 10, what does this child's skin need?" he asks. "Skin should be properly cleaned and hydrated. Then an effective sunscreen is applied. I also recommend using antioxidants in a calming base to prevent early damage from free radicals that are released [during] sun exposure."
From age 10, the skin needs to be cleansed properly, he notes. "If the skin is oily, we have to regulate sebum production by using a specific oily skin cleanser followed by a non-irritating scrub to prevent whitehead formation," he says. "I also recommend the usage of an astringent to remove any sebum that resides deep in the pores. A visit to a dermatologist for early treatment and hormone balancing, if needed, is the best course of action to prevent acne scars.
"From age 25 and up—the inactive phase—most cells that produce collagen and elastin become lazy or go to sleep," he continues. "This leads to the classic aging changes that we see later in life. Every attempt should be made to wake up, activate, and stimulate cellular function. The most effective topical agent to accomplish this is proper concentrations of vitamin A [retinoic acid, retinol]."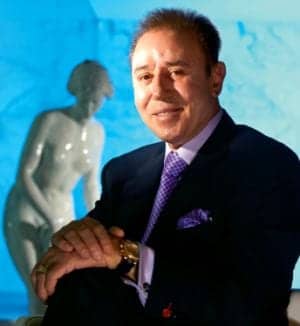 Dr Obagi's legacy includes being a lecturer, researcher, author, practitioner, product developer, clinician, and advocate.
Ninety-seven percent of the public gets skin care products from department stores and not from physician's offices, so his plan is to market skin care lines to help this group of buyers adopt a philosophy of prevention. "The concept of prevention and the concept of maintenance are absolutely essential," he says. "I am going to work hard at those two concepts, and my ZO® Skin Health [product line] will create a new thinking in skin care."
By teaching prevention at the right age at the right time, he adds, one can enjoy a much better life. "We must make every skin healthy," he says, "eliminating the differences in various skin types; fulfilling the definition where skin is smooth, firm, tight, even in color, hydrated, and strong."
NO END IN SIGHT
For nearly 20 years, he has been training physicians in his philosophy of healthy skin. He educates established dermatologists and plastic surgeons three to four times a year at his Obagi Skin Health Institute in Beverly Hills. After they complete training, these physicians can return when needed to spend 3 or 4 days watching the procedures and interviewing patients.
He continues to work as a lecturer, researcher, author, practitioner, product developer, clinician, advocate, and more, and after more than 30 years in practice, there is no sign he's going to let up.
"I don't think I will ever retire," he says. "I may slow down a little bit, but I think I will see patients until the last day of my life. Because skin to me is the organ that I love the most, and every time I help a patient is just like creating a new painting."
---
Amy Di Leo is a contributing writer to PSP. She can be reached at plasticsurgery@allied360.com.
GUIDELINES AND SAFETY IN OUR INDUSTRY
---
The predicament now plaguing aesthetic industry physicians is that they have, according to Zein Obagi, MD, "excellent products, lasers, devices, and procedures at [their] disposal but without the guidelines and safety principles on how much, when to use, how, and when to stop." He is hoping his clout can change that.
"We have to put the safety of the patient and that problem ahead of everything," he preaches to his fellow physicians, and adds, "The indication, the morality, the ethics are disappearing gradually from our practices."
Hoping to take more of an advocacy role in the skin care field, he says, "What I will do now is meet with my colleagues in the field to really put the brakes on, and really create ethical guidelines—moral guidelines—for us physicians to adopt through our societies, teaching the essence of our practice. That's where we should start, and I have been teaching all of that in my classes."
Lack of guidelines for specialists is only one of the issues under scrutiny. Another may be far more difficult to control.
"We also have unqualified doctors doing [procedures]," he says. "We have board-certified doctors who have worked hard in their training and worked hard to get the best results. And we have a lot of other doctors who are not as well-trained, who are doing it just for the money. The dilemma is very big. I think the future is not [in creating] more devices. It is to create guidelines, to create standards. For example, not everybody should jump on the wagon of cosmetic dermatology, or cosmetic surgery, or plastic surgery, unless they are qualified. And I think the consumers really need to do their homework and go to board-certified specialists, and ask for a second opinion [on] a procedure."
He acknowledges this is a campaign that all of the major medical societies have been preaching for several years. The American Society of Plastic Surgeons (ASPS), the American Society for Aesthetic Plastic Surgeons (ASAPS), and the American Academy of Dermatology (AAD) have all created public awareness campaigns designed to educate the public of the importance of choosing a board-certified specialist for any aesthetic procedure.
—AD