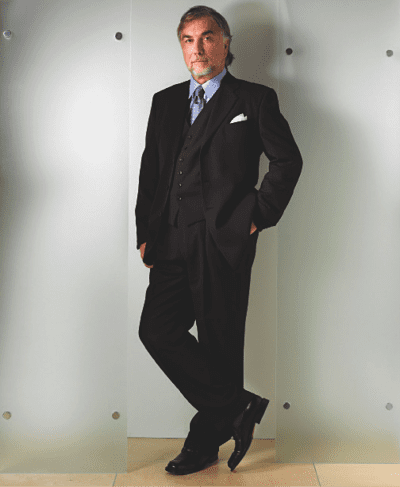 Christian G. Drehsen, MD
By Amy Di Leo
Much the way an architect plans a construction or remodeling project, Christian G. Drehsen, MD, approaches plastic surgery procedures—with an integrated overall plan for each of his patients. This well-respected, board-certified plastic surgeon has made a name for himself in the Tampa Bay, Florida, area with his artistic eye and holistic technique. Now he is redefining and recreating what he refers to as "a new logic" in facial rejuvenation.
Recently, Drehsen completed a limited research study addressing the issue of social acceptance of facial aesthetic surgery. Drehsen uses the emoticon as a guide for facial expression. The word "emoticon" is the combination of "emotion" and "icon." It is a pictorial representation of a facial expression using punctuation marks, numbers, and letters, usually written to express a person's feelings or mood.
Drehsen uses the term to express our facial expressions as we age. "When a person has a deep frown and the corners of his/her mouth turned down with aging, he/she looks sad or angry," he explains. "If the outlines are not addressed, this patient will likely keep the same expression despite our efforts at rejuvenation."
With the study's results, Drehsen is helping us, as a society, define what we see when we look at a person's face. Using 80 medical students as examiners, Drehsen showed them random combinations of before-and-after photos of 15 of his patients. He asked them to share their opinions of the people in the photos based on a scale of 1 to 5 (with 1 being "don't want to talk to this person" and 5 being "would really like to meet this person"). What he found was that, "Independent of age and beauty, all of the subjects wanted to 'talk to' or 'meet' the people in the 'after' photos," he shared. He adds that it was the opposite scenario for the people in the "before" photos.
Drehsen says his research has shown that rejuvenation with a special attention at correcting undesirable expressions like the one of people who look sad, angry, or upset make them much more approachable. Proper lifting vectors and volume restoration are far more important than mere tightening. "We cannot neglect the psychological impact of a face when consulted for facial rejuvenation," he explains. His research results were quite obvious, he says. "It will help define different guidelines to choose aesthetic surgery procedures, and ultimately to choose a cosmetic outcome."
Linda L.: age 55




Before and one month postop.




Refresher facelift with neck plication, fat injections to cheeks and lips, lower lid fat pad removal, and browlift.
Each Patient is a Canvas
An art lover himself, Drehsen addresses each patient as a canvas, understanding that a simple, intricate alteration on one area can potentially impact another. He questions, "What does your face express for your friends or peers? What has changed with age that you want to restore? You're not going to look 20, but you can sure be a dynamic 40, 50, or 60 who looks full of life. And that's what I call aging gracefully."
Drehsen says he enjoys creating and refining his facelifting techniques, and created his signature "Refresher Lift," which he calls a subtle and natural facial-rejuvenation technique. He explains why his favorite procedures are of the face. "[I prefer] facial rejuvenation for its creativity and challenges, and especially as demonstrated in our study and after my repeated observation of the incredible social and beneficial psychological impacts on my patients after facial rejuvenation."
Drehsen says his "Refresher Lift" is based on three principles. First, his goal is to restore a pleasant and dynamic expression to the face by "focusing on correcting the psychological impact of a face by choosing the sequence of procedures that will enhance the social perception of the face." He refers to that principle as "the Emoticon Effect."
Next, he believes it is important to restore a harmonious balance, "by correcting, and not adding to, the acquired or pre-existing features' disproportion by enhancing the beauty and the character of existing features. For instance, "framing the eyes by proper brow positioning or restoring the fitness of the neck with aggressive defatting and plication."
And lastly, Drehsen says, "It's important to truly rejuvenate by regaining a youthful facial geometry with volume restoration through fat grafting and vertical uplifting, reducing fat deposition with attentive preplatysmal or subcutaneous defatting, and keeping the hairline low and natural with refined incisional technique." That is how Drehsen says he effectively recreates youthful firmness and volume with his vertical lift.
The "Refresher Lift" quite frequently includes his "Dual Plane" browlift that Drehsen says "will improve a frowning, sad, or other unattractive expression. Fat grafting will help restore natural, youthful volumes and even improve skin texture. At the same time, our sharply beveled, virtually undetectable, uniquely designed incisions keep the hairline low and natural."
The perfect candidate for this procedure is approximately 45 to late 60's. As Drehsen explains, "The younger candidate in his or her 40's, or a younger patient who has had massive weight loss, for example, may require lifting only the upper portion of the cheek with the temporal lift part of the procedure. Patients in their late 50's or 60's will likely need a more inclusive version of the 'Refresher Lift' with special attention to the neck definition."
Vickie: age 51




Three months postop.




Refresher facelift with neck plication, fat injections to cheeks, buccal fat pad removal, and browlift.
A Stem Cell Pioneer
According to his website, Drehsen is one of the first board-certified plastic surgeons to pioneer the use of stem cell-enriched fat micro grafts in the field of facial rejuvenation. As Drehsen explains, "This process extracts live stem cells from your own fat for reinjection in other areas of the body. It is increasingly used for both reconstructive and aesthetic needs."
He says with FDA approval he will continue to refine the use of autologous stem cell-enhanced fat grafts in his facelift procedures. He says his technique has provided better graft retention and amazingly improved skin quality in most patients. He adds, "Stem cell-enriched fat micro-grafting shows great promise to heal and restore youthful volume and skin tone, and to repair damage from sun, age, hormonal changes, acne, radiation treatments, and other damaging agents."
Along with his special facelifting procedures, Drehsen offers many noninvasive options in his Venus Medispa. His practice, Clinique of Plastic Surgery, is a comprehensive facility where he provides all types of plastic surgery procedures for the face and body. Drehsen has created a following in the area for his "mommy makeover" technique, rhinoplasty, and his signature subfascial breast augmentation.
Drehsen is also a specially trained hand surgeon and microsurgeon. He also has training in pediatric plastic surgery and the treatment of complex burns and wounds. As the doctor explains, "I long abandoned those fields, but I have retained the discipline of precision in surgical technique and the importance of knowledge of the anatomy."
Born in Belgium, but raised in the then-Belgian Congo, Drehsen received his Bachelor of Science degree at Lovanium University and attended medical school at the University of Brussels. Upon completion of his Doctorate of Medicine, he came to the United States, where he completed his residency in general surgery at Mount Sinai Hospital in Miami Beach. After that, he did a comprehensive medical training program in all fields of plastic surgery at the University of Florida, Jacksonville, where he was chief resident, and also the University of Louisville, Kentucky.
Drehsen has been practicing in the Tampa Bay area for more than 2 decades, and he has established a local following. He also attracts patients from across the country and around the world.
As an artist and art lover, Drehsen draws on principles of art in his practice. The "emoticon" theory is just his latest way of defining it and melding the two concepts together. "Artistry or the understanding of aesthetic rules should be the guiding principle of plastic surgery, combined with a sound understanding of the science of surgery."
---
Christian G. Drehsen, MD
Clinique of Plastic Surgery: St Petersburg
240 1st Ave S, Second Floor
St Petersburg, FL 33701
(727) 592-0991
and
Clinique of Plastic Surgery: Tampa Bay
2325 Ulmerton Rd, Suite 27
Clearwater, FL 33762
(800) 942-1606
and
Clinique of Plastic Surgery: Sarasota
3900 Clark Rd, Suite E1
Sarasota, FL 34233
(800) 942-1606
www.cliniqueps.com
www.refresherlift.com