Plastic surgery procedures are up 5% since 2011, according to the newest statistics from the American Society of Plastic Surgeons (ASPS). This increase was largely driven by demand for minimally invasive procedures.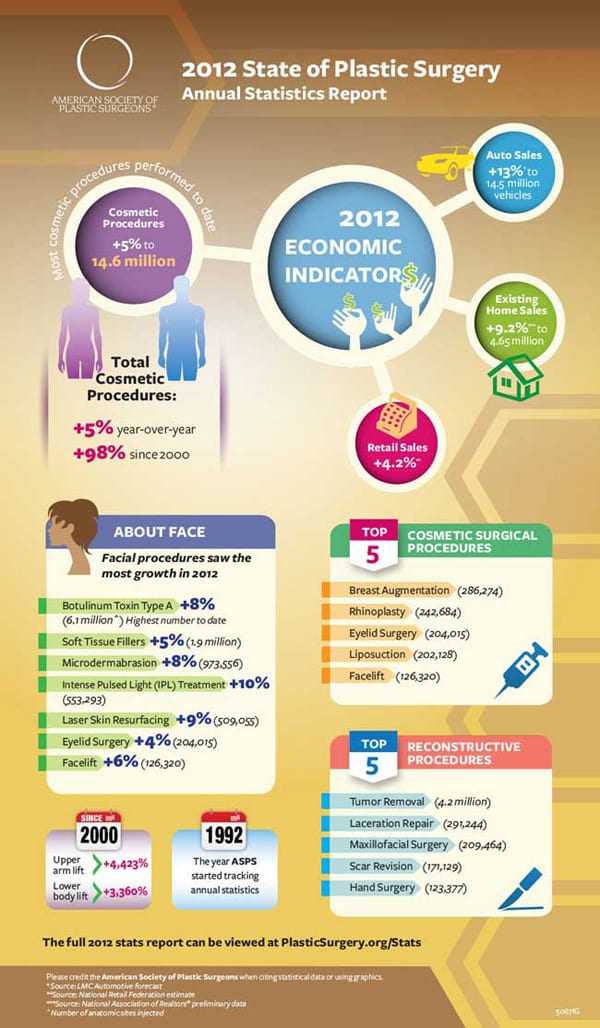 (click to enlarge)
Overall, there were 14.6 million cosmetic plastic surgery procedures performed in the United States in 2012. In addition, there were 5.6 million reconstructive plastic surgery procedures were performed last year, up 1%.
"Our annual statistics serve as a snapshot regarding the plastic surgery industry," says ASPS President Gregory Evans, MD, in a news release. "For the third consecutive year, the overall growth in cosmetic surgery continues to be driven by a significant rise in minimally invasive procedures, while surgical procedures remain relatively stable. We are aware, however, that patients who begin with less invasive treatments with a plastic surgeon may opt for more invasive, surgical procedures once required."
Minimally invasive procedures increased 6%, with more than 13 million procedures in 2012. The top five minimally invasive procedures were:
• Botulinum toxin type A (6.1 million procedures, up 8%)
• Soft tissue fillers (2 million procedures, up 5 percent)
• Chemical peel (1.1 million procedures, up 2%)
• Laser hair removal (1.1 million procedures, up 4%)
• Microdermabrasion (974,000 procedures, up 8%)
Surgical procedures decreased 2%, with nearly 1.6 million procedures in 2012. The top five surgical procedures were:
• Breast augmentation (286,000 procedures, down 7%)
• Nose reshaping (243,000 procedures, no change)
• Liposuction (202,000 procedures, down 1%)
• Eyelid surgery (204,000 procedures, up 4%)
• Facelift (126,000 procedures, up 6%)
Facial rejuvenation procedures experienced the most growth in 2012. Facelifts and eyelid surgeries were up, while 2012 marked the highest number of botulinum toxin type A (Botox®, Dysport®) injections performed to date. Other facial rejuvenation procedures like soft tissue fillers, laser skin resurfacing (509,000 procedures, up 9%) and microdermabrasion also saw sizable increases, according to the new statistics.
Male breast reduction (gynecomastia) increased with nearly 21,000 male breast reductions performed in 2012, up 5% from 2011. By contrast, female cosmetic breast surgeries such as breast augmentation and breast lifts (89,000 procedures, down 2%) dropped last year.
Reconstructive plastic surgery increased 1% in 2012. The top five reconstructive procedures were:
• Tumor removal (4.2 million, up 1%)
• Laceration repair (291,000, down 4%)
• Maxillofacial surgery (209,000, up 7%)
• Scar revision (171,000, down 2%)
• Hand surgery (123,000, up 3%)
Reconstructive breast reduction rates continue to rise, with more than 68,000 procedures performed last year, up 8%, according to the new statistics.
"As always, the statistics shed new light on consumer demands for aesthetic surgery and cosmetic medicine," says Wendy Lewis, president of Wendy Lewis & Co Ltd, Global Aesthetics Consultancy.
Non-ablative lasers appear to be almost 2.5 times more popular than ablative laser resurfacing, undoubtedly due to the fact that consumers prefer less invasive options that have less downtime, she says.
"Botulinum toxin and dermal fillers still sweep the non-surgical category, as the number one and number two most popular treatments," she says. "The largest group of fillers falls in the hyaluronic acid category wth almost three quarters of the total, and there was increase over last year of 5%."
The number of Botulinum toxin injections was up by a healthy 8% over last year. "This is surely fueled by new indications and more men as well as women seeing preventative options and early intervention," Lewis says.