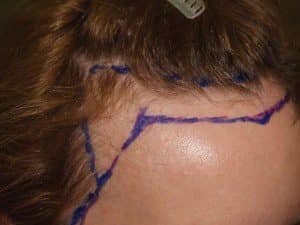 Figure 1a. Many women complain about a genetically high hairline or temporal recession with age.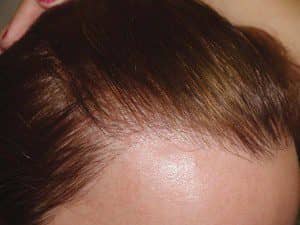 Figure 1b. In this before-and-after photo set, 1,450 grafts were used to achieve a natural result.
Hair loss is the bane of many men, but it also affects more than 30 million women in the US. The biggest difference is that women just don't want to—or decide they can't—talk about it. As a result, most female patients are not aware of many of the exciting research breakthroughs and new treatments currently available.
To find out more about female hair loss and its treatments, PSP sat down with New York City-based facial plastic surgeon, Yael Halaas, MD, FACS.
Halaas is recognized as one of New York City's top emerging facial plastic surgeons. She is media-savvy and has appeared on (mostly regional) television outlets. She is known for work in the evaluation and treatment of hair loss in women and men, and follicular unit extraction (FUE), which allows for essentially no detectable donor-site scarring.
Halaas received her undergraduate degree from Columbia College in New York, followed by medical school (with honors) at Cornell University Medical College. She is an assistant clinical professor in the Department of Otolaryngology at Albert Einstein College of Medicine in New York.
Halaas is multispecialty-centric, with memberships in numerous societies, including the American Academy of Otolaryngology – Head & Neck Surgery, American Academy of Facial Plastic and Reconstructive Surgery, and American Society for Laser Medicine and Surgery. In addition, she is board-certified by the American Board of Otolaryngology and the American Board of Hair Restoration Surgery. She shares a facility with Jeffrey S. Epstein, MD, FACS, who is the founder and director of the Foundation for Hair Restoration.
PSP: Is hair loss really a female problem?
Halaas: Absolutely. More than 15% of all women in the United States suffer from excessive hair loss, and this number is probably on the rise given all the women who are trying out these Herculean straightening techniques such as the popular Brazilian blow-out or the Japanese straightening procedure. This is on top of crazy diets, different hormonal therapies as well as frequent blow drying, highlights, lowlights, color treatments, and other potentially damaging methods that women employ to try and change the natural texture and style of their hair. Still, despite all of the evidence to the contrary, most of us still think of hair loss or baldness as a guy thing.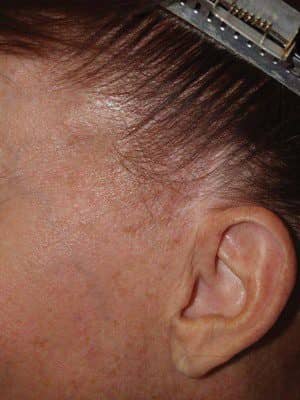 Figure 2a. This patient presented with a loss of sideburns due to a previous facelift.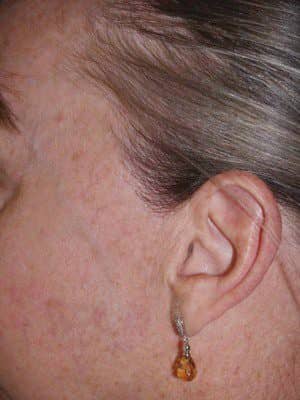 Figure 2b. Hair transplantation can naturally and cosmetically correct this hair loss.
PSP: What is female pattern hair loss? What does it look like?
Halaas: The most common type of hair loss seen in women is androgenetic alopecia. It is marked by thinning hair predominantly over the top and front of a woman's head. It affects about one-third of all women, and usually strikes after menopause. Women tend to have miniaturizing hairs of variable diameter covering the affected areas of their scalp. It is diffuse and there does not have to be complete hair loss. In women, there are no specific patches that are more likely to be affected.
PSP: Why don't women want to talk about hair loss?
Halaas: It's one of the last remaining taboos in medicine. We talk about all sorts of things with our girlfriends and even our moms, but we keep mum about female hair loss. No one wants to mention it, so we pretend we don't notice it in our peers, and even in ourselves. It's sort of a "Don't ask, don't tell" situation.
PSP: Why should we "ask and tell"?
Halaas: We are doing our friends, sisters, and mothers a tremendous disservice by not acknowledging the elephant in the room. We need to bring it up in a constructive, noncritical fashion.
There is a lot that we as surgeons can do to help treat female hair loss. We are doing basic science research that is helping is to pave the way toward really exciting new treatment avenues. These treatments can do so much for our patients' self-esteem, self-confidence, and quality of life. It is so rewarding to treat female hair loss.
PSP: What are some of the causes of female hair loss?
Halaas: There are many. Some we have known about for a while, such as genetics and hormonal fluctuations during menopause, postpregnancy, or even when you stop taking your birth control pills; and others that we are just beginning to understand such as autoimmunity. Other causes of female hair loss include certain medications, anemia, crash diets, and, of course, overstyling. Once we know what is causing the hair loss, we can better tailor our treatment plan.
PSP: What's new in the plastic surgeon's armamentarium for treating female hair loss?
Halaas: Gone are the bulky hair plugs of the 1980s, and in their place are new, more natural-looking follicular unit micrografts. These newer procedures are similar to more traditional hair transplantation, but surgeons use individual hair follicles, not clumps. The result is a more natural-looking head of hair.
Micrografting is made possible due to the use of follicular unit extraction and follicular unit transplantation. Follicular unit extraction involves obtaining individual follicular graft units from donor areas on the scalp without a linear incision, while follicular unit transplantation involves dissecting the follicular unit from the traditional strip of tissue removed from the posterior scalp. There is essentially no donor-site scarring with follicular unit extraction. This means that if a patient wants to go really short, she doesn't have to worry about a telltale scar.
PSP: What are some of the appropriate donor sites in women? Are they the same as in men?
Halaas: They can be. We still look in the same region of the posterior scalp. Even though female hair loss is diffuse, there tends to be less hair loss in this area relative to the whole head. If we can borrow a few hairs, we can still cover the crown.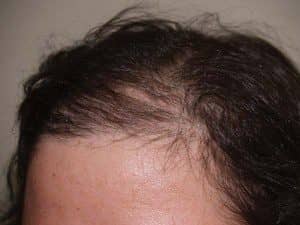 Figure 3a. A young female patient presented with female pattern baldness.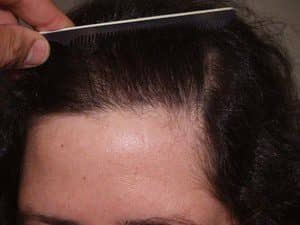 Figure 3b. Fifty grafts were needed to restore density to the thinning frontal area.
PSP: Besides transplantation, what other options are there for women with hair loss?
Halaas: The only FDA-approved medication for female hair loss is the topical solution minoxidil, which works to reverse the shrinking process in hair follicles and stimulates new growth on the top of the scalp. It is applied twice daily and must be used for at least 4 months. Steroids may help if hair loss is caused by an autoimmune disease. We have had surprising success with laser light therapy using a red light-emitting diode (LED) to stimulate some degree of hair growth by increasing the blood supply to hair follicles. Certain drugs that block male hormones may also help slow down female hair loss if it is caused by changes in the hormonal milieu. Some women may choose wigs and/or hair weaves to help hide hair loss. Once we know what is causing the hair loss, we can better tailor our treatment plan.
PSP: Which women make suitable candidate for hair transplantation, and why?
Halaas: Many women can benefit from these new hair transplantation techniques. The first step is to do a complete history and physical examination and determine what is causing the hair loss. The next step is to make sure they have enough donor hair in their posterior scalp. Hair transplantation is not an option for women whose autoimmune disease is active.

On The Web!
See also "Taking Hair Restoration to the World Stage" by Robert T. Leonard, DO, and Jeffrey Frentzen in the January 2009 issue of PSP.
---
Denise Mann is a freelance health writer based in New York City. Her articles regularly appear in WebMD, health.com, cnn.com, Arthritis Today, American Profile, and The Wall Street Journal. She is editorial director for several plastic surgery portals, including The Consumer Guide to Plastic Surgery.