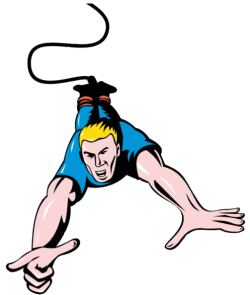 When Kimberly Aschauer's son was getting married, this mother-of-the-bride-to-be did what many before her have done: She went to see a local plastic surgeon about a facelift or some Botox injections.
Unfortunately for Aschauer (and fortunately for the many women who now use her invention), the cost of these procedures was prohibitive. Aschauer's invention—the Facelift Bungee—is now gaining a lot of traction online and elsewhere as a handy, inexpensive way to rein in the effects of aging on the face for one special occasion or every day.
The gadget is named for bungee jumping, an activity that involves jumping from a tall structure while connected to a large elastic cord. The cord stops the free-fall of gravity—pulling the jumper back to its prior position. In the same manner, the facelift bungee cord stops the free-fall of gravity on the aging face—pulling the skin back to its prior, more youthful position.
The product, which retails for about $25, consists of two small combs linked by an elastic bungee cord.
Facelift Bungee users make a small braid at each temple, and insert one comb into a braid, pass the cord around the back of the head, and then insert the second comb into the braid on the other side. Voila! You look 10 or more years younger.
The cord is hidden with hair from the crown of your head. Men shouldn't feel left out. The Facelift Bungee can also be used by men if their hair is as long as their earlobes.
The initial investment lasts and lasts. The Facelift Bungee is reusable. "You can wear it for a special day or any day," says Aschauer, who uses it daily.
And business is booming. The product is now featured in some dermatologist's and plastic surgeon's offices, including that of the doctor who Aschauer first saw for her pre-wedding consultation. And plans are under way to expand. Aschauer is now developing a clear prototype to join black and nude versions of the Facelift Bungee.
There are some risks. "If you get ponytail headaches, this product is not for you," she tells Plastic Surgery Practice. She is 100% behind her brainchild. "Try this, and if you don't love it, I will give you 100% of your money back. Guaranteed."
Will the Facelift Bungee put plastic surgeons and dermatologists out of business? Nope, and that was not what it was intended to do, either. "If a woman wants Botox or a facelift, she will get it," Aschauer says.
It can also help women who are contemplating a facelift try one on for size and get a realistic picture of how they will look afterward.
PSP medical adviser Joe Niamtu, DMD, a cosmetic surgeon in Virginia Beach, Va, says that, "Tape and cables have been a staple of film and movie makeup artists for years."
So what does he think of the Facelift Bungee? "This may be a way for patients to preview the possible changes from facelift surgery," he says. "I personally think the reality of using it on an ongoing basis would be a big hassle."
Another PSP medical adviser, New York City dermatologist Neil Sadick, MD, puts it like this: "If you can stand the tension, the Facelift Bungee is an interesting and easy way to achieve a nice little lifting effect for a few hours. But if you are looking for longer-lasting effects, there is no way around minimal invasive procedures like Botox, filler, radiofrequency, or laser treatments."
Learn more at www.faceliftbungee.com.
---
Denise Mann is the editor of Plastic Surgery Practice. She can be reached at [email protected].