A cozy world filled with beautiful nude women and vintage Victorian, Art Nouveau, and Art Deco furnishings greets each visitor to the cosmetic surgery practice of Richard Ellenbogen, MD, FACS, at the western edge of Sunset Strip, just east of Beverly Hills. The nudes are strictly decorative, adorning antique lamps, clocks, and other collectibles that lend the office the feel of a well-appointed living room. Ellenbogen Plastic Surgery Institute has been a thriving plastic surgery practice since 1976. At 59, Ellenbogen exudes energy and enthusiasm as he describes the three primary focuses around which his practice centers.
The first, and more high-profile focus of the practice, is serving the film, television, and music industries of Los Angeles, with some sports celebrities, Fortune 500 CEOs, and the wife of a sultan or two as part of the high-octane mix.
The second is revisional plastic surgery, usually rhinoplasty, breast, or facelift operations. Information on these types of surgeries are offered on his websites: www.revisionnosesurgery.com and www.revisionbreastsurgery.com, as well as at the primary Web address, www.beverlyhillsbody.com.
The third significant area of interest is Ellenbogen's advanced aesthetic surgery fellowship, which he has been offering for the past 18 years. Plastic surgeons who have completed their training and been in practice for awhile, spend 6 months working with Ellenbogen learning his marketing, consultation, and surgical techniques. He has trained about 15 fellows to practice what he calls "Beverly Hills-style" plastic surgery around the United States. Recently, he offered two gifted fellows whom he had trained—Steven A. Svehlak, MD, and Daniel Yamini, MD—positions in his practice, a first for Ellenbogen, who previously had a solo practice up until 2000.
"They are two of the most talented people I have had come through the fellowship," he says, noting only half in jest that he did not want to face the prospect of them establishing a competitive practice across the street from his office.
Cosmetic Surgery, Beverly Hills Style
In cosmetic surgery, as in so many other things tied to style and appearance trends, Los Angeles sets its own standards and, in some ways, raises the bar for aesthetic surgery elsewhere in the country, according to Ellenbogen. Even if his patients are not actors or musicians, they are influenced by the beauty standards set by the film, television, and music industries. Some operations that would be accepted elsewhere in the country, simply would not go over well in Beverly Hills, he says. For example, in certain areas of the United States, a deep plane or cosmposite facelift procedure is performed. "Physicians will tell their patients that their face will look pulled for about a year and half and then it will look great," Ellenbogen says. "You cannot do that in Beverly Hills. Here, they look in the mirror as they are being wheeled out the door. You have to do an operation that looks good on Day 1."
In the various entertainment industries, clients may want different procedures. Liposuction is the most common procedure on some of the younger rock stars. Many film and soap opera actors seek conservative facial surgeries, such as fat grafting, blepharoplasty, submental lipectomy, or Botox® injections.
Frequently, celebrities bring their head shots and show the physicians how they photograph. "We actually work for how they will look in photographs rather than in person," Ellenbogen says. This type of evaluation determines a more extensive or subtle surgical approach.
Ellenbogen jokes that he has trained his fellowship physicians: "No pain, no swelling, no recovery time." Although such perfect outcomes are not realistic, to a lesser degree, the goal remains quick healing, a natural look, with minimum downtime and bandages.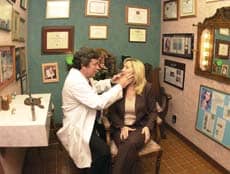 Consultations for conservative facial procedures are also common among many film and soap opera actors, according to Ellenbogen.
For those in the entertainment industry, these goals are particularly important, according to Ellenbogen. "Our plastic surgery has to be geared toward people who have very little time to recover and cannot, under any circumstance, look unnatural or changed, only better. Many of the old Hollywood legends were our patients over the past 27 years," Ellenbogen says. Ever vigilant for privacy concerns, he declines to share names of his celebrity clients, with one exception—the late actress Lana Turner, who had unrealistic expectations about wanting to look 20 when she was approaching 60. "She wanted to look like the Countess de Winter in "The Three Musketeers," he says, adding, "She was very pleased when we brought her down to earth and addressed many of her unrealistic expectations about what plastic surgery could do."
It is a familiar scenario, Ellenbogen says, "since many of these people are used to getting their way." Previously, there were two waiting rooms, where celebrities received special treatment, but this is no longer the case. "You acknowledge them for what they do, but do not give them anything more than anyone else," he says. This is something that he impresses on his new associates, Svehlak and Yamini. "I tell them, 'You will see someone you know here. Tell them you really admire their work, and then get down to business.'"
Challenges of Revisional Surgery
Ellenbogen takes on some of the more challenging cases in the cosmetic field through his work with revisional plastic surgery. His revisional practice attracts patients from around the globe to perform secondary rhinoplasty, breast, and facelift surgeries. His secondary rhinoplasty practice is one of the biggest in the United States, a very demanding specialty. "It is the hardest operation in plastic surgery," he says. Ellenbogen also specializes in fixing breast operations that are unsatisfactory—breast implants that are too high, too low, square, or asymmetrical.
Another challenge in revisional surgery is that those who seek it are emotionally and physically injured, Ellenbogen says. He compares a patient seeking secondary treatment to an individual who dates soon after a bitter divorce and takes it out on the new partner. "These people have a lot of baggage, and you have to be able to convince them that you can do what they want," he says.
In general, a tide of rising expectations and fierce competition shapes the cosmetic surgery field in Los Angeles more than elsewhere. "Almost every major advance in plastic surgery has come from southern California," he says. And, with physicians improving their techniques, "the demand is extraordinarily high, and people demand perfection. Dissatisfied customers know that if one person cannot satisfy them, within a 5-mile range in Beverly Hills, there is probably 250 other physicians that they can go to."
Why take on problem cases, such as a revisional surgery? "It is an extraordinary challenge," Ellenbogen says. "To me, it is challenging to take somebody who is emotionally and physically injured and restore them to a happy, functioning person who is proud of their appearance."
Ellenbogen also performs a number of axillary breast augmentations, a procedure that he says is beneficial because it leaves few visible scars, has little pain, and a quick recovery period.
He has been a prime investigator in an ongoing capsular contracture study in conjunction with another plastic surgeon, S. Lawrence Schlessinger, MD, of Maui, Hawaii, that a year ago reported consistent success using certain asthma medications to minimize the problem of hardened, painful breasts following implant procedures. Ellenbogen, Schlessinger, and Svehlak reported on this finding in the Plastic Surgery Products July 2002 issue, and will make a presentation at the American Society for Aesthetic Plastic Surgery meeting in Boston this month. The study is ongoing, but has already "changed the complexion of breast surgery," he says. "People who required an operation to soften their breasts do not need it anymore."
Fellowship Training: Passing the Torch
Initially, Ellenbogen began fellowship training as a way to give back to his profession and pass on his expertise to a new generation of plastic surgeons. "There were a lot of things I had to teach, information that just cannot be written in medical journals," he says. Along the way, he discovered that fellowship training is a two-way street. Fresh out of training, the fellows also help rejuvenate Ellenbogen and his practice with their new ideas, techniques, and knowledge.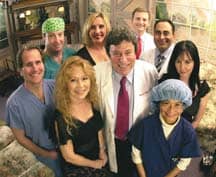 Back row, left to right: Brad Pakula, MD, (anesthesiologist); Riley Manderscheid (operating room supervisor); Mary Smith (office manager); Steven A. Svehlak, MD; Daniel Yamini, MD; Colleen O'Neill (front office coordinator). Front row, left to right: Stephanie Ellenbogen (administrator); Richard Ellenbogen, MD, FACS; Lorna Castro (surgical nurse).
The 6-month fellowships educate in three basic areas, all equally important: 1) marketing techniques—how to best use public relations, advertising, and the Internet to inform the community about the business of plastic surgery; 2) consultation techniques—how to interact well with patients, eliminating those they cannot satisfy and attracting the ones they want; and, of course, 3) surgical techniques.
In addition, the fellows learn about other practical details, such employee loyalty, adherence to basic policies, insurance, and "everything that is necessary to run a successful, profitable office," Ellenbogen says.
The fellows learn by spending 6 months by his side. "Fellowship is imitation, not innovation," he says. "Innovation comes after they leave the fellowship." However, none of his fellows ever becomes a carbon copy of himself, he adds. "They all find their own niche in plastic surgery. They are all successful financially and educationally."
For Svehlak and Yamini, the experience has been equally rewarding and eminently practical. Svehlak's plastic surgery training at George Washington University Medical Center in Washington, DC, was typical of such programs in that he would see many different physicians perform procedures with little consistency, and often unable to see the final results. "Here, you receive one-on-one training from [Ellenbogen] and one-on-one experience with patients," Svehlak says. "You see them before surgery, through the consultation and surgery, and months after surgery. You get the whole flavor of what private practice cosmetic surgery is all about."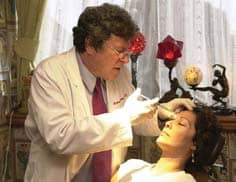 Botox® injections are one of the many ways in which Ellenbogen's patients seek conservative facial rejuvenation.
The experience has helped Svehlak gain confidence in his mastery of cosmetic techniques, as well as his ability to run an office, he says. "If I go out on my own, I already have this edge," Svehlak says. Meanwhile, however, he is content to be an associate in Ellenbogen's busy practice.
Yamini became an Ellenbogen fellow after completing a 2-year residency in plastic and reconstructive surgery at Providence Hospital and Medical Centers and the Institute for Craniofacial and Reconstructive Plastic Surgery in Detroit. Initially, he was not convinced that working with Ellenbogen was so critical, but changed his mind and is ardent about the benefits of the program.
"It has been vital. Without it, my success would have been postponed by a good 5 to 10 years," Yamini says. "To really get a good understanding of the subtleties of cosmetic surgery, to be able to confidently recommend certain procedures to patients and execute your plans takes intensive nonstop training, and you really do not get that in standard plastic surgery training." Learning the business and marketing aspects of being an employer are also essential, Yamini says. "We have the advantage of learning what he has learned over decades of work without having to make the same mistakes."
Full Speed Ahead
Yamini sees himself working with Ellenbogen as long as the latter is in practice. "When he retires, we hope to continue his legacy," he says. As for Ellenbogen, he hopes to take a third fellow into his practice in July and possibly a fourth, perhaps an ocular plastic surgeon, in the future. Far from being threatened by his talented junior partners, he says he feels energized by their presence. "It keeps me interested," Ellenbogen says.
As for the future of plastic surgery, Ellenbogen has some worries. "The cosmetic surgery industry has changed for the worse with the advent of HMOs and decreased insurance payments for functional surgery," he says. "Many doctors in ancillary specialties who have not had adequate training, are venturing into plastic surgery in order to solely make money, since they are not making it through medical insurance reimbursement anymore."
He is more sanguine about his own contributions to plastic surgery. He believes he has made the profession better for current and future physicians through his fellowship program, publishings, teaching courses at various society meetings, and acting as a visiting professor.
Ruth Stroud is a contributing writer for  Plastic Surgery Products.
Choosing a Path
Frequently interviewed on television and quoted in print, Richard Ellenbogen, MD, FACS, has appeared on "Oprah Winfrey," "48 Hours," "Regis Philbin," and "Inside Edition," to name just a few. Also featured or quoted in print, he has written textbooks or contributed to articles on such subjects as "Underarm Breast Augmentation" (Art of Aesthetic Surgery, Little, Brown & Company, 1990) and "Avoiding Telltale Tipoffs in Cosmetic Surgery" (Clinics in Plastic Surgery, WB Saunders & Company, 1992).
Born in Port Jervis, NY, in the Catskill Mountains, about 2 hours from New York City, Ellenbogen grew up in Miami Beach, Fla, where the family moved in search of warmer climate. Both parents were antique dealers, to which the future collector attributes his own love of vintage décor. Always interested in art, he acquired an art minor in college. When he decided to pursue a career in surgery, plastic surgery beckoned since it seemed to be the most artistic of specialties in this field.
After graduating from the University of Miami School of Medicine in 1968, Ellenbogen did his internship and first year of surgical residency at Albert Einstein College of Medicine, Bronx, New York, and then his second and third years of residency at Beth Israel Medical Center, also in New York. Fellowships in plastic surgery and hand surgery followed; and finally, a residency in plastic and reconstructive surgery at the Nassau County Medical Center of State University of New York, ending in 1975, the year before he set up a private practice in his current office on the Sunset Strip.
Ellenbogen, board certified by the American Board of Plastic Surgery, whose sense of art and aesthetics voices his choice of career and his office surroundings, sees a clear connection between the women of the flapper era, whose image is celebrated in some of the antiques that decorate his office, and the women of 2003. "The [woman of the 1930s] could vote, smoke, wear short skirts, and, for the first time, had freedom. It is very similar to the women that I take care of in plastic surgery today. They have the freedom to say what they want and do what they want to do."
Women represent the majority of Ellenbogen's clients, although men make up about one in five among his patient population. "That is about the same as I have always done, but it is more acceptable now," he says. Liposuction is still the most common procedure for men in his practice, but chin implants, rhinoplasty, and submental neck lifts are increasing in popularity.