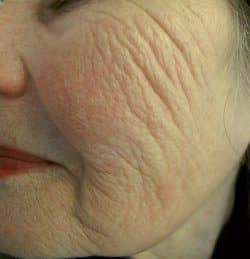 Before evolastin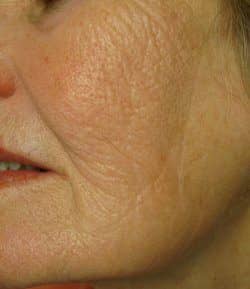 Two months after one evolastin treatment
Macrene Alexiades-Armenakas, MD, PhD, has seen a lot of skin-tightening products and technologies come and go on her watch. A New York City-based specialist in dermatology and laser surgery, Alexiades-Armenakas was there when Thermage first came out in 2004, and recalls testing it on Perdue chicken breasts.
This is why it says a lot that she is so excited about evolastin, powered by ePrime.
She doesn't hold back. "I think this is a must-have for any dermatologist who is a laser specialist or plastic surgeon who incorporates lasers into their practice," she says. "This is a huge step forward in our field. evolastin is at least three- or four-fold stronger than anything we have," says Alexiades-Armenakas, also an attending physician at Lenox Hill Hospital in New York City, Yale/New Haven Hospital, and Yale/West Haven VA Hospital in New Haven, Conn.
ONE-HIT WONDER
Manufactured by Syneron Inc, Irvine, Calif, evolastin allows physicians to deliver bipolar radiofrequency energy directly to the dermis using microneedles.
"It is not easy to get energy into the skin without injury to the epidermis," she says. Previously, dermatologists tried cooling technologies to avoid burns, but this restricted the amount of energy that could be delivered and, of course, compromised the results.
"There was a 10% improvement in our grading scale," she says. "That is not good enough, and patients were dissatisfied with the level of results with all these devices."
It was back to the drawing board time and time again. Until now.
With evolastin, the energy zeroes in on the skin's deeper tissue, bypassing the epidermis, so there is no risk of burns. Unlike other facial-rejuvenation techniques that require multiple sessions to see an improvement, evolastin is akin to a one-hit wonder. Just one treatment produces results within 6 to 8 weeks, and these results get better and better for the next 6 months.
This is another plus. "People get frustrated with four treatments and still aren't where they want to be," she says.
ONE-THIRD THE RESULTS OF A FACELIFT, MINUS THE DOWNTIME
Research published in the Archives of Dermatology showed that results achieved after one evolastin treatment is comparable to 37% of that seen after a facelift.
"The reason that this device is effective at treating skin laxity is because it is the first treatment shown to induce, not just collagen, but elastin and hyaluronic acid as well," Alexiades-Armenakas tells Plastic Surgery Practice.
"It is ideal for patients who don't want, can't have, or wish to postpone a facelift."
evolastin also incorporates real-time feedback and precise temperature control. "This allows us to deliver much higher energy for specified periods of time," she says. Not having this feedback is like baking a cake and not knowing the temperature on the oven. "You have to guess because there is no other way of knowing if it will be overdone, underdone, or perfect," she says.
ADD FILLERS FOR ENHANCED EVOLASTIN EFFECTS
When combined with fillers, evolastin takes patients that much closer to the effects of a fill facelift—without the downtime or recovery. evolastin works well with fillers or neurotoxins, when timed appropriately, she says. "I would use evolastin first, and then 6 months later, finish the job with filler," she says. "This absolutely mimics the effects seen with a facelift."
Amy Forman Taub, MD, a board-certified dermatologist who founded Advanced Dermatology and Skinfo® Specialty Skincare Boutique in Lincolnshire, Ill, is also a fan of the technique and the technology. "I tell my patients they will see one-third of the effect of a facelift because they can comprehend that," she says. "It tightens, lifts, and volumizes. These are three effects that you can't get in any one procedure."
---
Denise Mann is the editor of Plastic Surgery Practice. She can be reached at plasticsurgery@allied360.com.
EVOLASTIV TREATMENT: AT A GLANCE
---
Here are the answers to the questions your patients will ask first.
Be prepared:
HOW LONG DOES IT TAKE?
One evolastin treatment takes about 60 minutes.
DOES IT HURT?
During the evolastin procedure, local anesthetic may be used to alleviate any pain or discomfort.
ARE THERE ANY SIDE EFFECTS?
Minor redness, swelling, or bruising may occur, but it will gradually dissipate. It usually lasts for 5 days, but can be covered with makeup.
HOW MUCH DOES IT COST?
An evolastin treatment costs $3,000 to $5,000.
RELATED READING