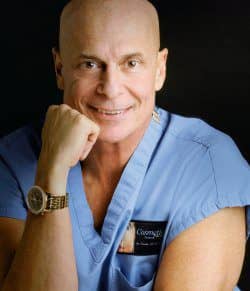 Joe Niamtu III, DMD, FAACS,
Cosmetic surgeon Joe Niamtu III, DMD, FAACS, of Richmond, Virginia, is charming, charismatic and enthusiastic about what he does and how he does it. You may have heard one of his lectures or read one of his four textbooks or other publications on facial surgery, but now Plastic Surgery Practice sat down with Niamtu to find out more about his practice and the things that really matter to him.
Niamtu is a fellow of the American Academy of Cosmetic Surgery and the American Society for Laser Medicine and Surgery. He is board certified by the American Board of Oral and Maxillofacial Surgery.
We posed 10 questions to "Dr Joe," as his patients and colleagues call him, and here is what he told us—some of which may surprise you. (He is a black belt in karate and a night owl, for example.)
1. Procedure you perform most often?
Last year, it was Botox injections. I performed more than 1,500 treatments, if you count all neurotoxins.
2. Procedure you perform least often?
Otoplasty. It is much less in demand, but I love the operation and the patients. I wish I had a bigger volume, as we usually see five to 10 patients a year for this procedure
3. Favorite procedure?
Easy answer. Facelift. No other cosmetic procedure carries the emotional impact, and the results are always visible to everyone. You can hide mediocre breast, belly, and butt surgery with clothes, but facelift surgery truly represents the surgeon's signature, so it has to be good. I perform an average of two facelifts a week and really get excited on the way to work because I truly love the procedure.
4. Least favorite procedure?
Probably telangiectasia removal with the vascular laser. Tracing individual spider veins under magnification with a vascular laser is intense and sort of boring. The result is great, but most surgeons feel better when they are cutting and sewing.
5. Healthiest habit?
I have always been a fitness fanatic. I exercise 5 to 6 days a week, which includes alternating weight training with cardio work. I got my black belt in karate in 1978. I don't do anything now in terms of organized classes, but still work out on a bag for punching, kicking, and stretching.
6. Least healthiest habit?
I don't get enough sleep. I get up early each morning and work out before work. After work, I spend a little family time and then begin working on my blog, Web site, before-and-after pictures, lectures, and publications, and the time just slips away. I also try to play a little guitar. I rarely go to bed before midnight and probably average 5 to 6 hours of sleep.
7. Favorite guilty pleasure?
A nap!
8. Professional mantra?
Work hard, be dedicated, love what you do, treat patients better than anyone else, back up your work, and help people who can't help themselves, and you will be successful.
9. Tool or technology you couldn't or wouldn't want to practice without?
Definitely my Lumenis CO2 laser and Ellman Radiowave unit. We turn them on when we get to work and turn them off when we leave!
10. Charity of record?
I have two beautiful, but severely intellectually and physically disabled sons. As parents, when we were hit with the stark reality of special needs children and not knowing where to turn, the Greater Richmond ARC were angels in assisting us with the medical, physical, and emotional support needed to navigate this difficult journey in life. Their infant intervention programs provide so much support to this segment of the community, and they are our primary charity.
---
Denise Mann is the editor of Plastic Surgery Practice. She can be reached at [email protected].