HANDHELD HAIR RESTORATION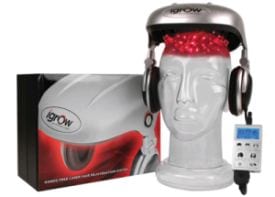 Apira Science, Newport Beach, Calif, releases iGrow, a home-use hair-restoration device that uses low-level laser therapy technology to effectively rejuvenate shedding and thinning hair. The iGrow comfortably sits atop the user's head, providing continuous overall coverage and leaving them completely mobile and free to do other things while receiving treatment. The iGrow even allows for users to listen to music while their hair rejuvenates—it features iPod/MP3 compatibility.
The iGrow features 51 light sources that include 21 laser diodes and 30 LED lights to provide full scalp coverage, while combs and other handheld devices only have nine to 15 laser lights. The output from iGrow is equivalent to most in-office clinical hair lasers, according to the company.
Apira Science(800)
424-7937
www.igrowlaser.com
---
CDCR INSTRUMENT SET
Bausch & Lomb Inc, Manchester, Mo, offers the Putterman Consecutive Conjunctivodacryocystorhinostomy Set, designed for the consecutive CDCR procedure to form the conjunctivodacryocystorhinostomy osteum and place the bypass tube while avoiding withdrawal and reinsertion of instruments in each step of the procedure. The needle is designed to create the initial track with the trephine used to slide over the needle to create the osteum. Once the needle is removed, the Bowman-type probe can be inserted through the trephine. When the trephine is removed, the probe can be used to measure the distance from medial canthus to nasal septum.

The probe features marks in 5.0-mm intervals from the tip to 15.0 mm, in 1.0-mm intervals from 15.0 mm to 25.0 mm, and again in 5.0-mm intervals from 25.0 mm to 35.0 mm.
Bausch & Lomb Storz Opthalmics
www.bauschinstruments.com
www.storzeye.com
---
COLLAGEN PILL
Collagen MD, Newport Beach, Calif, has released the Advanced Connective Tissue Formula, a pharmaceutical-grade formulation of Collagen Types I & III, hyaluronic acid, biotin, folic acid, vitamin C, and vitamin B12. This antiaging formula provides enhanced specialized nutritional support for healthy connective tissue throughout the body. The collagen has been hydrolyzed by an advanced enzyme process to keep the collagen-amino acid ratio at a low molecular weight for maximum assimilation in the body. It comes in an easy-to-take powdered form and has a neutral taste.
Collagen MD
(877) 636-2366
www.collagenmdprofessional.com
---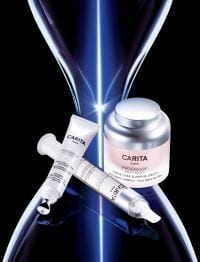 ANTI-WRINKLE CREMES
Carita Paris, Paris, has debuted a series of anti-wrinkle skin care products for reducing the appearance of fine lines and wrinkles.
The new Supreme Wrinkle Solution Filler (Pro3W) Deep Wrinkle Precision is an anti-wrinkle cosmetic alternative to hyaluronic acid injections. This ultraconcentrated formula is combined with a targeted application step to effectively reach deep wrinkles.
Supreme Wrinkle Solution Filler (Pro3W) Expert Care for Wrinkles, Dark Circle and Puffiness is a soothing eye contour that combines a high-performance formula with a cutting-edge applicator covered in a rare metal, in order to provide a refreshing application. This cream targets deep crow's feet and all wrinkle types (embryonic, superficial, and permanent). Immediate Supreme Wrinkle Solution Filler (Pro3W) Anti-Puffiness Expert Care is a unique undereye patch to immediately decongest the eye contour; erase the signs of fatigue; and leave the eye contour looking fresh, visibly smoother, and well-rested.
Carita Paris
[removed]www.caritadirect.com[/removed]