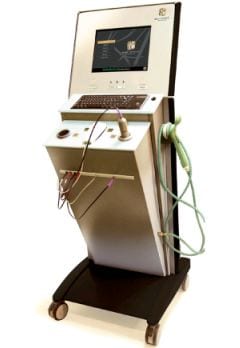 The Bella Contour system
Bella Contour is the recently FDA-cleared, noninvasive treatment for temporary reduction of cellulite. Manufactured by Israel-based Real Aesthetics Ltd, the Bella Contour system uses a proprietary technology called REAL™ (Resonant Amplification of Lipid Metabolism), which the company claims establishes a new standard in body contouring, cellulite removal, and waist-circumference reduction.
The Bella Contour system is a combination of three technologies: low-energy, nonfocused ultrasound; low-energy electrical stimulation; and suction.
There are two unfocused ultrasound devices that are FDA-approved in the United States: Bella Contour and the Vaser Shape MC1, Sound Surgical Technologies, Littleton, Colo (as well as the Vaser Internal Ultrasonic liposuction device). The Bella Contour and Vaser Shape MC1 are in the class of unfocused ultrasound. The Bella Contour system has been FDA-approved for the treatment of cellulite but not for waist-circumference reduction. (The system was also approved for relief from muscle spasm and improvement in local blood circulation in certain areas.)
"Presently, we have a four-step approach for fat reduction," says Boston-based dermatologist Jeffrey S. Dover, MD, FRCPC. "Diet and exercise, cryolipolysis for localized areas of fat, Bella Contour for large areas of fat, and liposuction for people who want or need surgery."
In recent research centered on the Bella Contour and conducted by Dover, five patients who were all overweight completed 10 Bella Contour treatments twice a week for 5 weeks. The studies were not blind on either side.
At the end of the study, Dover found that all five patients responded. One had only a modest response, three had "very good responses," and one had a remarkable response—"Because within seconds, there was a visible response," Dover says. "Even the very first procedure showed an improvement in every patient. The measurements showed quite a significant reduction in waist circumference as soon as the first treatment was done; and the more treatments, the better the response. One of the patients lost almost 8 cm of waist circumference in 10 treatments over 5 weeks. It seems to work, better in some than others."
MORE HANDS-ON
Jason Pozner, MD, FACS, is a Boca Raton, Fla-based plastic surgeon with around 3 months of time with the Bella Contour. "What I like about the device is that you can stack on treatments one after the other. With most of the other [devices], you have to wait a while in-between treatments.
In early results using the Bella Contour, Pozner concludes, "It seems to work. There is some smoothing. Maybe the underlying fat that's causing some of the bumps is gone. I can't say why yet. There are no complications so far. It's a pretty straightforward machine. The biggest issue with any of these devices is not that you will have a problem but that it won't work. My colleagues that have the device are happy with it so far. Most of these devices get a lot of initial enthusiasm, so we really have to look at what's happening long-term."
From a pain perspective, the Bella Contour is "probably the most comfortable of any of the procedures I have ever tried," Pozner adds. "I tried it myself."

On The Web!
See also "Does Cellulite Reduction Really Work?" by Jeffrey Frentzen, in the January 2011 issue of PSP.
Results using the Bella Contour have been excellent so far, he continues. "We can tell by the studies of Dr Dover and other people's experience, but we don't have our own in-house experience to tell you that the results are very long lasting, for either smoothing or circumference reduction. I don't stake my reputation on new technology until we've had it for a while."
"Is it for everyone? I am not sure," Dover says. "Will it work in slim as well as in overweight people? I am not sure. But I have been pleasantly surprised. For fat on the back, the response is good. But for thighs, not as well."
Patients want noninvasive procedures rather than invasive procedures to reduce their fat, Dover says, adding, "I would like to see people change their diet and get some exercise regularly, and I do recommend that to my patients."
---
Janine Ferguson is a contributing writer for PSP. She can be reached at plasticsurgery@allied360.com.