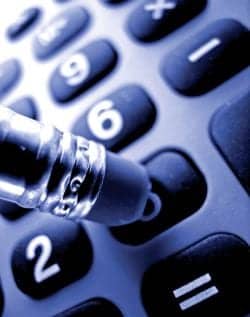 Last month, I focused on defining the return on investment (ROI) for your Internet marketing dollars. This time, we are going to tackle another part of the ROI equation: how to measure it.
We need to cut through the fog to determine if you're getting a good bang for your marketing buck, breaking even, or even taking a hit.
Your ROI is your rate of profit—or lack thereof. Though every online marketing company has a different way of assessing the success or failure of your online program, you will never know if you are meeting, surpassing, or even falling short on your ROI if you don't have a meaningful objective. This may mean a certain percentage of new patients, referrals, or even booked surgeries. Decide precisely what you want out of your online marketing program.
For most plastic surgeons, the Holy Grail is more patients and more surgeries.
Is the money and time you're putting into your online marketing program helping you meet this goal? Here are three variables that can help you measure your Internet marketing ROI:
IDENTIFY THE PATIENT STREAM
Where are your new patients coming from?
Top physicians with excellent surgical results get a whopping 80% to 90% of all new patients via word-of-mouth. Your online program must support word-of-mouth marketing. Does it?
Here is how to tell: Separate those patients who came to your Web site based on word-of-mouth from those who found it by other means.
Google Analytics or another sophisticated statistics package can help you see where visitors are coming from. Look at the number of visitors who searched for you by name. If all of your visitors find you by searching for your name, your Internet marketing program is probably not up to snuff.
Potential patients may be aware of you, but use search words in addition to your name, such as "breast implants in New York City" or "top plastic surgeons in San Diego." These terms should show up in your Google Analytics report if you are getting a decent ROI from your Internet marketing company.
Ask direct questions during the consultation or before.
It's very easy to attribute all new patients to referrals because almost all of them will know someone who knows of you and your work.
Ask new patients if they have seen your Web site. If the answer is yes, ask how they found it. Other questions—such as, "Did you look at any other Web sites when researching cosmetic surgery?"—can also help you measure your ROI.
Understanding how potential patients research plastic surgery and surgeons online can be eye-opening for practices. Consumers often search using more than just the physician's name; many are interested in price, results, and testimonials. Gathering this information can help you refine your marketing strategy, which will in turn boost ROI.
MONITOR THE METRICS
When measuring the ROI of an online strategy, it is also important to evaluate key metrics, including the following:
Time on-site—How many minutes does a prospective patient stay on the site?
Pages viewed—How many pages were viewed during the visit?
Tip: It's quality over quantity. A referral source that sends fewer visitors to your site who stay for longer periods of time and visit more pages is better than a source that sends more visitors who stay for shorter periods of time and rarely view multiple pages. More is not necessarily merrier.
The bounce rate is the percentage of patients who visit a site and then "bounce off" before visiting another page. This metric is designed primarily for retail sites that want to measure the number of visitors that make a purchase on a different page of the site.
For plastic surgeons, bounce rate is not quite as telling. For example, a prospective patient may visit the site, obtain your phone number, call for an appointment, and never visit a second page on the site. This visit would show up as a "bounce," but in reality it is a lay-up.
LEAN ON THE LEADS
Or, all leads are not created equal.
Online marketing programs provide your practice with leads via e-mail or telephone. Special e-mail addresses and phone tracking numbers should be used for online marketing programs. The sheer number of leads may not be a good indicator of the effectiveness of any online program. Again, quantity can be misleading.
A study conducted by Ceatus Media Group found that one-third of phone calls are legitimate leads. This means that logging into the phone call database and looking at the number of calls provides insufficient information on marketing ROI.
Tip: Record and listen to your calls to determine the true number of leads. Review e-mail leads to determine if they are viable or just spam.

On The Web!
See also "Search Engine Marketing for Practices" by Page Christenbury, in the December 2009 issue of PSP.
An online marketing program can only be effective if the leads are responded to properly and appropriately. Call the phone numbers listed on your various online locations and send "secret shopper" e-mails. This can help make sure the phone call is answered properly and your marketing firm or firms respond to e-mails in a timely fashion.
But there is more to it. You can outsource your marketing, but your internal staff also has to help with conversion. Plastic surgery practices that show the best ROI for online programs are also good at converting leads into consultations—and, of course, consultations into surgery. All the leads in the world won't do your practice a bit of good if you don't have a good closer.
Measuring your ROI can help you determine what parts of your program are or are not working for you. Next month, I will give you the "Evans edge" on how to improve your ROI and meet or exceed your goals.
---
David Evans, PhD, MBA, is the CEO of Ceatus Media Group in San Diego. A recognized authority on Internet medical marketing strategies, Evans has spoken at meetings of the American Society for Aesthetic Plastic Surgery, the European Society of Cataract and Refractive Surgeons, and the American Society of Plastic Surgeons, among others. He can be reached at or (858) 454-5505.