The panel of judges have deliberated, and have selected the finalists for the MyFaceMyBody Awards USA. The winners will be announced at the MyFaceMyBody Awards USA gala ceremony, which will be held Friday, November 9, 2018, at the 5-star Beverly Wilshire Hotel in Beverly Hills, Calif.
The Global Aesthetic Awards, (aka MyFaceMyBody Awards) are a glamorous red-carpet evening attended by 350 leading industry professionals, plastic surgeons, brands, journalists, beauty bloggers, and celebrities. Celebrities already confirmed include: Dr Paul Nassif from Botched and Botched By Nature, Dr Brian Boxer Wachler and Dr Bill Dorfman from The Doctors and Extreme Makeover, Emmanuelle Vaugier  from Mistresses, Alice Amter from The Big Bang Theory and Hot in Cleveland, Katherine Kelly Lang from The Bold and the Beautiful, and Heather Marianna from Beauty Kitchen. Many more stars are yet to be announced.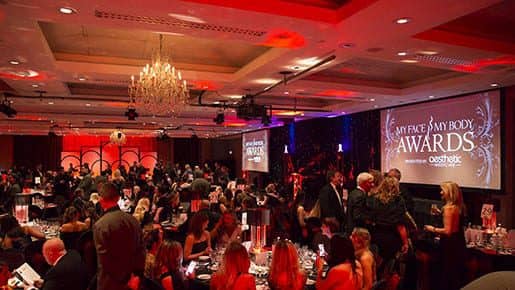 The prestigious MyFaceMyBody Awards are the only industry awards dedicated to the aesthetic industry, judged by consumers and a panel of respected experts. Held in LA, London, China, and Sydney, the awards honor the leaders in aesthetics and brands for their product innovation and popularity. Practices are also rewarded for exceptional experiences and outstanding service to consumers.
Among the more than 32 categories are Plastic Surgeon & Dermatologist of the Year, Surgical and Non-Surgical Makeovers, Aesthetic Practice of the Year, and Rising Star; in addition to brand awards for best products and treatments and many more. The evening is expected to be packed with award winners, an array of exciting entertainment, fine wines, delicious cuisine, and the chance to network with the "who's who" of the aesthetics industry.
The evening will be hosted by international television presenter, aesthetic expert, and awards founder Mr Stephen Handisides.
"The MyFaceMyBody Awards celebrate the innovation and success within a fast-growing and exciting industry. It is a tough selection process, so to make it through to the finals is a real testament to these amazing surgeons, brands, practices, and practitioners. It is going to be a fantastic evening,' Handisides says.
The esteemed panel of judges includes some of the most respected industry leaders from across the globe. These include Dr Paul Nassif from TV shows Botched and Botched By Nature, Dr Craig Ziering, and Mr Michael Berry from the United States; Dr Vincent Wong, Dr Sherina Balaratnam, and Dr Anna Brilli from the UK; Dr Mucio Porto from Brazil; Dr Anthony Lin from China; Dr Cat Stone from New Zealand and Australia; and Dr Nicole Yap, Dr Varun Sharma, Kelly George, and Dr Nicole Kanaris from South Africa.
To see a full list of finalists and to submit your votes, visit MyFaceMyBody Awards.